[ad_1]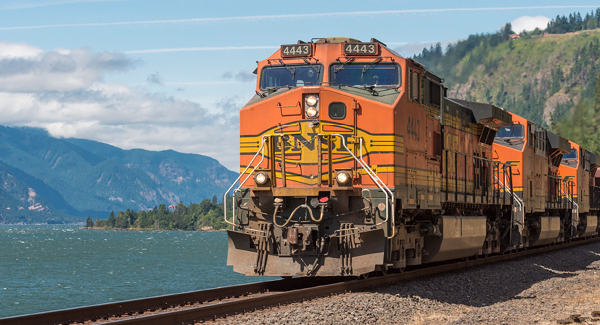 Freight Rails Make Federal Case for Funding
Private funding for infrastructure is a valuable tool that can save money for the American taxpayer, but it isn't a be-all, end-all solution to U.S. transportation problems. Transportation executives took to Capitol Hill in February 2017 to plead with the Senate Commerce, Science, and Transportation subcommittee to provide more direct federal funding alongside private initiatives.
Freight railroads are particularly frustrated with how things have played out. BNSF Railway, for example, spent significant time and money installing positive train control (PTC) technology over the past several years, only to be thwarted by a lack of compliance from passenger rail. PTC automatically slows down trains that exceed the speed limit, and was supposed to be implemented on all freight and passenger trains by the end of 2015. When that goal wasn't met, the can was kicked down the road to Dec. 31, 2018.
Freight and passenger trains often share the same tracks, and having some trains use the technology while others don't is complicated and dangerous. As such, many freight rail executives are even encouraging Congress to provide passenger railways with funding to bring them up to snuff ahead of the new deadline.
"I can't imagine a more difficult train wreck for us to have to go to where we have the positive train control on the freight rail, and the passenger or commuter train didn't have it because of lack of funding," Matthew Rose, BNSF Railway chairman, told the subcommittee.
Despite $199 million in federal funding already provided to railroads for this purpose under the Fixing America's Surface Transportation Act, the technology and the research involved to implement PTC successfully are expensive. The additional time granted to comply with the mandate also gives many railways extra time to drag their feet.
BNSF says that its proactive stance on PTC technology can be helpful to other railways that aren't as far along in their implementation. "We hope our hard-knock lessons will help the rest of industry," Rose said.
PTC implementation wasn't the only issue that brought freight executives to the Hill. Freight companies pay for track maintenance, and Rose argued in favor of a vehicle-miles-travelled fee to keep money flowing into the Highway Trust Fund, which can help pay for both rail and highway projects.
This isn't the first time such an idea has been proposed, but trucking organizations have vocally opposed the fee. Implementing it would be an uphill battle.
6 Best Practices for a Transparent Supply Chain
The best practices for leveraging supply chain transparency for financial profit are outlined in a new study from the University of Tennessee, Knoxville's Global Supply Chain Institute. The study, Creating a Transparent Supply Chain, describes six key practices:
Embracing sustainability as a major business driver.

Developing a culture of transparency.

Partnering with sustainable suppliers.

Ensuring traceability to enable transparency.

Finding your transparency sweet spot.

Employing outside auditing partners.
To succeed, a company must first be committed to sustainability as a major business driver, while executive leadership encourages a culture of transparency. The report defines these two elements as supply chain integrity.
"Companies don't need to have their sustainability practices completely figured out," says Mike Burnette, director of the Global Supply Chain Institute and a co-author of the study. "In fact, many see it as a work in process. But it is important to establish and stick to a set of ideals and goals on which they communicate progress."
While marketing incentives often motivate transparency, consumer demand for sustainability creates supply chain risk. Partnering with sustainable suppliers and ensuring that product materials are traceable are prerequisites to increased communication with the public.
"Consumers want to know where a product came from, all the way to the cashmere goat herd on the slopes of the Himalayas," Burnette says. "A lack of ability to provide that kind of information in the face of safety or environmental violations can create a negative perception of the brand that may require immediate remediation and could take years to recover from, if at all."
Poor traceability opens companies up to the possibility of slave or child labor, product contamination, pollution of waterways, or the presence of conflict materials in their supply chains.
Divulging supplier partnerships, however, often involves proprietary business information. The report advises finding a sweet spot in communication that creates trust for both suppliers and consumers.
WMS: A $3 Billion Market
The warehouse management system (WMS) market will reach $3,112 million by 2022, growing at a CAGR of 15.2 percent from 2016 to 2022, predicts Global Warehouse Management System Market by Component Type, Industry Vertical, and Geography—Global Opportunity Analysis and Industry Forecasts, 2014-2022, a new report published by Allied Market Research.
The study attributes market growth to the increase in inventory and workload of WMS in warehouse operations. Europe is expected to be the largest market during the forecast period.
By component type, software held the highest market share in 2015, while services are anticipated to show the highest growth rate. Among the various industry verticals, transportation and logistics is projected to dominate the market; the pharmaceuticals industry, however, is expected to post the fastest growth rate.
"The European market is most productive as compared to others with diverse industry verticals implementing WMS to a greater extent," says Seapee Bajaj, lead analyst, construction and manufacturing at Allied Market Research. "Furthermore, Europe is projected to generate the highest market revenue over the forecast period, with predominant deployments in the transportation and logistics industry."
Asia-Pacific is estimated to grow fastest due to an increase in the adoption of WMS services and extensive growth in Japan, China, Australia, and India.
What's in Store for WMS?
An Allied Market Research study reveals these key findings:
Software is expected to exhibit significant growth in the WMS market due to growth in adoption of this technology in the logistics sector.

The transportation and logistics sector generated the highest revenue among other industry verticals pertaining to an increase in WMS adoption.

Europe is projected to exhibit substantial growth during the forecast period (2014-2022).

Several industry players adopt partnerships and product launches as key strategies to offer innovative products, services, and solutions to attain higher market share.

Dominant players include Oracle, SAP, Infor, and Manhattan Associates.
Drivers Sign on For the Long Haul
More than 15,500 new truck drivers were recruited through November 2016, the fifth straight month of employment growth after a three-month year-on-year decline, according to the U.S. Bureau of Labor Statistics.
The growth is largely attributed to the concerted efforts of trucking companies to attract and, more importantly, retain new drivers with incentives ranging from signing bonuses to reimbursed training tuition.
Incentivizing potential drivers is nothing new. In 2006, with the industry shy more than 20,000 drivers, truck manufacturer Strick Corp. partnered with the American Trucking Associations (ATA) to fund a nationwide driver recruitment advertising and training program.
More recently, Mississippi-based temperature-controlled carrier KLLM Transport began offering $4,000 cost-of-living scholarships to students attending a driver training program at a local community college and at Prairie State College in Chicago Heights, Ill.
Student drivers signing on with Averett Express, Cookeville, Tenn., are eligible for a $5,000 tuition assistance bonus after competing orientation. Truckload carrier CFI recently instituted a hefty per-mile raise for its drivers, and enhanced its paid home time and time-off programs.
Several companies, including J.B. Hunt, Maverick, and USA Truck, are implementing driver training programs to attract "transitioning" military veterans who are eligible for GI Bill and post-9/11 employment education benefits.
At the same time, many firms such as long-hauler Werner Transportation and Missouri-based Prime are focusing on recruiting women. Prime has added 766 women drivers to its roster since it created a targeted incentive strategy several years ago.
"Based on soft volumes and the fact that the industry added equipment last year, the shortage isn't as bad. This is not the long-run trend," says Bob Costello, senior economist with the ATA. "The shortage will come back strongly once freight volumes pick up. This is especially true if oil field activity picks up again."
"But it all comes down to "the basics," says Rob Hatchett, a spokesman for Chattanooga, Tenn.-based Covenant Transportation. "In a world where there are so many programs and platforms, we are trying to make sure we don't ever lose sight of the basics: Treat your drivers professionally, give them a good weekly paycheck, and meet their home-time expectations," he says. "Carriers can roll out every program in the world, but they'll keep churning drivers if they don't get those three things right."
—Michael D. White
Retailers Click With Global e-Commerce Opportunities
Slowing brick-and-mortar sales leading to store closures or bankruptcy are facing retailers who are slow to adopt new online sales channels. Innovative retailers and importers experienced a huge uptick in sales from e-commerce channels in 2016. Between Nov. 1 and Dec. 31, online sales hit $91.7 billion, up 11 percent from $82.5 billion one year ago, according to an Adobe Digital Insights report.
To help retailers take advantage of e-commerce opportunities, the American Association of Exporters & Importers (AAEI) and Amber Road launched the inaugural Benchmark Report: e-Commerce Impacts Global Trade. The report draws on data from a January 2017 survey of more than 250 supply chain professionals—manufacturers, shippers, logistics providers, and other related service providers.
Fifty-one percent of survey respondents experienced a growth in sales through online channels. "While the disruptive force e-commerce has on the economy appears most prominently in the retail sector, this latest digitalization of trade will continue to change industry trade patterns and product distribution for years to come," explains Marianne Rowden, president and CEO, AAEI. "With growing internet penetration, a consistent customer shift from store to web shopping, and the proliferation of smartphones and tablets, the growth of online shopping is massive."
Some notable data points from the survey include:
75 percent of respondents have an online sales channel.

65 percent of those who don't have existing online channels now plan to implement them soon.

Nearly 36 percent experience shipping/transportation challenges that impact retailers' ability to achieve strategic goals and objectives.

The Consumer Product Safety Commission accounted for the largest percentage of import delays.

Cybersecurity is the top concern for shippers, followed closely by changing global trade regulations.
E-commerce isn't new, but it has reached a critical mass to significantly impact global trade by revolutionizing business-to-consumer sales, resulting in newly empowered consumers with higher expectations for their retail shopping experience, according to the report.
"While there is clearly a large market opportunity associated with global e-commerce, the report identifies challenges that companies must face to create a successful e-commerce infrastructure," explains Gary Barraco, director of global product marketing for Amber Road.
"To stay ahead of the e-commerce curve," he adds, "companies must address primary gaps with a combination of technology, trade compliance knowledge, and automation."
Has your e-commerce channel experienced any of the following issues?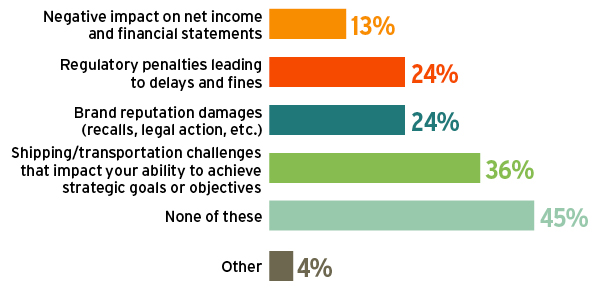 SOURCE: e-Commerce Impacts Global Trade survey, AAEI and Amber Road
[ad_2]