[ad_1]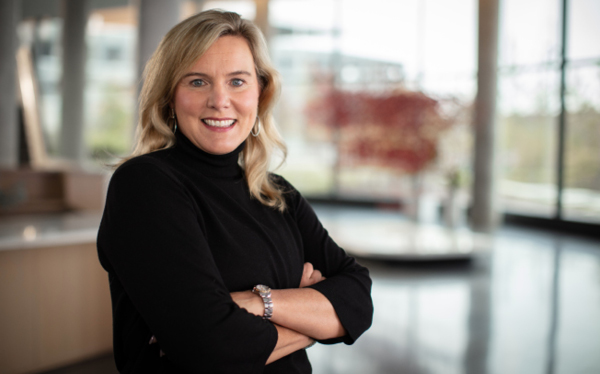 Amy Davis is vice president and president of the New Power segment of Cummins Inc.
Responsibilities: Comprehensive accountability for Cummins' alternative power segment, including manufacturing, supply chain, operations, sales, and other functions within the business.
Experience: Vice president and general manager, Cummins filtration business unit; president, Cummins distribution business; vice president, sales, Alcan; executive director, medium duty truck and bus business, and director, market strategy and planning, both with Cummins; managerial positions with AT&T.
Education: B.A., English, Northwestern University.
---
Cummins took a chance on me years ago. I don't have a science or supply chain background. And 26 years ago, I was probably one of the first women in trucking.
In my first job as a field sales rep, I worked with customers. If an engine broke down, I was out there handling it. I also leaned on some talented engineers to pick up the technical side. It was a great way to learn.
One of the most pivotal roles in my career was as owner of a Cummins distributorship, providing parts and service and selling products into end markets. It changed my mindset around how I think about my job and the people I lead, because it was my own money at risk. It also made me appreciate the resources available within a large company.
From SMB to Global Business
In 2015, after a strategy shift within Cummins, I sold my shares and rejoined the company as leader of the filtration business. I had moved from being a small business owner to running a global business. As a distributor, I'd been a customer of filters. When I led the filtration side, my customers were distributors around the world. It was a privilege to do both.
I started my current role about one year ago. Cummins' new power business encompasses zero-carbon technology, including batteries; electric vehicle components; fuel cells; and electrolyzers, which generate hydrogen from water through electrolysis. Our joint venture, NPROXX, also makes high-pressure storage tanks for hydrogen.
This business changes rapidly. We are constantly looking at partners, acquisitions, and other ventures to round out our portfolio. It's a challenge because we work with both leading-edge technology that's not ready for commercialization, as well as products we're starting to commercialize. They're very different mindsets.
Lessons Learned
I've learned a few things. One is to evaluate the pace your team can go. In this exciting space you cannot go fast enough or hard enough, but you also can end up taking on too much. We try to figure out our resource planning and pace.
We also have to be okay with failure, learn from our milestones, and move on to the next project. That way, we maintain a long-term, winning perspective.
Our supply base is immature and includes a lot of startups. Any operational issue can impact delivery if we're not right on it, solving the problem. That also can be a big distraction from the long term.
One of my most important responsibilities is to step back and figure out where we'll be landing at key points in time. I need to keep a long-term mindset and think about where we need to be in 2030, in 2040, and beyond.
This is an amazing industry and the backbone of the economy. I'm grateful Cummins took that chance on me.n
Amy Davis Answers the Big Questions
1. What are two or three things you wish you'd known before starting your current role?
The technology is so new, it's foreign even to experienced engineers. Yet it helps that we all are grabbing information as fast as we can. The other thing that I wasn't prepared for is this fast-moving space. Many of our competitors are startups. We spend a lot of time trying to keep a start-up mentality.
2. What's the best leadership or supply chain advice you've received?
Early in my career, a leader at AT&T told me there would always be more things to be done than you can do well. The art is knowing what to knock out of the park. You have to be thoughtful about what you choose. I don't always get it right but focusing on this advice has helped me.
3. What are the first few things you check about the business each morning?
First is our people and safety. Second, employee morale. After that, customers. For all these, I ask if we have the right people on the challenges so daily operations keep humming, and I can focus on strategic issues.
[ad_2]