[ad_1]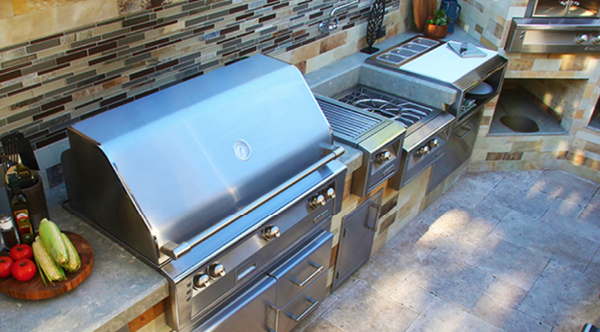 BBQGrills.com, which offers premium grilling and outdoor kitchen products, launched in 2019 and quickly found a ready market. While its growth was largely a benefit, it also meant the company soon needed additional support in various functions, including transportation.
The customer:
Launched in 2019,BBQGrills.comis a family-owned, operated, and "argued-over" online retailer of gas grills, outdoor kitchen equipment, and other outdoor patio-related items in California.
The provider:
Coyote Logistics, a global third-party logistics provider, manages full truckload, LTL, intermodal, air and ocean, and cross-border freight for a variety of industries including automotive, CPG, food and beverage, healthcare, manufacturing and retail.
---
Ryan Maltbie, founder of the Brentwood, California-based company, turned to Coyote Logistics. A global third-party logistics provider, Coyote Logistics took on responsibility for handling BBQGrills.com's less-than-truckload (LTL) shipments. This enabled Maltbie and his team to focus on continuing to grow the business.
Few business experts would recommend launching a company just a few months prior to a pandemic. And while many businesses have struggled over the past two years, BBQGrills.com flourished.
COVID lockdowns and concerns about safety prompted millions to stay home, and the market of people interested in adding to or upgrading their outdoor kitchens and grills proved resilient. Sales of the company's grills, smokers, pizza ovens, fire pits, and other items for outdoor living took off, topping $1 million the first year, Maltbie says.
Discovering an enthusiastic market for a company's products is a coveted accomplishment, yet it brings its own challenges. The company must effectively manage rapidly growing operations, while maintaining customer satisfaction and continuing to nurture future growth.
As BBQGrills.com moved into 2021, Maltbie decided to step back from handling some daily operations so he could focus on maintaining business growth. One area that needed to change so the company could continue to enjoy increasing demand for its products was shipping and transportation. BBQGrills.com needed a provider of LTL shipping services that covered the United States, offered quality customer service, reasonable pricing, and in-depth transportation expertise.
It's Not Always About Price
As with most business relationships, price was a critical consideration. Yet when working with many LTL providers, Maltbie notes he often encountered an overwhelming focus on cost, and less attention to the ways in which a solution could boost efficiency and save time. These attributes are often just as critical for many businesses, and especially those experiencing rapid growth.
Moreover, even as some providers emphasized price, they sometimes obscured the true, comprehensive cost of their solutions. For instance, some glossed over additional fees that would come into play, such as appointment and lift gate fees, Maltbie says. Some didn't understand the class and weight of the products BBQGrills.com offers—grills can span more than seven feet, and some products weigh several hundred pounds.
"Everybody looks at saving money, but that's not the focal point," Maltbie says. While few successful business owners would decline the opportunity to save $10 or $20 on a shipment, spending inordinate amounts of time on administrative functions can negate any financial savings.
"Spending time over money is not beneficial," he says.
Maltbie has focused on using both time and money efficiently. Coyote Logistics has also taken this approach to heart, and helped BBQGrills.com on multiple fronts.
Coyote Logistics serves a network of more than 15,000 shippers and 70,000 carriers, says David Graziano, business development representative with the company, whose U.S. headquarters is in Chicago. Coyote works with customers of all sizes, with smaller businesses being a key customer segment. Its clients span multiple industries, including retail, automotive, and healthcare.
Linked on LinkedIn
Graziano initially reached out to Maltbie through mutual LinkedIn connections, figuring "BBQGrills.com's growing business would be a great fit for the Coyote network," he says.
Once the opportunity arose to move some freight for BBQGrills.com, the Coyote team "showed Maltbie that we could offer superior service and technology at a comparable—if not better—cost" than it had previously been paying, Graziano says.
By turning to Coyote to handle LTL shipments, Maltbie was able to cut the time he and his team spent on shipping activities and direct their efforts to higher-priority actions. At the same time, shipping costs dropped.
Coyote's capabilities and understanding of BBQGrill.com's transportation needs impressed Maltbie enough that he decided to shift the company's LTL shipping business to them. Since then, Coyote has been "critical to effectively fulfill our growing number of customer orders," Maltbie says.
Once the two companies decided to work together, Coyote was up and running within a couple of days. Within the first few weeks, Coyote onboarded the operations team to help support increasing sales volume. "It was very much a collaborative effort," Maltbie says.
Coyote used the onboarding process to learn as much as it could about the business of BBQGrills.com so it "could be consultative about carrier selection, loading, scheduling and pricing, among other factors," Maltbie adds.
One feature Maltbie says he most appreciates is Coyote's backend portal communication, which shows daily shipments and orders filled, among other information.
In addition, Coyote began handling bills of lading for BBQGrills.com. The company had been doing them in-house—"an incredibly tedious and time-consuming process," that could consume several hours every day, Maltbie says. Having Coyote handling these "was definitely positive," he adds.
Sound Freight Management
Consolidating freight under one logistics provider gives smaller businesses access to pricing and LTL rates more favorable than many can access on their own, Graziano says.
In addition, by working with strategic carriers and monitoring each shipment from freight classing through delivery, and providing shipping insights, Coyote can reduce claims and operate more efficiently.
"There are no smoke and mirrors, just sound freight management with an eye toward a longer-term strategy instead of chasing rates load-by-load," Graziano says.
In working with BBQGrills.com, "my biggest focus was giving time back to Maltbie so he could focus on other growth areas of his business, like sales, marketing, and strategizing," Graziano says.
To provide additional help, Coyote put together a support team that could help BBQGrills.com with quoting, building shipments, generating bills of lading, supporting freight claims, and other functions. The goal? "Making freight something Maltbie just needs to check in on occasionally, knowing it's in good hands and, therefore, reducing his day-to-day time spent on managing logistics," Graziano says.
Freeing up time has helped Maltbie focus on revenue, which doubled in 2021, he says. At the same time, shipping costs have dropped by 35%, while the order fulfillment process is more streamlined. Once someone places an order, BBQGrills.com determines from which of 15 warehouses to ship it. Then it informs Coyote of the order, and Coyote takes it from there.
Another benefit has been the drop in damaged freight claims, which declined by about three-quarters. In the 18 months the two companies have been working together, only a handful of shipments have suffered damage, and all of these were quickly resolved, Maltbie says. When BBQGrills.com had been with a previous logistics company, it could take close to one year to resolve a claim, he adds.
Coyote "has been a great company to work with," Maltbie says. Even as the number of shipments jumped by about two-thirds between 2020 and 2021, Coyote was able to keep up.
"BBQGrills.com is a growing company with great people behind the brand," Graziano says. He adds that Coyote is "thrilled to play a small part supporting their journey."
Leadership at Coyote prides itself on being fast, efficient, and service-centric, and prioritizing communication with its clients, Graziano says. This helps foster an atmosphere of trust on both sides. "We can rely on their business; they can rely on us to help keep their customers happy and get the experience they've come to expect," he says.
When a company's management team finds a freight provider they can trust—one that understands how important the growth of their business is—that relationship can pay dividends over the longer term, Graziano says.
Ready for More Growth
The growth and change at BBQGrills.com appear likely to continue. Maltbie's team is looking into expanding its supplier base and adding new brands to its distribution network. It's also building relationships with architects and manufacturers to create custom designs. The continued growth will mean even larger orders and higher volume.
As the owner of the company, Maltbie strives to remember why he started it in the first place: to source excellent products, provide outstanding customer service and offer reliable shipping. Yet growth can make it more difficult for the founder to directly administer every operation. Dependable service providers allow him to focus on quality customer service and continued growth.
"From the five-plus freight brokers I've gone through in the past nearly three years, the reason we settled on Coyote was because they're the most efficient and the most reliable," Maltbie says. "They were, in the long run, also the most cost effective. It's a benefit on all fronts."
[ad_2]