[ad_1]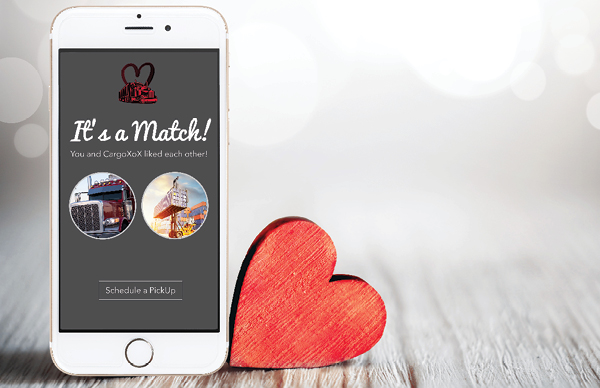 Here's a pickup line that works: tendering freight to compatible carriers through high-tech, digital loadboards.
The days of shippers posting loads on a bulletin board at a truck stop are long gone, and the art and science of matching freight and carriers has moved to the internet.
Today's 24/7 online world of loadboards and freight-matching apps have disrupted the spot market, bringing shippers and carriers together faster than ever. Rather than playing phone tag, shippers tender loads via online loadboards that truckers access on their mobile phones, or dispatchers scan on the web.
When shippers require trucking outside their standard contractual relationships or shipping lanes, they turn to the spot market for last-minute arrangements to get the load where it needs to go.
A few large loadboards have dominated the spot market, while tech startups nip at the heels of the entrenched leaders. DAT began as Dial-A-Truck, literally a bulletin board with loads pinned to it at a truck stop in Portland, Oregon. Today DAT and other loadboards reduce friction in the spot market, bringing shippers and carriers together faster and with less hassle.
Long-Term Relationship
Still, long-term contractual relationships are the preferred method of securing capacity.
"Most of our users would prefer to work with a carrier that they have a preexisting contract or relationship with," says Eileen Hart, vice president of marketing and corporate communications for DAT. "It's only when the capacity that they're counting on is not there that they will put it on the loadboard."
Shippers typically access loadboards directly or via a broker or third-party logistics (3PL) provider. Some loadboards act as brokers; others simply create a marketplace but take no responsibility for the freight. Carriers tap into the loadboard to fill empty backhauls or move them closer to the next load from a contract shipper.
Some large carriers and 3PLs have started their own loadboards. The J.B. Hunt 360 platform, for example, features more than 6,000 loads per day, which are available to 100,000-plus approved carriers.
"Shippers can create shipments directly one at a time or in bulk using a connected EDI or API," explains Shelley Simpson, executive vice president, chief commercial officer and president of Highway Services for J.B. Hunt. "Through Shipper 360, customers have access to end-to-end shipment visibility, real-time tracking, and in-depth reporting."
While the scope varies with the economy and factors such as severe weather events, the spot market represents about 20 percent of overall freight loads each year. DAT's database includes information on $33 billion in actual freight transactions, based on real rates that brokers have paid carriers.
New York City-based startup Loadsmart.com acts as a broker in freight transactions, guaranteeing shippers that a load will be moved or picked up as ordered. Launched in 2014, the company saw the freight brokerage industry as ripe for a technological makeover.
"There was a lot of technology available that could make this business more efficient," says Felipe Capella, a co-founder and chief of product.
Instant Pricing
In September 2015, Loadsmart came out with what it says was the first loadboard to offer full truckload shipping prices. Other ventures were offering estimates, but acting as a broker allowed Loadsmart to guarantee a rate offer within five seconds. The company offers instant prices in 900,000 lanes in the United States.
"Shippers with loads to move on the market can hop on our platform and secure a truck as soon as the next day," Capella says.
One barrier to adopting technological change is the tradition of trucking as a people business.
Even with the ability to book a load at the touch of a button, brokers and carriers still like to have person-to-person negotiations on the phone to finalize a deal. After all, both parties want to have a high level of comfort with each other.
When trusting a trucker to move hundreds of thousands of dollars of products that require careful oversight—such as pharmaceuticals or frozen foods—shippers must know that the truck driver is licensed and insured. Carriers want to work with reliable shippers who pay on time and respect a driver's need to get in and out of a loading dock without delay.
Many brokers and carriers still conduct phone calls to finalize spot market loads and identify important parameters such as load dimensions, appointment times, and other details that factor into a decision to offer and accept a load.
"The carriers sometimes feel they can get a better rate if they have a discussion with the broker," says Peggy Dorf, market analyst for DAT. "It's still an important part of the process but we're bringing as much of it online as we can."
Traditional check calls from the broker to the driver assigned to the load are also being supplanted with technology.
"The move to digital interaction has automated many daily responsibilities, freeing up more time to develop solutions and help improve efficiency," Simpson says. "When drivers use smartphones safely for day-to-day tasks, it can give them more time to drive, which means the opportunity to earn more."
Getting On Board Electronically
Loadboards streamline the process for shippers and carriers by offering an electronic onboarding process and credentialing for drivers, which makes that information available to the shipper as proof of Federal Motor Carrier Safety Administration (FMCSA) authority to operate and insurance coverage to handle a load. In the old days, truckers would have to fill out a 20-page form for each broker and pay the truck stop by the page to fax it in.
Drivers like the electronic process because they can upload their information only once, and select to work with numerous brokers and 3PLs with the click of a button. The loadboards also offer a one-time agreement for freight carriage, so the contract can be handled electronically as well.
Major loadboards such as DAT offer brokers the ability to monitor carriers' authority and insurance coverage and receive an alert if any pertinent documentation expires.
Still, some shippers prefer to work with carriers they already have an existing relationship with, turning to the spot market only as a last resort.
"In our experience, many shippers—— particularly the larger ones——prefer to rely on the capacity relationships they've established when it comes to covering freight," says Troy Cooper, chief operating officer of Greenwich, Connecticut-based XPO Logistics. "With loadboards, there isn't always a lot of vetting before freight is assigned. This makes some shippers wary of using them, even when a 3PL is involved."
Big Data in the Driver's Seat
Driven by big data, the process of matching shippers and loads will continue to get faster. Loadboards such as DAT are working to create recommendation engines, similar to Amazon's product recommendations. The engine will show drivers loads similar to those they are typically interested in carrying in terms of rate, lane, and equipment types. The system will pull the drivers' GPS location from a smartphone to offer nearby loads that fit their profile.
In October 2017, Loadsmart launched a tool that links instant quoting and booking systems for full truckload shipments with popular transportation management systems used by 35 percent of shippers.
"Customers will be able to check real-time full truckload shipping prices and book a 53-foot-long truck instantly with one click, avoiding calls, emails and double entries," Cella says.
Loadboard provider Truckstop.com is getting into the big data prediction business as well. In September 2017, the company unveiled a forecasting tool for the spot truckload market that will project the direction of spot rates in specific markets and lane by lane.
The Rate Forecasting tool analyzes 10 years of market trends from the Truckstop.com marketplace using transportation consultant FTR's proprietary economic modeling algorithm that measures 13 million data points each month. The resulting forecast tracks trends on each of 160,000 state-by-state lanes and 6 million origin/destination pairs, according to the two companies.
As more data accumulates, the loadboards will be able to speed up the entire process.
"We're looking at how we can aggregate and redistribute the data we have to improve efficiency across the board, whether you're a driver in the cab or involved in the onboarding process," Hart says. "If you look at each section of the freight lifecycle— from document management or payment matching up the loads and trucks—it will all just get increasingly faster."
[ad_2]