[ad_1]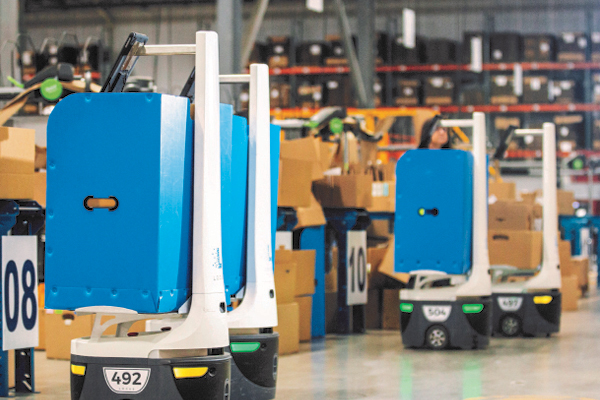 Verst's partnership with Locus Robotics addresses labor challenges by using system-guided robots, enabling Verst to fill orders faster and with pinpoint accuracy.
The Challenge
With recent increases in e-commerce, specifically during peak season, consumer demand is rapidly growing, and companies are struggling to keep pace. The current labor shortage and seasonal peaks have become a pain point for all industries, and it is an issue that is not going away soon, if ever. In the next decade, there will be enormous pressure and obstacles to find labor both in and out of peak season.
How businesses adapt to this labor shortage will cause their overall company success, or sometimes failure. In the supply chain industry, current labor demands outnumber the available workforce by a six-to-one ratio. According to a 2018 study by Deloitte, the gap could leave an estimated 2.4 million positions unfilled through 2028.
The Solution
The key to addressing this labor shortage crisis, both on a long- and short-term basis: automation and technology. These solutions offer tremendous potential to address labor and productivity growth challenges.
Verst Logistics has helped its customers combat this labor crisis and peak season influx through scalable automation and industry-leading technology including autonomous mobile robots (AMRs), an automated shipping sortation system, and a Tier-1 Technology Suite powered by Korber WMS.
Verst's partnership with Locus Robotics, a leader in state-of-the-art robotic technologies, addresses labor challenges by using system-guided robots. The robots work alongside Verst employees to assist with picking and packing. The robots drastically decreased the time Verst associates spend walking throughout the warehouse, allowing associates more time for picking, therefore increasing productivity.
This increase in productivity allowed Verst to fill 100% of the positions needed for the 2021 peak season due to the reduction of seasonal associates needed. The robots have also enabled Verst to fill orders faster and with greater accuracy, resulting in greater overall productivity and 99.7% order accuracy.
"One of the most impressive things about the automation is the accuracy of pick; we have seen our numbers reach as high as 99.9% with some of our clients," said Dean Hoerlein, VP of Distribution and Fulfillment.
Verst increased its number of robots by 60% to prepare for the surge in orders during the months of November and December 2021. At the height of the holiday peak in 2021, 99.5% of orders were on time, over 2.6 million units were processed.
Another core area of automation at Verst is the shipping sortation system. This automated system processes 6,000 cartons per hour with a 98.7% read rate. It reduces manual processes and labor needed to confirm orders and provides shipment information to the end consumer.
With this automation and technology in place, not only did Verst and its customers have an incredibly successful peak season, but it has enabled them to increase productivity and better utilize resources in short supply. Verst continues to research and implement further automation to scale its operation to provide growth and flexibility for its customers, not just in peak season but all year round.
---

To learn more:

800-978-9307

verstlogistics.com
[ad_2]