[ad_1]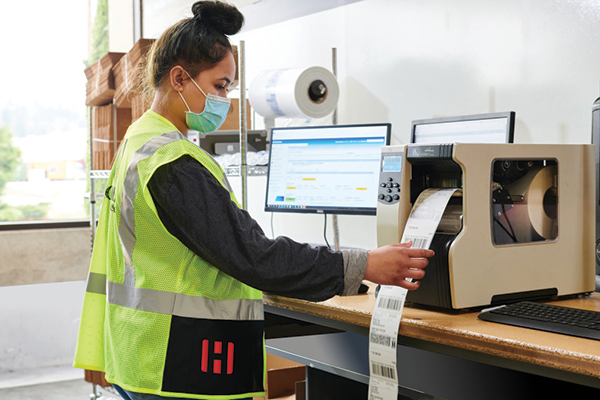 Holman Logistics provided its client with Extraordinary Service resulting in seamless execution for a warehouse move done in record time.
THE CHALLENGE
Seeking to optimize its Northwest omnichannel supply chain operations and having outgrown its existing 204,000-square-foot distribution center, one Holman Logistics client needed a new facility. The major consumer lawn and garden products supplier needed a space that could better accommodate its growing omnichannel operations and updated picking processes—and it needed the new space fast.
While the typical timeline to find a building, negotiate and execute a lease, and move product is roughly 12 to 18 months, this move would have to be much shorter: In April 2020, the client made the decision not to renew its lease, which would terminate at the end of September. That gave Holman just five months to locate a new facility and execute the move, which included relocating 200 truckloads of product.
Adding to the complexity, the entire process was orchestrated during the COVID-19 pandemic, so operations leadership from the consumer lawn and garden products company were not able to evaluate the site in person and make sure the facility met their needs. Instead, the company would be relying entirely upon Holman Logistics to deliver truly extraordinary service, acting as its eyes and ears and hands by executing the process on the company's behalf.
One final wrinkle—the client wanted to find a location that would be more cost-effective than its existing one, which was in an area where lease rates and taxes had increased greatly.
Holman Logistics was up to the task.
THE SOLUTION
Holman used ESP, their proprietary process to provide Extraordinary Service. Using Holman operational expertise and Extraordinary Service Process, the client's operations team was able to examine the new facility and work seamlessly with Holman to accomplish the move.
To ensure flawless project execution, Holman Division Manager Steve Stewart and Director of Continuous Improvement Don Hornsby worked closely together throughout the process. Hornsby acted as team lead on the project, tasked with overseeing everything from facility design and set up to proper installation of technology and hardware; management of vendors, permits, and service installations; meetings with the landlord and contractors; and transfer of products to the new DC, which was done in strategic phases over a defined 6-week period.
The Holman Extraordinary Service Process included:
Maintaining constant communication via weekly phone/video/photo updates

Suggesting process changes like setting up pick lanes based on velocity rather than volume in order to boost productivity

Creating a detailed project plan to ensure air-tight deadlines

Tapping into existing vendor relationships

Using the Holman ground transportation team to maximize flexibility

Expediting purchases of materials, equipment, and permits.
Ultimately, the move was completed on-time and under-budget, earning Holman a prestigious honor: the 2020 Partnership Award, given to the client's most valuable partner each year. For Holman, however, the move was simply a normal part of living up to its Brand Promise: Extraordinary Service for Over a Century.
---

To learn more:

email: solutions@holmanusa.com

phone: 888-988-0755

web: holmanusa.com
[ad_2]