[ad_1]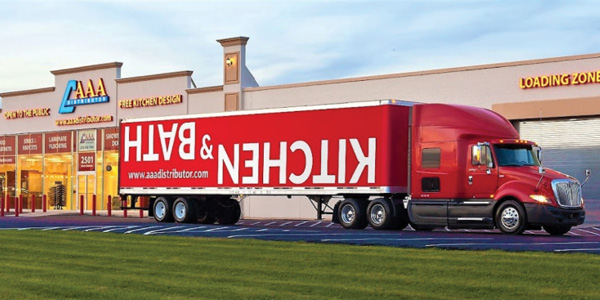 Pre-Orders Build Up Home Improvement Inventory
Many manufacturers have discontinued their less-popular products or increased prices across product categories as ships wait off the California coast, truck drivers face long wait times, and rail yards remain backed up.
AAA Distributor, however, has all its kitchen cabinetry, shower doors, vanities, and flooring products ready to ship from its 120,000-square-foot warehouse in Philadelphia.
The home improvement store placed pre-orders to avoid running out of goods during the pandemic, and the strategy paid off. It started to receive containers in early 2021 and accumulated more than twice its 2020 inventory. The inventory arrived just in time to meet increased demand for summer home improvements.
AAA Distributor is now able to ship all kitchen and bath products within 48 hours. It also launched a new website, where all the products can be purchased and shipped directly to customers' job sites.
The Home Depot Nails Down Same-Day Delivery
Do-it-yourself retailer The Home Depot's online sales almost doubled in 2020, and it is investing $1.2 billion in its supply chain. As part of that investment, the company will expand its e-commerce delivery services and offer same-day or next-day delivery to 90% of the U.S. population by using Walmart's GoLocal delivery service.
The Home Depot will launch the service at select stores in New Mexico, Texas, and Arkansas, before expanding to other markets by the end of 2021. Walmart will deliver smaller items that can fit into a car, such as tools, paint, and other supplies, for The Home Depot.
Walmart launched GoLocal in August 2021 as a byproduct of its e-commerce infrastructure and network of stores across the United States.
Patio Contractors Play Catch Up
Installing new patios was a big trend during the pandemic, as consumers built out their yards for at-home activities such as gardening, cooking, entertaining, and swimming. At the same time, restaurants and bars installed outdoor seating areas to allow for social distancing and keep their businesses open.
As a result, the demand for pavers—a popular hardscaping product used in outdoor installations—jumped nearly 7% in 2020, and many projects were delayed due to labor shortages, long wait times, and supply chain slowdowns, says a Freedonia Group analysis.
While supply chain challenges have persisted through 2021, they continue to become less of a factor, allowing more delayed projects to be completed. Near-term sales of pavers will remain elevated as pent-up demand for large-scale hardscaping installations is fulfilled, the report says. However, growth will moderate through 2025, with most of the gains stemming from price increases.
Construction Will Cost You
The cost of raw materials for U.S. firms is rising at its fastest rate in 40 years, with some of the higher costs making their way to consumers, says a Fitch Ratings analysis. Costs of construction materials and components have increased at a double-digit year-over-year rate since March 2020 (see chart).
The high demand for building materials persists due to new home construction and remodeling combined with government infrastructure and commercial construction spending, the report says. However, supply chain challenges in the building materials sector are taking longer than expected to normalize, hampering companies' ability to benefit from that demand.
Production capacity was constrained early on in the pandemic due to labor shortages, facility closures, and social distancing protocols. Port congestion and adverse weather events have exacerbated these challenges. As a result, building materials companies look to price increases, surcharges, and capacity expansion to compensate. Still, 2021 revenue growth remains within expectations, due largely to higher pricing, the report says.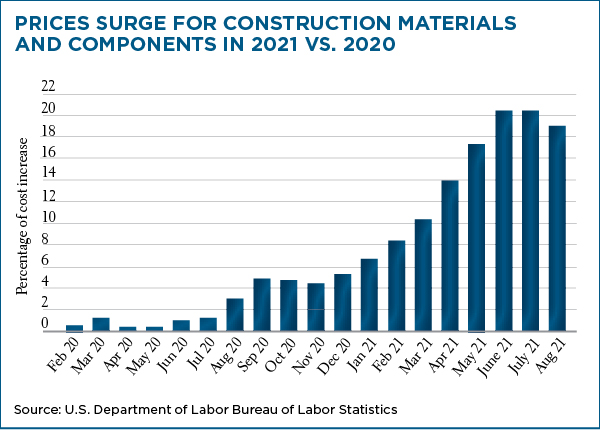 Ikea Constructs a Plan
Swedish home furnishings retailer Ikea expects container shortages and port congestion to remain an issue through mid-2022, as consumers working from home continue to renovate. Here are four ways Ikea plans to pick up the pieces:
1. Focus its product offering on its most popular products.
2. Take other measures to get products shipped to its stores, such as renting its own containers and finding alternative routes on trains.
3. Absorb costs to accommodate price spikes for transportation and raw materials rather than passing them on to consumers.
4. Make products even more affordable and get a bigger share of revenue from its lower-price products.
Paint Demand Spills Over
Producer prices for paint and coating rose 10.6% in August 2021 from the previous year—the biggest annual jump since January 2009—as consumers change up their wall colors.
The deep freeze in the South has slowed production of petroleum, a critical ingredient for paint, and store owners have struggled to keep product on the shelves. Demand, however, isn't slowing down. The following home projects have been the most popular during the pandemic, adding to the supply chain strain, a HomeAdvisor report says:
1. Interior painting
2. Bathroom renovations
3. Flooring
4. Landscaping
5. Kitchen renovations
6. Exterior painting (tie)
7. Smart home devices (tie)
8. Roofing
9. Fencing
10. Deck or porch
[ad_2]