[ad_1]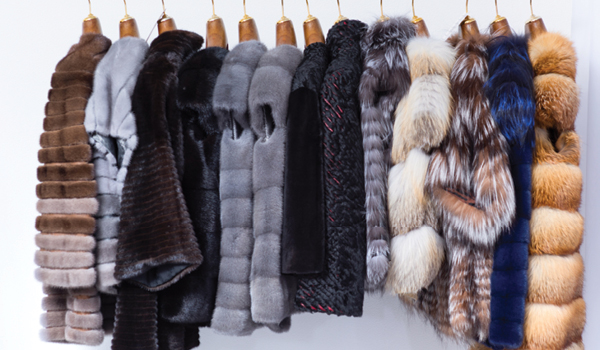 Shedding Animal Materials Fur Good
Dolce & Gabbana joins several other luxury fashion brands in banning fur from all future collections starting in 2022. It will continue to work with fur artisans in its supply chain to incorporate into its designs sustainable faux fur made from recycled materials, the fashion house says.
The company has used fox, mink, and rabbit fur in previous designs, but recently opted for synthetic fabrics such as polyester and acrylic.
Dolce & Gabbana is the second luxury fashion brand to announce a ban on fur in 2022; outerwear brand Moncler has also decided to go fur-free. The company says it will no longer use fur by 2024.
Many brands were already fur-free, including Gucci, Balenciaga, and Alexander McQueen. Prada, Burberry, Oscar de la Renta, and Chanel have also recently committed to not using fur.
Fur bans are not limited to fashion. Italy's senate recently approved an amendment to a budget law that permanently bans the farming of fur-bearing animals. If approved, the law would close down the country's remaining fur farms by June 2022, adding Italy to a growing list of countries including France, Hungary, and the Netherlands, that are passing fur bans.
Young Couples Put a Ring On It
As more millennials and Gen Zers tie the knot, they're ushering in a surge in jewelry sales and changing up the diamond supply chain, prioritizing lab-grown gems and sustainable practices, says a CNBC report. Highlights from the report reveal:
More marriages: Young consumers will splurge not only on engagement rings, but also on wedding bands and other accessories. In a four-decade high, 2022 is expected to bring about 2.5 million nuptials.

Resilience: Consumers are looking for ways to show appreciation toward a loved one during the pandemic, and jewelry is one way to do that. Although jewelry sales dropped 4.3% last holiday season, the category outperformed apparel retailers and department stores.

Pandemic savings: Some consumers did not spend on travel and experiences during the pandemic, and were able to save up for aspirational purchases such as engagement rings.

Sustainability: Young consumers prioritize sustainability, fueling the growth of lab-grown diamonds. More jewelry companies, such as De Beers and Brilliant Earth, have added eco-friendly options with this in mind, fueling growth in the industry.

Social media: Jewelry chain Brilliant Earth says 87% of its active consumer base is either millennial or Gen Z, who find the brand primarily through social media platforms and make purchases via its website, which offers virtual appointments.
Jewelry Market Shines On
Manufacturing innovations, increased demand for seasonal gifts, and online shopping surges are driving the growth of the jewelry e-commerce market in North America. Trends include:
The global online jewelry market will grow by $19.9 billion between 2019 and 2024 as demand for fine and fashionable jewelry among millennial women increases.

Increased availability of online jewelry collections fuels demand for newer designs, which are priced higher. Brands are widening their range of jewelry collections.

Integration of technology, such as 3D printing, into manufacturing processes has increased, enabling jewelry companies to innovate in terms of design, check the purity of precious metals and stones, and differentiate their products.

Increased demand for fine jewelry for special occasions, such as Valentine's Day and Mother's Day, drives growth in the segment.

At $23.9 billion, 2022 is the second-highest spending year on record for Valentine's Day.

Shoppers were able to place same-day or advanced flower deliveries through Doordash for Valentine's Day, with the chance to win free diamonds from Kay Jewelers. The promotion aimed to capture consumers looking for last-minute gifts.
Sneakers Side-Step Disruption
While retail sales slowed as factory shutdowns in Asia halted production, high-end sneaker platform GOAT.com sprinted through supply chain bottlenecks, a Yahoo Finance report says. Here are five ways the platform jumped those hurdles:
1. Sneakers have become more than just athletic gear—they're now coveted luxury items that can go for $10,000 or more on GOAT.com, such as a pair by Kanye West and Louis Vuitton (pictured).
2. Sneakers are one of the best-selling products in the luxury e-commerce market. The global sneaker market was valued at $79 billion in 2020 and is predicted to reach $120 billion by 2026.
3. Women buyers are boosting the popularity of high-fashion sneakers. This demographic represents 40% of GOAT's consumer base and continues to grow.
4. E-commerce platforms are getting into non-fungible tokens (NFTs), allowing traders to buy and sell collectible items without physically shipping them. On Black Friday, GOAT started a campaign that allowed consumers to drop into virtual worlds where they could access their products in different settings.
5. GOAT tapped into increased demand for cross-body bags, which have become staples for Gen Z and millennial urbanites wanting to stow masks and hand sanitizer. U.S. sales of men's and unisex handbags were up almost 700% in 2021 compared to 2018.
Lapping Up Luxury Goods
Despite retail closures, fashion show cancellations, and low confidence in the economy, global sales of luxury goods made a full recovery (see chart) and will continue to surpass pre-pandemic levels, with sales increasing from $321 billion in 2021 to $352 billion in 2022, Financial Times reports. Here's what the report predicts for the sector:
Consumer shifts. A surge of buying among Americans in inland cities such as Austin and Pittsburgh is happening after many people moved out of larger coastal cities during the pandemic. The shift from spending on experiences to goods will likely persist for another year.
Pricey items. After remaining stable for years, luxury brands including Louis Vuitton, Hermès, and Chanel raised prices during the pandemic. With material and labor costs rising, price hikes will continue into 2022, with some brands considering double-digit price increases.
Supply chain ownership. Brands such as Chanel and Prada are acquiring more of their suppliers as access to materials and manufacturers becomes more difficult and costly, and customers demand greater transparency. The trend will continue in 2022.
Secondhand grows. The secondhand market continues to increase. More brands are partnering with secondhand platforms, such as The RealReal, to offer authentication services and incentivize customers to consign their items via store credit, or are using their websites to facilitate secondhand sales directly.
NFTs take off. By 2025, Gen Z will account for more than one in five luxury purchases. Brands will invest further in gaming partnerships and NFTs, which are becoming a formidable revenue stream. Metaverse gaming and NFTs could offer a 25% uplift to profits for the luxury industry by 2030.
E-commerce investments. E-commerce luxury sales nearly doubled from 12% to 22% during the pandemic, and are expected to rise to as much as 30% by 2025. Brands such as Gucci and Alexander McQueen are moving to consignment models and improving their websites to gain greater control over inventory, pricing, and customer relationships.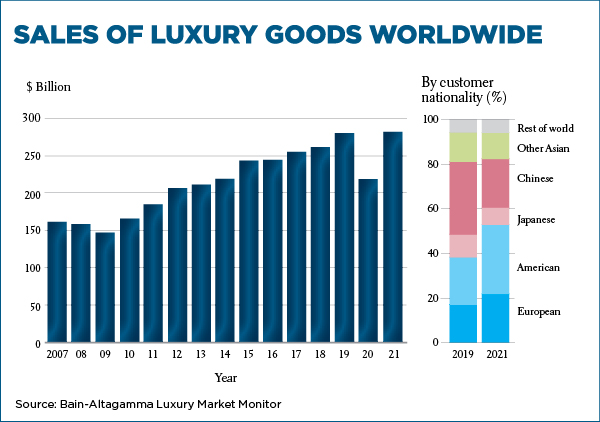 [ad_2]