[ad_1]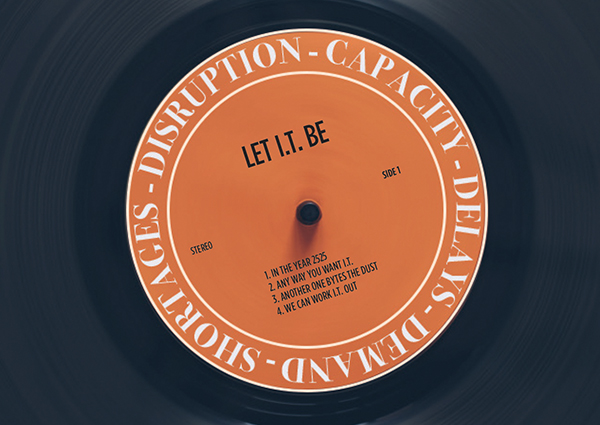 Digital transformation will be fundamental as we tune into a post-pandemic supply chain.
Supply chains historically have been "starved of investment in technology, with many companies still using spreadsheets and email," says Sumit Vakil, chief product officer with Resilinc, a provider of supply chain risk management tools. "It's 20th century technology applied to today's problems." Not only are manual operations time-consuming and prone to error, but they also keep supply chain leaders from leveraging solutions, such as artificial intelligence, that can provide the flexibility, visibility, and insight needed to improve operations and decision-making.
Fortunately, this is changing. Many companies are rebooting themselves, often through digital transformations that boost transparency and visibility. Organizations that hesitate risk getting left behind. "This is going to be foundational and the cost to play the game," says Jason Alexander, national manufacturing sector leader with consulting firm RSMUS.
Also fortunately, technology solutions costs are dropping. Businesses of almost any size can afford many of the cloud-based or software-as-a-service (SaaS) applications. Prices for sensors are also dropping.
As supply chain professionals evaluate, invest in, and implement technology solutions, they're gaining new insight. Here are some of the lessons learned from the past year or two:
Lesson 1 – Under Pressure
Recognize that supply chains increasingly compete with each other for technology. One example: Auto manufacturers, electronics firms, and appliance companies all need to obtain microchips for their products. "Suppliers may have to define which end-product market segment is likely to be the best strategic target for them," says Simon Croom, Ph.D., professor of supply chain management at the University of San Diego. Their analysis may lead them to prioritize, say, auto over white-goods manufacturers.
lesSon 2 – Changes
Make remote work work. Like many companies, ReedTMSLogistics shifted to remote work early in the pandemic. For Eileen Dabrowski, director of learning, development, and marketing, that meant figuring out how to help new employees both gain a sense of the company's culture and learn complicated technology solutions from their homes, rather than while on-site. "It was a challenge to create a similar experience," she says.
Among the tactics that proved effective were asking trainees to start each day with a takeaway from the previous lessons, as well as a "getting to know you" icebreaker. She also appealed to the lived experience of the trainees, asking them to offer their own knowledge when applicable.
Lesson 3 – I can see clearly now
Leverage technology to gain visibility. The recent delays in ocean transport have highlighted the lack of visibility to many ocean shipments, says Jake Flory, solutions architect with Pegasus Logistics Group. To remedy this, Pegasus invested in a technology solution that provides visibility.
"Although it doesn't solve all the supply chain headaches, it definitely arms our clients with more information so they can better prepare," says Hiram Hartnett, executive vice president, sales for Pegasus.
That's key, as disruptions across all transportation modes are expected to continue for some time. When companies understand which orders are impacted, they can intelligently respond by, for instance, adjusting manufacturing scheduling.
Lesson 4 – Smarter than you
Turn data into intelligence. GE Appliances began its digital supply chain journey in 2017, says Kent Suiters, executive director, lean enterprises with the company. Visibility to supply and demand became a priority, as the availability of big data and rapidly maturing digitization tools offered the opportunity to boost responsiveness.
The pandemic highlighted the wisdom of this approach, as GE Appliances had to quickly connect limited supplies of certain parts and components to rapidly growing demand, while also meeting customer expectations.
The control tower they implemented "identifies issues days and weeks in advance so they can be resolved with little or no customer impact," Suiters says.(A supply chain control tower is traditionally defined as a connected, personalized dashboard of data, key business metrics and events across the supply chain.)
By turning data from these systems into intelligence and insight, GE Appliances was able to create "agility and resiliency in our supply chain by transforming our business processes," Suiters says. This allowed employees to be more forward looking and transition their work from transactional to decision-making.
Lesson 5 – The times they are a'changin
Figure out new ways to forecast. Over the past 18 months, beer company Heineken USA experienced erratic swings in consumption across pack types, while COVID shutdowns caused channel trends to shift dramatically.
"These factors, along with our long import supply chain, forced us to reevaluate how we combine predictive analytics and demand planning to anticipate trend changes," says Laura Strehle, senior director, supply chain planning.
For instance, Strehle and her team often had to disregard data history and instead enrich forecasts with high-frequency sales and operations planning data. And because the marketplace was shifting so rapidly, they needed to put off some planning decisions until as close to the last minute as possible.
To take these steps, Heineken USA first needed to "improve our visibility and the predictability of our outbound and inbound planning," Strehle says. That meant moving from static to dynamic parameters, and proactively creating new logistics routes to move stock to customers.
They also integrated and digitized their end-to-end supply chain data to boost agility."During extremely volatile periods, we had to dive deep into all of our data points and find ways to drive insights and connect them throughout our processes," she adds.
Heineken USA isn't alone. For most companies, the delays and shortages in the face of booming demand have created an urgent need for more effective technology for demand forecasting. To remain competitive, companies need to leverage demand planning and forecasting tools that can help them respond to changing market dynamics, optimize inventory, and provide reliable forecasts.
Lesson 6 – Born in the U.S.A.
Create a digital team to tout domestic operations. Companies that source domestically have been able to avoid some of the supply chain delays impacting those with more global supply chains. It only makes sense for them to market this fact.
Dusty Dean is founder and chief executive officer of BITCADET, which develops digital sales strategies for manufacturers. He works with a company that sources and manufactures do-it-yourself building kits in the United States. To leverage its made-in-America production, the company formed a digital rapid response team composed of web designers, e-commerce back-end developers, and integrations specialists.They identified additional product SKUs and variations they could quickly bring online into configurable product pages, and then worked with operations to lower lead times.
These steps offered "a clear advantage while competitors were stocking out and offering indeterminate lead times," Dean says.
Lesson 7 – come together
Embrace "coopetition." As e-commerce continues to grab a larger share of consumer spending, it is transforming fulfillment operations, as each item must be individually picked and transported to customers' doors, adding complexity and raising costs, says Brent Beabout, president and founder of logistics company AirTerra. Even many mid-sized retailers lack the capital to own and operate their own e-commerce fulfillment operations.
Instead, many will need to maintain their focus on customer-facing operations, like branding and website design, Beabout says, and then partner with other businesses—what some call coopetition—to jointly leverage technology that can streamline back-end operations, like supply chain and transportation to gain economies of scale. Coopetition of these functions, generally through an independent third party, will accelerate as e-commerce continues to grow.
Lesson 8 – Get off my cloud
Turn to the cloud. Many of today's cloud-based enterprise resource planning (ERP) solutions offer advanced analytics that allow for a more granular look at business operations. For instance, they can provide data that shows which products are more profitable.
Similarly, software as a service (SaaS) is beginning to dominate the warehouse management system (WMS) market, says Tom Singer, senior project manager with Tompkins Solutions. While these solutions have been around for years, they have typically been found in the lower end of the market. Now, top-tier WMS vendors are fully embracing cloud-centric, subscription-based models.
Moreover, the value proposition for SaaS and cloud-based WMS packages has moved beyond simply eliminating the need for a company to invest in and maintain the IT infrastructure. Many SaaS WMS vendors and integrators now offer full sets of managed services for provisioning and administering the technology stack behind their solution, accelerating the time to value.
Lesson 9 – Mr. Roboto
Robots can do more than dance. While material handling equipment has long centered around fixed, capital-intensive systems, autonomous mobile robots (AMRs) offer capabilities similar to these solutions, but with greater flexibility and at a fraction of the investment, Singer says. Many can reduce labor costs and boost service levels—key benefits for e-commerce operations struggling with labor shortages and explosive customer demand.
Lesson 10 – Searchin
Use technology to look outside your organization. It's no longer enough to understand only your own supply chain. A hurricane on the U.S. Gulf Coast or flooding in Europe can impact supply chains around the globe. "You have to manage the known information extremely well to make time to deal with the unknown information," says Billy Duty, head of global supply chain with BYK, a division of Altana, a chemical company.
Technology makes this possible. The chemical industry is now deploying track-and-trace solutions, long used in other industries. Knowing the location of incoming raw materials or components allows for more accurate production planning, even when disruptions occur.
"We have to invest in technology that makes it easy for everyone to connect the dots," Duty adds.
Lesson 11 – Jive talking
Watch for tech imposters. As critical as technology is, it's also necessary to watch for "IT and tech imposters," says Nicole Glenn, founder and CEO of Candor Expedite. These vendors market the wonderful things their solutions can do, even though it's not clear they can deliver on their promises.
To identify them, Glenn recommends proceeding with caution and asking questions. Some examples: How many people are on the team working on this solution? Can you demonstrate that your product does what you're telling me it does?
Lesson 12 – Takin' care of business
Remember cybersecurity. "An organization is only as safe as its supply chain," says Tom Pepper, CEO of cybersecurity firm Egress. An attack can be crippling. The ransomware attackagainst the Colonial Pipeline causedfuel shortages across the U.S. eastern seaboard and compelled several states to declare states of emergencies, among other consequences.
One step to safeguarding supply chain technology is to keep in mind that many attacks occur over holidaysor at the start ofweekends, when security teams are likely to have even fewer people available to respond to an incident, Pepper says. The Colonial pipeline attack, for instance, occurred over Mother's Day weekend.
Organizations should confirm that their security teams are adequately resourced and remain aware of the additional risk of cyberattacks during these periods.
Lesson 13 – I will survive
Consider technology's role in resilience. Until recently, most supply chains have been optimized for cost, says Bharat Kapoor, global lead and founder of A.T. Kearney PERLabs. While cost remains critical, it's no longer feasible to ignore resilience. This shift will influence technology investments.
For instance, supply chain leaders may decide to modify production processes so that they can accommodate a substitute raw material, if it becomes difficult to access their usual supply.
Incorporating resilience in supply chain planning can cut into profit margins. However, resilient organizations often are well-positioned to capture market share when disruptions occur.
Lesson 14 – With a little help from my friends
Don't neglect human interaction. As critical as technology is, no solution can completely replace human interaction.
"You need the best of both technology and human interaction," says Mark McCullough, CEO of Gebruder Weiss USA. "When you get into a bind, you want to talk to real industry experts and not someone trained only on software."
Kyle Seamans is logistics manager with Brenny Transportation. Like many companies, video conferencing, phone calls, and other tech tools implemented in the wake of the shutdowns in 2020 allowed Brenny to operate with some semblance of normalcy. But once it became safe to again visit customers, "I realized how pivotal face-to-face interactions can be," Seamans says.
While Seamans and the Brenny team will continue to leverage video conferencing and other tools, person-to-person connections, when they can be done safely, remain important.
"No emoji or sweet digital background will replace the energy that it creates," Seamans says.
[ad_2]