[ad_1]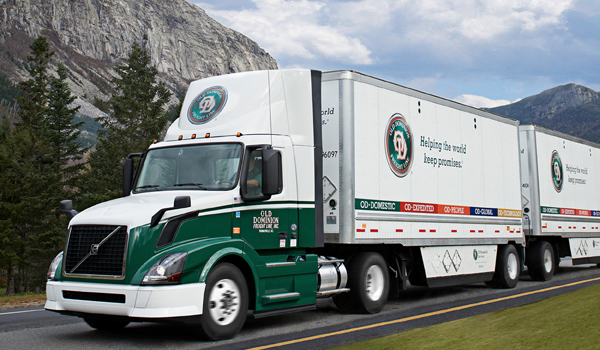 Less-than-truckload carriers are developing new strategies to serve retailers and manufacturers who create the goods that impatient e-commerce consumers expect will be delivered fast and free.
In today's "I want it now" market, parcel services need to meet the increased demands of impatient consumers. Many e-commerce shipments are also likely to include a less-than-truckload (LTL) carrier. These carriers often handle the "middle mile," and as customer expectations grow, LTL carriers are also being impacted as they serve the retailers and manufacturers producing and selling the products that are in demand.
This new market dynamic creates challenges for LTL carriers, including smaller shipments and requests for more frequent deliveries. Speed is also part of the equation, with shrinking delivery windows and fewer days in transit. LTL carriers are adapting to the "new normal" in a variety of ways, including purchasing different types of equipment, adding expedited and guaranteed services, and expanding last-mile capabilities.
Regional carrier A. Duie Pyle can attest to changing requirements and the impact that e-commerce is having on LTL carriers. As a family owned and operated business for more than 90 years, the company provides a range of integrated transportation and distribution services, with 24 LTL and truckload (TL) service centers and nine warehouses located throughout the Northeast region.
Addressing the Trend
"Smaller shipments are increasing as a percentage of our overall business," says Randy Swart, chief operating officer at A. Duie Pyle. "Requests for deliveries earlier in the day that use time-defined services are increasing as well."
To address these trends, A. Duie Pyle is investing in different types of equipment. "We have added a substantial number of smaller trucks to our fleet with lift gates to handle the increase in smaller shipments to customers without docks and in more congested areas," Swart explains.
There are advantages to being a regional provider in today's Amazon-impacted world. "As a regional carrier, our freight does not go through any breakbulk facilities; it goes directly from the pickup service center to the delivery center, which reduces time and handlings," Swart says. "It also allows us to select the proper vehicle for the shipment size and delivery area because of our service density in the region."
Like many larger LTL carriers, Pyle also offers expedited services designed to provide greater predictability. The company's Pyle Priority guarantees reliable service for time-sensitive shipments with options for delivery by 10 a.m., noon, or 5 p.m., or customized shipping parameters through its Pyle Guarantee Express (GEX) service.
Old Dominion Freight Line (ODFL) is addressing the demand for smaller, more frequent shipments by adding hubs and smaller service centers. An LTL carrier, ODFL provides regional, inter-regional, and national LTL services as well as a range of specialized services for expedited transportation and consumer household pickup and delivery.
Another downstream impact of the e-commerce explosion, according to ODFL, is the increasing severity of penalties some retailers impose for late or early shipments. Today, retailers are working to serve brick-and-mortar customers as well as online shoppers, making inventory management a critical factor, and adding complexity to their supply chains. Some big box retailers are implementing even stricter delivery requirements to exert greater control over their supply chains.
Just how onerous are these requirements? In 2017, Walmart implemented an initiative called On-Time and In-Full or OTIF, according to a Bloomberg News report. Carriers are required to deliver 100 percent in full on the "must arrive by" date 75 percent of the time. Late or missing shipments could result in a fine of three percent of the value of the goods being shipped.
Target is also tightening deadlines with fines for late or early shipments that could reach as high as $10,000, according to a Reuters report.
Hefty Fines
"When you look at the big picture, three or five percent of the value of goods is a costly fine for our customers," says Steve Hartsell, director of expedited services for ODFL. Myriad factors—from unexpected weather or highway congestion to a pickup not being ready at the origin—could result in a shipment not meeting its delivery window.
ODFL is committed to helping shippers control as many variables as possible, and has developed a service designed to help them avoid hefty fines. OD Guaranteed MABD-Must Arrive By Date assigns a customer service representative to a shipper to act as the single point of access for all details regarding MABD shipments. These representatives make sure MABD shipments stay on track. Other service features include dynamic in-transit upgrades when needed to meet delivery windows.
ODFL proactively developed a department specifically to serve MABD customers. "We saw this coming, with the increase of e-commerce," says Hartsell. While these shipments move in the same operational system as its other LTL shipments, the carrier sorts and handles MABD shipments differently than non-time-definite shipments.
In addition to its MABD service, ODFL has added other options designed to serve the new consumer-driven market. The carrier offers guaranteed Friday-to-Monday delivery through OD Weekend Promise and OD Expedited On Demand services.
Across its product portfolio of LTL services, technology investments and plans that have been in the works for years are a factor in ODFL's ability to effectively serve manufacturers and retailers, regardless of the changing market dynamics. One example is the use of paperless docks, which speed the entire ODFL network, Hartsell says.
In addition, ODFL uses portal and web-based applications to gain efficiency and make interactions easier for customers.
One-Stop Shopping
Just as consumers are looking for a one-stop shopping experience—buying everything from shoes to sushi through companies such as Amazon—many shippers are also looking for a single provider to handle every aspect of an e-commerce shipment's lifecycle, including last-mile delivery. That is the value proposition that XPO Logistics brings to the e-commerce supply chain, according to Scott Malat, the company's chief strategy officer.
A global logistics provider, XPO operates an integrated network of people, technology, and physical assets in 32 countries, with 1,444 locations and more than 91,000 employees. The company greatly expanded its footprint in LTL trucking in 2015, when it acquired Con-Way Freight. Today, XPO has two reporting segments: transportation and logistics.
Larger shippers are taking advantage of a combination of XPO services to leverage the synergies among them. "Approximately 90 of our top 100 customers use XPO for multiple solutions," Malat says.
While LTL is a part of the overall solution XPO offers, the company is investing heavily in last-mile services to support e-commerce. "We manage heavy, large consumer goods, such as TVs or furniture," says Malat.
XPO transports or coordinates transportation of these goods and provides delivery and installation in the home. "We have been facilitating the delivery and installation of appliances for more than two decades," says Malat.
In a typical calendar year, XPO would oversee nearly 13 million home and commercial deliveries, with the majority including installation and assembly of appliances, large electronics, furniture, and other hard-to-handle items.
With more people buying products online, the companies and individuals delivering these goods inside their homes directly reflect a retailer's brand, Malat says. That is one reason why XPO invests heavily in training and hiring employees or carriers with appropriate skill sets and excellent reputations.
Meeting high customer standards is part of the XPO Logistics culture. "Across our company, 70 percent of all employee and executive incentive compensation is based on customer service ratings," Malat notes.
XPO has also been investing in last-mile service hubs, and recently announced plans to double its last-mile footprint to 85 service hubs by late 2018. As part of this planned expansion, XPO opened eight new service hubs in advance of Cyber Monday in 2017. XPO employs skilled professionals who predict demand and future trends, allowing the company to stay one step ahead of customer needs, Malat says.
Delivering in a Changing Market
LTL carriers across the board are stepping up to the plate to deliver the level of service, flexibility, and technology required by today's impatient consumers. In fact, "We don't view serving impatient consumers as a challenge, but as an opportunity to expand and grow," says ODFL's Hartsell. His comments are validated by industry analyst Dave Ross of Stifel, who states that e-commerce will continue to drive growth across the LTL industry for some time.
As Hartsell says, "In an e-commerce world, LTL will be just fine."
[ad_2]