[ad_1]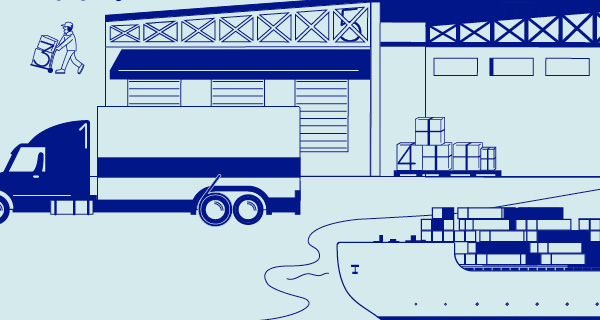 As shippers puzzle their way through a record truckload capacity shortage, they have to change how they do business to find the right truck at the right time for the right price.
The U.S. truckload capacity shortage continues with no end in sight, at least for the next year or so. Across all equipment types, the load-to-truck ratio in July 2018 was 11.3 loads per truck, down from 17.7 in June (a decline that's a common seasonal trend), reports DAT Solutions.
What's behind this uneven match up?
"It's the perfect storm," says Joe Carlier, senior vice president of global sales at third-party logistics provider Penske Logistics, in Reading, Pennsylvania.
Carlier and other industry leaders cite a number of factors that, in isolation, would be manageable. But because they're happening simultaneously, some shippers struggle to get the right truck at the right price at the right time.
Factors Leading to the Capacity Crunch
Top factors contributing to the capacity crisis include:
A booming economy with more manufacturing means more materials and goods need to be transported.

The recession 10 years ago that caused some trucking businesses to close up shop reduced the number of trucks available to haul goods today.

As truck drivers retire—the Bureau of Labor Statistics estimates that the average age of a commercial truck driver is 55—they aren't being replaced by younger drivers.

The electronic logging device (ELD) mandate that went into effect at the end of 2017 and places limits on how many hours a truck driver can be on the road means the industry needs more drivers to stay on par with pre-ELD hours.

As America's roadways become more congested, it takes longer and longer to get goods to their destinations. Lost productivity in 2015 was the equivalent of 362,243 commercial truck drivers sitting idle for an entire working year, according to the Cost of Congestion to the Trucking Industry: 2017 Update published by the American Transportation Research Institute.
Of all these factors, the one getting the most attention is the truck driver shortage.
"Our latest estimate of the shortage for Q2 2018 is 271,180, which represents the first directional change in the driver shortage since the end of 2015," says Avery Vise, vice president of trucking at FTR Transportation Intelligence. "Our estimate is that the Q1 shortage of 286,803 drivers is the largest shortage in history and is expected to be the worst of the shortage in the current cycle."
Where Are the Drivers?
There are several reasons why there aren't enough truck drivers. "Some demographics in the industry aren't favorable," says Mark Rourke, executive vice president and chief operating officer for Wisconsin-based transportation provider Schneider, referring to driver age. "Schneider has made investments and changes that are paying off, as one in five of our drivers is a millennial and the percentage of women drivers in our fleet is far higher than the national average.
"However, I sign more retirement letters nearly every day," he adds.
Younger workers aren't attracted to the profession for many reasons: Pay that's viewed as too low for the hours and conditions worked, a lack of interest in being away from home for extended periods, and less-than-ideal working conditions on the road and on docks.
"First and foremost, drivers throughout the industry don't receive the respect they've earned and deserve from shippers, companies receiving the goods they deliver, the motoring public, and the industry itself," says Phil Byrd, Sr., president and CEO of Bulldog Hiway Express, a Daseke company in South Carolina. He is also a past chairman of the American Trucking Associations.
What's more, there's plenty of work in other fields for potential drivers. "In this booming economy, drivers can get jobs in their backyards working in construction or the oil industry," adds Kevin Abbott, vice president of North American truckload services at 3PL C.H. Robinson in Minnesota. "These are the types of jobs that get people home every night."
What's a Shipper to Do?
In today's marketplace, truckers are in the driver's seat in more ways than one. "Shippers have to understand how the industry has changed," says Ron Talley, president of Houston-based Crane Freight and Cartage. "It's a driver's market today, not a shipper's market."
"Carriers are blacklisting certain distribution centers and charging double time for others," adds Ryan Ilges, vice president of truckload at Unishippers in Salt Lake City. "They know the shippers need them and they're looking at factors that include detention time."
With all that in mind, here are six suggestions for finding the capacity you need.
1. Get your act together in the distribution center.
"Make sure your warehouse is organized for efficiency so drivers can get in and out quickly," says Matt Cahill, owner of SUPPLY POINTe in Cincinnati.
"Drivers don't want to sit around waiting," adds Talley. "They make more money when they're on the road."
An optimized warehouse that helps drivers reduce dwell times improves driver productivity. That, in turn, helps a company become a "shipper of choice."
"That means being conscious of carriers' needs and catering to them as much as possible," says Abbott.
This serves another purpose, however. As carriers address the driver shortage by paying drivers more, they will have to pass those costs along to shippers. Using technology to become more efficient could help offset rate increases. "Rates will continue climbing," says Carlier. "This will put pressure on shippers to drive costs out of the system."
2. Be more flexible with pickup and delivery times.
"The ELD mandate impacts how drivers manage their hours of service and drive time," says Abbott. "Being more flexible with schedules allows carriers to build the productivity they need to make ends meet."
"We don't work on a Monday through Friday, 8 am to 5 pm schedule," adds Byrd.
Flexible scheduling might involve reviewing long-standing business processes to uncover what should change because of the current situation. Carlier recommends re-examining existing business rules and asking why you're doing certain things. "In many cases, it's only because that's how it has always been done," he says.
3. Be nice to drivers.
Give drivers a safe place to park and access to rest rooms. Smile at them. Offer a bottle of water at the loading dock. Show a little respect.
Why isn't this happening already in many locations?
Abbott, whose company has a Carrier of the Year program, speculates that "it's the stress of the job. When you have to get goods off your dock on time, the everyday stress can spill over to that stranger walking onto your dock."
Be aware that drivers provide feedback to carriers, who might charge higher rates or pass on the loads altogether because they know they'll struggle to get drivers to go to an unwelcoming location.
4. Support infrastructure changes.
More than 70 percent of the country's freight by weight moves over roadways, according to the American Trucking Associations. Yet not all of those roads were built to accommodate this level of heavy traffic.
"Some highway on and off ramps weren't designed for commercial traffic," notes Byrd. "This often puts commercial drivers in situations that create accidents."
Truckers also need more public rest stops and parking in existing rest areas. This is even more important given the hours of service mandate for rest periods. "Some states aren't re-opening truck parking locations that were closed for lack of funding," Byrd says. "It's a real issue that affects capacity for shippers and effective movement of drivers."
5. Help the carrier find another leg or backhaul.
This is where technology can make a difference. "Plugging into a technology network with lots of connections will help carriers fill trucks for backhauls or a new leg and help get capacity while keeping rates down," says Ilges.
Noting that almost one-quarter of all freight trips run empty, cloud-based transportation management system provider Kuebix recently introduced FleetMAX, a program that connects empty fleet trucks with loads so they run full—and make money from an otherwise empty trailer.
By leveraging Kuebix's shipper and carrier community, companies with fleets can reduce the number of empty miles they run. As a result, fleet owners generate additional revenue while opening up capacity for shippers.
"FleetMAX turns empty trucks into profit centers," says Dan Clark, founder and president of Kuebix.
6. Pay your carriers quickly.
Carriers want to work with shippers who don't make them wait for their money. Technology can help with that, too.
For example, Transporeon offers a platform that automates and streamlines the process, allowing the shipper to pay an invoice for less than it costs to handle internally. It does so while paying in fewer than seven days after delivery.
"Faster, accurate payment helps carriers and shippers build stronger relationships," says Ed Moran, Transporeon's managing director and senior vice president of sales and marketing for the Americas. He adds that many carriers will often reduce their rates when shippers guarantee speedy payment terms.
Through its new Quickload platform, BOS Group is the first company to pay carriers within 48 hours, according to Ozan Baran, founder and CEO of the southern Florida logistics provider. Quickload, which pairs freight with carriers, triggers a payment as soon as the system receives proof of delivery.
"Shippers who pay quickly attract more carriers," Baran explains. "And more carriers mean more opportunities for shippers to find and secure the capacity they need."
Carriers say they are beginning to see positive changes among their shipper customers. "Our drivers have an app that allows them to provide feedback on shipper facilities and operations," says Rourke. "To our customers' credit, most are actively seeking this feedback.
"Many shippers are doing great things and have made improvements," he adds. "Shippers who aren't are the ones having the most difficulty finding capacity in the current environment."
[ad_2]