[ad_1]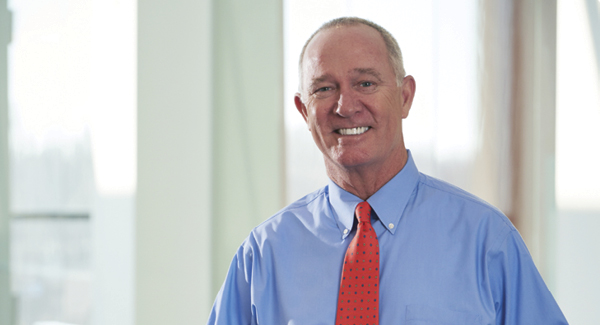 David Congdon was 14 when he joined the family business: less-than-truckload (LTL) carrier Old Dominion Freight Line. "I started working on the dock in the summer," he says. "Making $1.65 an hour beat the heck out of a $3 weekly allowance."
At 16, Congdon started traveling to service centers in the Old Dominion network, working the docks in Durham, N.C., Richmond, Va., and Baltimore, and riding with pickup and delivery drivers. "I also started working as a truck mechanic on the weekends and the next couple of summers," he says.
After earning a Bachelor's degree in business management, Congdon headed to the North Carolina Truck Driver Training School in Raleigh. "I had been driving trucks around the yard since I was 14. But at the school I learned how to be a professional driver, and then I did local and over-the-road driving for about nine months," he says.
Having gained all that front-line experience, Congdon rose through the Old Dominion ranks by working in many different areas—industrial engineering, employee relations, fleet maintenance, and furniture hauling, among others—before the company named him president and chief operating officer in 1997. In 2008, he succeeded his father as chief executive officer. Congdon recently shared some insights about his role and leadership philosophy.
IL: Tell us about an experience early in your career that helped shape who you are as a leader.
In the 1980s, I was studying Total Quality Management (TQM) and applying those principles during my tenure in equipment maintenance and the furniture division. TQM principles are a big part of who I am and how I lead. In 1992, at a weekend management retreat, the company's president at the time declared that we needed to start a TQM process. My eyes lit up. On Monday morning, I was in his office and my dad's, volunteering to spearhead that process for the company. I led that initiative until I became president in 1997.
As vice president of quality, I was also managing the cargo claims and claims prevention departments. I recognized that part of doing a quality job is to do things consistently from one terminal to the next. I created a team whose job was to ensure consistency of process across the company. This team-based problem solving and process improvement approach was different from the company's style in the past.
IL: What's your leadership style?
The most important element is communication: having an open-door policy, listening carefully to suggestions, trusting my team, and encouraging them to go ahead with good ideas.
Also, I always talk about WIIFM —What's in it for me? You have to make sure your incentives are aligned with what you want to get done, so people can see what's in it for them when they do things in a certain way.
IL: What qualities do you look for in your leadership team?
You have to surround yourself with people who embrace the company's core values. Also, I look more toward soft skills than process skills. You can teach people how to do things, but if they don't have good people skills, they cannot be successful in any business.
IL: Tell us a story that illustrates a principle that's important to the way you lead.
In 1997, when I first became president and COO, we organized a long-range planning session for the entire leadership team. We wallpapered a whole room with all the ideas that became our vision for the company. At the time, Old Dominion was a regional carrier with just 75 service centers. We wanted to grow into a multi-regional, interregional, and national network. That meeting was a real turning point for the company, because of the way it got the team focused.
Over the years, I've come to the team with opportunities to acquire other companies. Each time, we weighed the pros and cons, and I listened to my team. If they thought it was not a good idea, and they articulated the reasons, often we'd drop the deal and move on to something else. It's important to listen to everyone's perspective. I can be swayed when I hear logical arguments for moving in a different direction.
IL: Which aspects of your job do you especially enjoy?
Interacting with people is always fun. I love to get out into the service centers when we do cookouts or open houses, and shake hands with the folks who are getting the job done on the front line. I also spend a lot of time talking with our shareholders. It's fun being out there when you're a leading company. We have the best operating margins in the industry, and our future for continued growth is strong. It feels great to share that story with our investment public.
IL: Who are some leaders you find most inspiring?
To my mind, the best leader is my father. He inspired me because of his focus on people and communications. Warren Buffet is also an inspiration—to be 86 years old and still have that clarity of thought. He has stuck to his core business principles and beliefs, and look where he is.
IL: When you're not working, how do you spend your time?
I love boats and water sports, and I've been putting more time into fishing. I'm involved in a lot of activities and organizations in my hometown, High Point, N.C., including Business High Point and Forward High Point, a group focused on downtown. I'm also involved in various American Trucking Associations committees. On the philanthropic side, I work with our local United Way and with the Earl and Kathryn Congdon Family Foundation. One program my parents started through that foundation provides college scholarships to children of Old Dominion employees.
IL: What advice would you offer a young person starting out on a career in logistics?
Develop a good system for time management. Always surround yourself with people who are smarter than you are. And if you want to get ahead, always put out 110 percent. If you do more than is expected of you, your boss will notice, and you'll get opportunities to grow and succeed.
[ad_2]