[ad_1]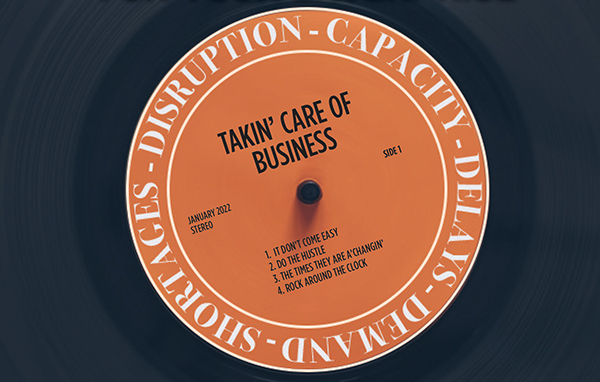 In today's tough supply chain environment, companies are spinning big-picture solutions that will keep them on the charts now and for the long play.
The pandemic has made people question some of the basic assumptions of their lives: Whom do I need around me? Where do I want to live? Can I keep working from home?
In a similar way, the supply chain disruptions we've seen emerge from this crisis have forced some companies to re-examine how they operate at the enterprise level: What should we manufacture ourselves and what should we buy? Which products and customers deserve the most support? What should our distribution network look like?
Here are some of the hard-won lessons they've learned to ensure they won't be fooled again.
Make or Buy?
Copper State Bolt and Nut in Phoenix is mainly a distributor, selling fasteners, construction products, safety products and industrial supplies. But 10 to 15% of its revenue comes from products it manufactures in-house, potentially putting Copper State in competition with many of its suppliers.
Along with thousands of other companies in its market, Copper State saw demand for its products collapse at the start of the pandemic and then rebound. But supplies of both raw materials and finished goods have stayed tight. Rather than simply fight for access to those scarce commodities, Copper State has been talking with other manufacturers about how best to serve mutual customers.
"We feel there's a lot more opportunity to cooperate and collaborate with others than there is to compete," says Brian Cates, the firm's chief operating officer.
For example, Copper State could manufacture certain bolts for its heavy industrial customers. But maybe it's better to make only some of those items and procure others from third parties.
"By buying from some of those other manufacturers, while also making parts for different customers, we're expanding the supply scope," Cates says.
While rethinking which products to make and which to buy, Copper State also talks with suppliers about how best to procure the products its customers need. As those suppliers also struggle to provide enough volume to meet demand, some are glad to have Copper State turn to other sources for certain products.
Collaboration among trusted trading partners has grown especially important since early 2020, given ongoing supply chain disruptions. At the start of the pandemic, Copper State took specific steps to keep that trust intact. "We made it a point not to cancel orders during the first part of the pandemic," Cates says.
Strategic make-or-buy decisions will remain important at Copper State even after the supply chain stress has calmed down. "Our goals are to grow at a pace faster than macroeconomic growth," Cates says. Investing in production lines to make products that Copper State could easily procure instead won't help the company reach those goals.
"If one of these collaborative companies has made that investment, they had good reason," Cates says. "So why should we introduce competition that doesn't have to exist?"
What's Old is New
Along with materials, components, and finished products, supply chain disruptions around the world also make it hard for companies to obtain production machinery. "Companies are having major lead-time issues," says Nick Taylor, head of the industrial division at Liquidity Services, a provider of reverse supply chain and liquidation solutions in Bethesda, Maryland.
A company that needed a new machine for a production line used to wait about three months to receive it. "Now, across the board, we're looking at nine months, or even up to 12 months," says Taylor.
To overcome that obstacle, companies are buying used equipment instead; some find what they need on the global market on an electronic marketplace that Liquidity Services runs.
"Used machinery will move from the United States to Asia, and from Asia back to the United States, increasingly so now, even despite the higher shipping costs," Taylor says. Many companies consider it better to pay sky-high ocean rates to ship used equipment than to go without.
Other manufacturers are simply holding on to aging equipment. When one facility needs to replace a machine, rather than buy one, a company might redeploy a piece of equipment from another location. Liquidity Services supports that activity with its technology, too.
Based on experience with recent shortages and slowdowns, companies are now less apt to get rid of older production equipment.
"Manufacturers are taking a longer time to make decisions," Taylor says. "And when they do make decisions on releasing assets, they are being considerably more cautious than in the past." This tendency could survive beyond the immediate emergency.
Demand for used equipment is increasing as well. "Prices have gone up between 25 and 30% in the past six months for high-quality machinery," Taylor notes.
When You Can't Buy, Borrow
As shippers compete for capacity in today's tight logistics market, some of the largest companies are taking matters into their own hands. Home Depot, Walmart, and other major retailers have chartered private container vessels. Some have also bought their own shipping containers.
Smaller companies can't make those investments. But if they're lucky, they work with service partners that have bulked up their resources to meet current demand.
Dale Young, vice president of World Distribution Services (WDS), an asset-based third-party logistics (3PL) provider, counts his company as one of those partners.
"Our organization recently bought about 1,000 containers to try and help customers," he says. The company has also been chartering vessels to help companies that don't have the buying power to find capacity on their own.
To compensate for supply chain delays, shippers also try to add more warehouse space in more markets so they can move inventory closer to consumers. But just because a company finds a suitable building doesn't mean it can stand up a new distribution center right away.
"The lead time for racking—where you stack pallets in a warehouse—is about 24 weeks right now," says Young. Steel shortages have reduced the supply of other important equipment as well.
WDS already had two new warehouses in development when the pandemic upended the logistics world. One of its latest purchases is new racking that will add space for 20,000 more pallets at its newest facility in Linden, New Jersey.
"That location is 480,000 square feet, and we filled it up on customer demand in about 60 days," Young says. So the new storage capacity is welcome.
The pandemic's big lesson for shippers is to be proactive about developing options, including multiple service partners, locations, and ports of entry. "Once you get them established, maintain those relationships," Young advises. "Have them as viable options for the future."
Strategic Design
Another way to avoid the hazards of long supply chains is to move manufacturing closer to home.
This sort of inshoring or nearshoring isn't always just a matter of careful site selection. The answer to unwieldy supply chains could lie in the way a company develops its products, according to Bharat Kapoor, global lead of the PERlab (Product Excellence Renewal) at management consultancy Kearney.
For instance, if an American company decides to move production from Asia to the United States, it knows its labor costs will increase. So it needs to get creative with its products. "You design in such a manner that the competitive advantage the low-cost country has starts getting diminished further," says Kapoor.
The company could, for instance, develop a product that excites consumers so much they willingly pay large sums to own it. He points to Tesla, whose customers paid $100,000 for early models and kept loving those cars even when their doors failed to close.
"Even today, if there's a bug in a Tesla, people accept it," says Kapoor. If a Mercedes or BMW showed a similar flaw, consumers would not be so forgiving, he maintains.
"But a Tesla is not a commodity," he adds. "It's something people care for." Enjoying such fierce loyalty, a company can afford to manufacture close to the point of consumption, with components also made in the region.
Another solution is to design a product with parts so simple and modular, you can make it practically anywhere. Take Lego-brand toys, for example. You can buy a Lego Hogwarts castle, a Lego Darth Vader helmet, or a Lego pirate ship. Details vary, but the sets mostly consist of the same kinds of plastic bricks.
"We recently brought several of these Lego sets into our own lab," Kapoor says. "We found that about 80% of the bricks are common among a bunch of sets. I call that genius."
With simple common parts, a company could manufacture anywhere in the world and use any number of suppliers for components or materials. "You simplify the supply chain piece of it, but you can make your public-facing portfolio as rich as you want," he adds.
Who Gets 100%?
Experts at Boston-based Profit Isle help companies analyze how various aspects of their operations affect profits. In today's era of supply chain disruption, this kind of investigation, called Enterprise Profit Management (EPM), could help determine how best to allocate inventory to different customers.
In many companies, 10 to 15% of customers account for 150 to 200% of the profits, says Jonathan Byrnes, founding partner and chairman of Profit Isle and a senior lecturer at the Massachusetts Institute of Technology. Another 10 to 20% of customers actually make the company lose money.
"And then the rest of the company is doing nothing," Byrnes says. "Typically that's a lot of small products being bought by small customers but taking up the company's resources."
When a company can't get enough inventory, it makes sense to discriminate among these customers. "Take your 'profit peak' customers and give them 100% of their historical demand," Byrnes suggests. Large customers that drain profits should receive 80%. The many tiny customers whose revenues contribute almost nothing to the business should get 60%.
The vendor can then work with large, unprofitable customers—the "profit drains"—to help them graduate to "profit peak" status, Byrnes says.
"Change the order pattern, change the services, and then you get 100%," the vendor should tell them.
A similar analysis could determine which products to keep selling and which to drop. "In most companies, 3 to 5% of profit peak products sold to profit peak customers are giving them 100% of the profit," Byrnes says.
Atlanta-based TireHub distributes tires that its parent companies, Goodyear Tire & Rubber and Bridgestone Americas, manufacture for passenger vehicles and light trucks. TireHub's customers are auto dealerships, repair shops, tire shops, and other tire retailers.
The pandemic has triggered several challenges for TireHub, including uncertain product availability, increased lead times, and problems getting tires to markets that need them most. TireHub has approached those challenges by piloting solutions in several areas of operation.
One example is portfolio analysis. "We had to become very clear on what matters most and how we prioritize our products to best serve our customers," says Nancy Triplett, the company's director of product supply.
TireHub's merchandising team determines the right mix of products for each of its 71 tire logistics centers (TLCs), which support retailers with same-day delivery.
"When we see a supplier is coming into supply, we understand which products to pay attention to and which ones we should get greater depth on to help keep us in service over the long haul," she says.
Taking Stock for Customers
The team bases its analysis on data such as past sales and volatility of demand for particular stockkeeping units (SKUs). It's also important to learn how much certain customers rely on TireHub.
"It doesn't matter if it's a high-velocity or low-velocity SKU," Triplett says. "If it's integral to a customer's stocking plans, that influences what we're going to stock."
TireHub has also sought ways to get product from suppliers to customers faster. "We've tried all sorts of tactics, like direct factory shipments from the supplier, bypassing their logistics centers to get right to our TLCs, and then redistributing from there," Triplett says. "We've looked at more creative customer pickup, rather than waiting for a truck to weigh out before it can ship from the supplier."
Such experiments will probably influence how TireHub operates in the future. "The ability to pilot, trial, and learn, and adapt to changing business expectations and customer needs, is a skill," Triplett says. "You have to build the culture and capability to allow people to learn, grow, and try things."
[ad_2]