[ad_1]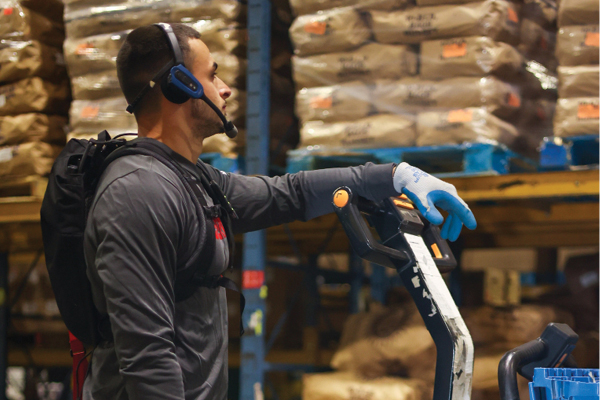 Advances in technology and increasing adoption mean

wearables in the warehouse are here to stay. See how logistics providers and customers put these technologies to work

to revolutionize their warehouses.
Take a walk through a busy distribution center today and you might find workers decked out in futuristic-looking "accessories" such as exoskeleton suits and head-mounted smart glasses, while flashing Spider Man-like wrist and ring scanners and taking directions from an automated voice-control headset. No, they are not extras from a sci-fi or superhero movie set but rather your average warehouse worker, taking advantage of the wide range of wearable technologies that are available today for industrial use.
Wearables are not new to warehouses—the devices and technologies that power them have been in use for years—but they have been increasing in popularity. They also have expanded rapidly in scope and scale, with a number of new offerings hitting the market in recent years.
Though complicated technology powers the devices and systems, the idea behind the functionality of wearables is pretty simple. "These devices have got to do three things: first, direct workers to go and do something. They are powered by a warehouse management system that directs workers to a task, location, or SKU," says Ashley Hartwell, managing consultant of UK-based Supply Chain Consulting Group.
"Second, wearables have to be able to confirm what that 'something' is either by scanning it, by voicing it, or by seeing what it is," she adds. "Third, these devices have to be able to identify what that something is."
There is some debate over just how much penetration has occurred and is forthcoming for wearables in the logistics and supply chain space. Mobile and wearable technologies are in between the Takeoff and Maturity stages on the S-Curve of Innovation, according to Hector Sunol, co-founder and CEO of Cyzerg Warehouse Technology in Miami.
"This position indicates that the technologies have overcome a significant obstacle and have been adopted by the early majority of adopters," he writes in Ready for Mobility Solutions & Wearable Warehouse Technology? "Additionally, this position suggests that they are soon to be adopted by the general public, which is an indication that the risks associated with implementing them are subsiding."
"There's a huge opportunity for many more companies to move toward using wearables in the warehouse," Hartwell adds.
As far as current use goes, 30% to 45% of respondents to the Material Handling Industry's 2021 MHI Annual Industry Report, conductedwith Deloitte, are investing in wearable and mobile technologies for the warehouse, while 25% are currently using such technologies and another 36% plan to use them within the next five years.
More than 90% of respondents to a 2019 study by industrial technology provider Zebra expected to adopt wearable mobile computers by 2028, while 44% of respondents were already using wearable computers.
And, a Technavio forecast released in July 2020 suggests the global industrial wearable devices market will grow by $3.4 billion during 2020-2024.
Regardless of the exact numbers, the interest is there and business is strong for manufacturers of wearable devices. Zebra, a dominant industry player, reported a strong third quarter in 2021, posting net sales of $1.44 billion, a year-over-year increase of 26.9%.
Wearables provider Kinetic saw four times the deployment of its wearable device in 2021, according to Haytham Elhawary, its founder and CEO. "In 2020, companies jumped on the opportunity to provide their workforce with technology that makes them safer and more productive," he says.
Why Wearables?
The appeal of wearables goes beyond the cool factor. Wearable devices—which range from voice headsets used for picking to wrist, ring, glove, and head-mounted bar-code scanners, to smart glasses equipped with scanners, to wearable safety devices aimed at improving ergonomics—are known for several key benefits including improved worker safety, increased productivity, and the cost reductions stemming from these improvements.
Wearables help to improve three important aspects of a warehouse: speed, safety, and accuracy. "Having access to the right data without walking up to the workstation time and again speeds warehouse processes and operations," says Sunol. "By keeping the hands as free as possible, wearable devices allow clerks to focus more on the physical process of material handling.
"Devices with sensors can warn workers about potential dangers in certain activities and locations, and even suggest preventive measures," he adds. "And, the level of sophistication that these devices provide reduces error rates associated with larger barcode scanners.
"The more advanced the technology you choose, the more accuracy you are equipped with," Sunol notes.
That speed is a huge benefit. "Normally, you would budget around three seconds to scan something on a normal handheld device," says Hartwell. "With a wearable, that might be as low as one second. That time savings can add up when it is repeated 200 times an hour."
The size of wearable devices is also a good selling point. As opposed to heavy and bulky handheld scanners that can weigh a few pounds each, the wearable barcode scanners from Rufus Labs, for instance, weigh just eight ounces, according to Gabe Grifoni, CEO of Rufus Labs.
"Handheld devices can be heavy, and wearing them all day can lead to arm strain," he says. "Wearables offer a huge improvement in how warehouse workers feel about their equipment; it makes their job easier and better."
There are other benefits as well. "Wearable technologies make it easier to work with precision in the fast-paced logistics environment," notes Sandeep Sakharkar, chief information officer for global 3PL GXO Logistics, based in Greenwich, Connecticut. "The advancements in these technologies are enabling greater precision in inventory management while improving safety.
"And, it's a huge benefit for e-commerce order fulfillment, which continues to grow as more people buy items online," he adds.
Improving Efficiency, Reducing Errors
Over seven weeks starting in October 2020 at their distribution center in Everett, Washington, GXO ran a pilot to implement a wearables solution from ProGlove Inc.
Employees wore ProGlove smart-glass headsets during inventory picking. The ProGlove system that GXO uses pairs wearable barcode scanners, worn on the back of the hand, with smart glasses that use a software interface to deliver picking information right into the worker's field of vision.
"The benefits of ProGlove improve the health and safety of our employees thanks to its ergonomic design, while improving efficiency by 10% and reducing errors by approximately 75% during inventory picking," Sakharkar explains, detailing the results of the pilot.
In September 2021, GXO expanded its partnership with ProGlove to Europe, where it deployed wearable scanners at locations across the UK, France, Italy, Spain, and the Netherlands.
Sakharkar is also a big believer in wearables' benefits for an industrial workforce. "Our employees enjoy working with technology that enhances their overall experience," he says. "Also, employees can excel faster, which increases their overall job satisfaction and opportunities for advancement.
And, the technology has also helped GXO "reduce training time for picking by approximately 80%, which is critical during peak," he adds.
As with all technologies, wearables have their share of detractors as well as companies who might be interested in the technology but not quite ready to make the switch.
For starters, the cost of wearable hardware may be prohibitive for some smaller companies—especially considering the wide range of affordable options in the traditional handheld realm.
"There are a lot of cheap alternatives in the handheld space," notes Hartwell. "If you want to go down a cheap handheld scanner route, you can easily implement an Android phone or barcode scanning mount. It won't be a great experience, but it will be an inexpensive way to get everyone on radio frequency.
"On the other hand, with wearables, you're paying for something that's built for logistics," she adds.
Addressing the Challenges
Other challenges associated with wearables include changing worker behavior, practical considerations about whether the equipment is ideal in particular settings, and any software or technology concerns with implementation.
"Not all legacy warehouse management systems instantly work out of the box on a handheld wearable," Hartwell explains. "In some cases, companies need to put in some sort of custom development to interface."
Another challenge is finding relevancy amid other large and pressing supply chain challenges in the current climate. "With the context of the macro environment right now, supply chains are a mess," notes Elhawary of Kinetic. "There are so many things going on in the minds of operations leaders that getting them to focus on wearables doesn't always work."
What works for most companies when making the choice to embrace wearables in their warehouses is finding success for their specific goals. Here are a few examples of companies that have done just that and found that wearables are the right fit for their needs.
Rufus Labs and Fisher Scientific: Love at First Try
It's not often that a warehouse manager and operations department will admit to "falling in love" with a potential technology. But that is exactly what happened when the team at Thermo Fisher Scientific's UK-based Micro Biology Division (MBD) tested the wearable technology from Los Angeles-based Rufus Labs.
"We trialed four devices that met our initial user requirement specifications," says Craig McCafferty, MBD's warehouse manager. "After extensive trials of some market-leading devices and Rufus, our operatives fell in love with the Rufus platform."
"Our WorkHero analytics platform is a subscription-based model, and we provide the wearable devices and scanning technology that customers can use to replace their legacy handheld systems," says Gabe Grifoni, CEO of Rufus Labs.
Rufus Labs wearables include barcode scanner cuffs, gloves, and rings. The product suite boasts easy interoperability with any Android- or web-based system, and the data and metrics from the wearables load directly into a comprehensive dashboard.
Today, the Rufus platform is deployed at two Fisher Scientific sites in Europe, with rollouts planned at three additional sites in Europe and multiple facilities in the United States.
Within a few weeks of starting the wearables program, "We started seeing the capture of non-scan, usually non-value-added tasks—as well as scanned tasks—being tracked in Rufus," McCafferty says.
"This gave us unbelievable insight into what was happening in our warehouse and allowed us to help team members increase performance by analyzing their scans, steps, and hours on the task," he adds.
As for specific results, McCafferty notes: "We have seen up to a 5% increase in productivity on scanned tasks, plus the elimination of 520 management hours per site by eliminating low-level management tasks, and 40% of a full-time equivalent in the removal of non-value-added tasks at the Perth site."
It's a far cry from what the company was previously using. "We have come a long way from brick-on-a-stick solutions, which are often cumbersome and not great ergonomically, and picking with paper and pen," McCafferty says.
Kinetic and Frito-Lay: Chipping Away at Injusries
As warehouse workers know all too well, sprains and strains are a common occurrence at distribution centers. Helping to reduce those injuries was the focus of snack maker Frito-Lay's decision to partner with Kinetic on a wearable technology deployment to address the ergonomic challenges its warehouse employees face.
Kinetic's wearable device is equipped with sensors to detect high-risk movements like improper bending or twisting. It vibrates to give workers a real-time alert and allow them to self-correct their movements.
As part of Frito-Lay's (and parent company PepsiCo's) goal to create an injury-free work environment, the company introduced the Kinetic Reflex wearable device to thousands of workers in 34 manufacturing and distribution centers located throughout North America, in summer 2020.
"At the beginning, the workers were doing 100 high-risk postures a day, and by the end of the program, they were doing 33," notes CEO Elhawary. "So, they reduced that by 70%."
In the first two quarters of deployment, Frito-Lay reports that data collected from nine manufacturing sites shows a19% reduction in strain/sprain injuriesamong all employees, and areduction from historically 100% of strain/sprain injuries requiring modified days(when workers can't do their jobs) to only 33%.
Additionally, data from the device provided custom insights into how employees were moving while performing their jobs, which led to new opportunities to improve workplace ergonomics, ranging from training and coaching to workstation and work process redesigns.
Employees Are All In
High buy-in from employees has been key to the program's success. "Wearables started off as a way for us to solve for the traditional ergonomic risks that we see, which drive some of our workers' comp costs," says CormacGilligan, vice president of global environment, health & safety at PepsiCo. "But it has become an employee engagement exercise because they like and want to wear the device."
Next up, Frito-Lay is expanding the program into atwo-year deployment atmultiple manufacturing locations and PepsiCo is debuting the wearable program to the beverage division, with thousands of devices to be deployed in an ambitious four-year program.
[ad_2]