[ad_1]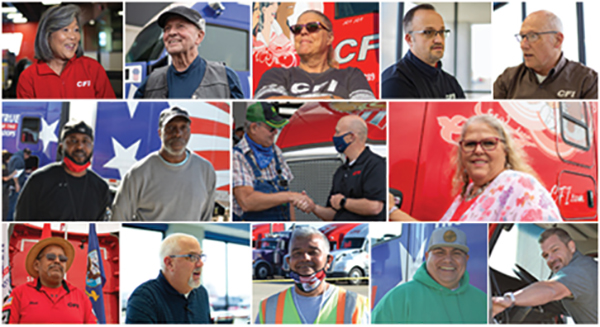 Meeting the unprecedented challenges of 2020 and personifying resilience, CFI leveraged its vast resources and delivered creative, effective solutions for its partners.
North American truckload transportation historically experiences a slower Q1-Q2. 2020 presented an exponential surge within the first few weeks of the year. Retail brought dynamic swings of demand, the unforeseen evolution of e-commerce, and the purchasing impacts of a pandemic to markets worldwide. For many reasons the word of the year was "unprecedented."
CFI's commitment to delivering for our customers and weathering market conditions led us to creative solutions throughout the year. With good reason the resounding word of the year at CFI in 2020 was "resilient."
The Challenge
A major retail supplier in the consumer household products and healthcare industry experienced an increase in demand brought on by COVID-19. Their essential product line required additional capacity due to their production growth. Distribution centers fell behind while demand continued to increase at exponential rates.
The Solution
With 70 years of experience, CFI partnered with this business to ensure necessary products were delivered to retail stores across the country. Together we ensured frontline personnel was equipped with essential products and that consumers remained protected amidst dire times. Daily collaboration with logistics and schedulers helped us clearly understand the challenge that their production lines were facing.
We put a plan together, ensuring our customer was top priority. When a load was ready, CFI was there without delay to ensure successful pickup and delivery. Collectively, we anticipated the surge, alleviating congestion at distribution centers and continued to keep America moving forward.
The Challenge
One of CFI's retail partners suffered massive store closures and severe disruption to their supply chain originating in Asia during the first two months of the pandemic. Like so many businesses and retailers across the nation, they struggled to find solutions for delivering to customers with efficiency.
Fortunately, they had recently started a significant e-commerce initiative. The supply chain challenge remained, exacerbated by a model that relied heavily on intermodal transportation. While their e-commerce business boomed, they were forced to deliver delayed imports to their distribution centers and stores with unanticipated speed and volume.
The Solution
With a long-standing partnership, CFI proposed handling their transfers between distribution centers. We added dedicated routes to secure the extra capacity our partner needed, running coast to coast service. Utilizing our CFI Logistics, we were able to find solutions for the additional surge in truck capacity for months to follow.
Transport America, a CFI sister company, enlisted several dedicated trucks to help with the rise of capacity. Belonging to TFI International allows CFI to leverage a vast amount of resources, creating solutions for our partners and adjusting to the unprecedented challenges of 2020.
---

To learn more:

email: customer.assistance@cfidrive.com

phone: 800-641-4747

web: cfidrive.com
[ad_2]