[ad_1]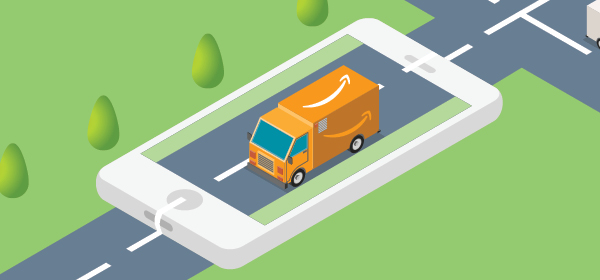 Amazon continues to rattle nerves in the transportation sector. In 2015, the company launched a fleet of branded trucks to help shuttle cargo between facilities. In 2016, it leased 40 cargo jets, and Amazon China registered as a U.S. freight forwarder. These moves made third-party logistics (3PL) and trucking companies understandably anxious, considering that Amazon accounted for 60 percent of U.S. online sales growth in 2015. That's a lot of package weight to throw around.
Now Amazon is releasing an Uber-like cargo app that would connect truckers directly with available cargo, effectively cutting out the middleman. The announcement has large 3PLs preparing for the worst.
Let's answer some questions to better understand the app's impact.
Why is Amazon pushing into the transportation sector? Amazon spent $5 billion out of pocket on shipping in 2015. For a long time, supply chain impatience driven by one- and two-day shipping has had Amazon losing its proverbial pants on its Prime program. The company created a problem that it now has to fix if it doesn't want to keep losing billions every year to provide low-cost and free shipping to consumers. Amazon hopes to make Prime profitable by cutting out intermediary fees, and finding other ways to more efficiently feed the beast that it created.
Profits aside, Amazon is on better footing than any other shipper to pull off something like this. It drives such a large percentage of shipping volume nationwide that it already has the analytics, technology, and distribution infrastructure in place.
What does the app mean for truckers? Owner-operators and small truckers will gain long-term steady business thanks to the app, which will also optimize routes and provide driving directions. By cutting out fees from intermediates, Amazon should, in theory, be able to pay drivers more than the industry standard. Money talks, so if Amazon delivers, it will earn the loyalty of the independent trucking market.
For bigger fleets, the app won't necessarily be a bad thing. Like load boards, Amazon will provide truckers with another way to find easy backhauls.
There may be some hiccups aligning the app with truckers as electronic logging device rules and rest regulations likely change under the new administration and court battles settle, but overall the app should be good for trucking, especially drivers.
Then there's the effect on the driver shortage. If Amazon can pay drivers better through money gained by cutting out intermediaries, what happens to the driver pool as the shortage continues to grow? Large fleets will struggle to hang on to drivers if they don't find ways to remain competitive, whether through pay, or other means.
Is Amazon trying to compete with FedEx and UPS? If Amazon ever makes this play, it's unlikely that it will be soon. To some degree, Amazon may always need to utilize FedEx and UPS resources. It's just dollars and cents. With Amazon's resources, bringing shipping in-house can save money if done properly.
The app is not a direct attack on FedEx and UPS. That said, Amazon is expected to exceed FedEx's package volume within three years and UPS's within seven, according to RBC Capital Markets. Those are packages that FedEx and UPS won't move, so those organizations will definitely take an indirect hit in the pocketbook.
Will the app be a "brick killer"? What happens to brick-and-mortar retailers as Amazon continues to consolidate its power base across sectors? With big data, near-instant delivery, and now lowest possible expedited transport costs in play, how do the old bricks stack up?
It's difficult to quantify the in-store versus retail shopping experience. Can an instant Amazon delivery compete with the ability to try on shoes in the store? Can grocery delivery stop people from swinging by the store for milk on the way home? Certainly Amazon hasn't been an easy competitor for brick-and-mortar retailers, but their physical presence still offers something that Amazon doesn't have (for now).
Those who continue to pay close attention to customer needs and wants and adapt accordingly should be okay. If Amazon eventually opens its app to other shippers, some may even benefit.
Will 3PLs and brokers go the way of the ghost? The short answer is no. The big dogs especially won't struggle too hard to weather Amazon's app. They have big clients, and big shippers move too much volume to deal with the hassle of sending shipments piecemeal via an app.
This could change down the road as transportation management systems and other technologies begin to integrate the Amazon solution. In the near future, small and mid-sized asset-based 3PLs will need to step up their game and tailor solutions to be competitive with and/or work alongside Amazon. It's difficult, but not impossible.
For asset-light brokers, the challenge is even greater. If smaller shippers can save 15 percent just by switching to an app to move their cargo, they will do it. These providers will need to show both old and new clients that they provide some sort of value beyond the shipment itself. Those that fail to do so will struggle to remain relevant.
To prepare, brokers should try to secure capacity now so it's available in the aftermath of the app launch. If another capacity crisis hits, it's likely that Amazon will find the loyalty of trucking companies before brokers will.
President Trump's Trillion-Dollar Infrastructure Plan
Since Donald Trump was elected president, the American political landscape has been divided in a way seldom seen in U.S. history. There is one area, however, where conservatives and liberals might find common ground. President Trump's infrastructure plan—which bears a price tag of $1 trillion—has garnered some support from Democrats in Congress. The president promises to implement the plan within his first 100 days in office.
"We are going to fix our inner cities, and rebuild our highways, bridges, tunnels, airports, schools, hospitals," Trump said during his acceptance speech in November 2016. "We are going to rebuild our infrastructure, which will become second to none and we will put millions of our people to work as we rebuild it."
But how? Currently, Trump's plan involves luring private investors to lend money to state and local governments to fund infrastructure projects. These investors will receive $137 billion in federal tax credits over the next 10 years for their support.
In addition, Trump has proposed a repatriation fee for companies that invest into infrastructure profits that have been hidden in tax havens overseas—ironically, an idea proposed by President Obama and supported by Clinton, but blocked by Congress. Investors would also benefit from the ability to boost fees—such as driver fees on toll roads, or water and sewage fees to customers—to increase their return on investment.
"With negative interest rates throughout the world, it's the greatest opportunity to rebuild everything, to get shipyards and ironworks all jacked up. We're just going to throw it up against the wall and see if it sticks," Steve Bannon, Trump's chief strategist, told the Hollywood Reporter in an interview.
While interest rates in the United States aren't currently negative, they are very low. This could make financing projects feasible, assuming the rise in public spending doesn't spook lenders and increase the cost of borrowing money.
Critics argue that this approach won't solve the nation's infrastructure problem. While toll roads, ports, airports, water systems, and other revenue-generating infrastructure will see no shortage of funding under Trump's private investment plan, regular old congested highways, crumbling bridges, and projects that don't generate any direct revenue won't be so appealing to investors.
To address this flaw, there has been talk from the President's camp of an infrastructure bank that could address these other projects, but fiscal conservatives shot down similar initiatives under the Obama administration.
An infrastructure bank could work in tandem with private investment to make sure the whole of American infrastructure receives the attention it so direly needs. But it remains to be seen if President Trump can strong-arm his own party into the commitment.
Congress Repeals Portion of Trucker Restart Requirements
Faced with a government shutdown in December, Congress pushed through language in a spending bill that repealed the overnight rest provision of the 34-hour restart requirement. Trucking companies are cheering the move, while safety watchdogs are less than thrilled.
Until it was repealed, the provision required that truckers who work a 70-hour week must rest for 34 hours straight, and during the reset period, drivers must sleep two nights between 1 a.m. and 5 a.m. Trucking companies have complained about the rule since its implementation, claiming that it forced them to stop in unsafe or overly expensive places. Truckers also complain that their efficiency has been affected as the rules interfere with delivery times.
"The American Trucking Associations thanks Congress for including what should be a permanent fix to the hours-of-service restart in this Continuing Resolution, and we look forward to its final passage into law to resolve this issue," said American Trucking Associations President and CEO Chris Spear in a public statement regarding the repeal.
"Reverting to the pre-July 2013 restart shifts the emphasis back to safety by removing flawed data from the rulemaking process," he adds. "The entire industry will now be able to comply with this rule thanks to a common sense approach championed by a bipartisan group of legislators."
In spite of more stringent safety regulations, the number of people injured in truck-related accidents has increased by 57 percent since 2009, according to the federal government. Safety watchdogs claim stricter regulations are necessary to combat this problem, but the regulatory leash has already been increasingly tightened on drivers in recent years.
With the number of accidents continuing to climb regardless of tighter rules and enforcement, the argument could be made for letting truckers use their own best judgment about when to rest. The fate of the rest of the 34-hour restart legislation is pending further research by the Federal Motor Carrier Safety Administration.
States Take FAST Look Into the Future
After ignoring the troubled state of American transportation infrastructure for far too long, Congress implemented the Fixing America's Surface Transportation (FAST) Act in 2015. The FAST Act not only provided nearly $11 billion over five years in dedicated funds for freight initiatives, it also required all 50 states to have a freight plan in place by December 2017.
Seventy-one percent of states already are working on making some sort of freight plan FAST Act-compliant, according to State of Freight II—Implementing the FAST Act and Beyond, a joint study by the American Association of Port Authorities (AAPA) and American Association of State Highway and Transportation Officials (AASHTO). In addition, 57 percent of states have presented 6,202 freight projects that need funding from the program, and 35 percent of states have submitted more than $259 billion in necessary projects (see chart).
The first round of FAST Act projects has already been funded, with $759 million spread over 18 projects—one-third are port-sponsored and half are sponsored by state transportation departments.
AAPA and AASHTO emphasize the need for transportation departments and port authorities to work together on projects to increase the efficiency of intermodal freight movement. Thirty-eight out of 50 states and Washington D.C., are connected by navigable waterways and marine highway routes, the report says.
To most effectively use the limited funds FAST Act provides, AAPA and AASHTO recommend the following four actions:
Continue providing states with Highway Trust Fund money for freight projects, and leverage private sector investment through the U.S. Department of Transportation's Build America Bureau and Freight Advisory Committee.

Begin providing additional supplemental funding outside of the Highway Trust fund for multi-modal freight projects, and fund discretionary grant programs.

Re-establish and fund the Office of Multimodal Freight Transportation to organize multimodal freight planning within the Department of Transportation.

Ensure that the Harbor Maintenance Tax can only be used for its intended purpose: maintaining navigation channels.
Hamburg Süd Acquisition Not A Done Deal
Maersk Line reached an agreement with Oetker Group to acquire Hamburg Süd, the world's seventh-largest container shipping line. The deal isn't expected to be viewed favorably by the U.S. government, whose approval will be necessary before the deal can move forward.
"The acquisition will need to get approval from the Federal Maritime Commission in the United States," says Chris Rogers, a research analyst for global trade intelligence firm Panjiva. "The Department of Justice may also want a look at the deal.
"There is always a chance the deal gets blocked," he says. "Other deals in the sector about the second-tier players consolidating have been blocked, and here we have the number-one player 'hoovering up' smaller competitors."
In the short-term, at least, the deal will have little impact on the shipping sector, even if approved. "It is difficult to see the deal resulting in a noticeable amount of capacity to help tighten the market," Rogers says. "The CEO of Maersk has said he prefers a light touch deal, which would suggest the synergies referred to by management will come on the utilization rate rather than capacity reduction front.
"Furthermore, Hamburg Süd's fleet is relatively young, so it's not as if there are large swathes of it that need to be reduced," he adds. "Finally, neither company has massive orders for new vessels, so there won't be a significant impact on new builds."
The deal isn't set to close until the end of 2017, and will need regulatory approval not only from the United States, but also from the European Union, China, Korea, Australia, and Brazil. That's a long way off, and a lot of hurdles to jump.
iPhone Maker May Expand to U.S.
Japanese telecommunications and internet company Softbank, Sprint's majority shareholder, plans to invest $50 billion in the United States and create 50,000 jobs in the process. That announcement comes after a December 2016 meeting between then-President-elect Donald Trump and Masayoshi Son, the CEO of Softbank.
Son was not specific about where the investments would go, but paperwork from his meeting with Trump prominently displayed the Foxconn logo next to that of the SoftBank Group, strongly suggesting that at least some jobs and investment would go toward establishing additional operations for Foxconn in the United States. Foxconn is the world's largest contract electronics manufacturer, and a major producer of Apple's iPhone.
One day after the meeting, Foxconn confirmed that it was exploring a U.S. expansion: "While the scope of the potential investment has not been determined, we will announce the details of any plans following the completion of direct discussions between our leadership and relevant U.S. officials." The statement did not name those officials.
Foxconn has established manufacturing sites in Indiana and Virginia. It's not clear whether any new investment would involve an expansion of those existing facilities, or something new.
Grab Your Groceries and Go
Amazon is shaking up the retail game again with its new Amazon Go convenience store in Seattle. Customers walk into the store, get whatever items they want, and walk out again without the hassle of a checkout line. On its website, the retailer calls it the "just walk out shopping experience."
When shoppers enter the store, they scan their phones using an app that is linked to their Amazon account. As they pull items on the shelf, the app senses the action and puts the item into a virtual cart. Replacing the item on the shelf removes it from the cart.
Once shopping is done, consumers just walk out of the store. A few minutes later, they'll receive a receipt from Amazon for the items they left with.
"Four years ago we asked ourselves: what if we could create a shopping experience with no lines and no checkout?" the company says on its website. "Could we push the boundaries of computer vision and machine learning to create a store where customers could simply take what they want and go? Our answer to those questions is Amazon Go."
Amazon accomplishes this feat through a mix of several technologies, including computer vision, sensor fusion, and machine learning. The Seattle pilot store is the product of several years of work, and seems to at least partially confirm long-time rumors that the e-commerce giant plans to expand into the physical retail space.
Manufacturers Get Ready For 'Made in America'
President Trump promises to bring manufacturing back to America, and drive a "Made in America" movement that would spur the economy and provide good-paying jobs. Manufacturers operating on a global scale may need to take steps to prepare now.
"Manufacturers should look for opportunities to improve efficiency and margin protection," says Jason Dea, director of product marketing for environment, health, and safety solutions provider Intelex. "For many years, the easiest way to protect profit margins has been the offshoring of either suppliers, production, or both. If stricter trade tariffs come into play and a wave of onshoring happens as a result, then businesses will need to account for this in their strategic and budgetary planning.
"The other opportunity to drive greater margins and efficiencies in a business is to re-evaluate processes that support the productivity of existing resources," he adds. "We can expect a renewed focus on processes such as quality management or even safety management as opportunities to drive greater efficiencies, productivity and ultimately margins emerge from existing onshore resources."
Businesses should also be prepared for President Trump to follow through on promises to scrap or renegotiate existing trade deals, such as NAFTA, which could result in trade wars and rising supplier prices.
"Generally speaking, free trade should work in favor of global companies and encourage countries to specialize in the sectors that align with their resources while reducing the costs of offshoring what they may be deficient in," says Dea. "While Trump is staunchly pro-business, he's also staunchly anti-globalization.
"From a macro-economic standpoint, Trump's stance is somewhat counterintuitive," he says. "If the United States renegotiates or pulls out of trade deals, the biggest potential impact will be to the profit margins of many organizations. The possibility of international trade restrictions and new tariffs are associated with a presumed smaller, local supplier pool and higher costs in almost every industry."
It's not all bad, however. "On a positive note as it relates to health and safety, there is a chance of much greater compliance with environmental regulations because a predominantly onshore supply chain can be easier to manage due to the lack of multi-jurisdiction complexity," Dea says.
More good news is that these changes won't happen overnight. Companies that take steps to prepare now should be able to weather whatever surprises an onshoring movement or new trade deals can bring.
FMC OKs Ocean Alliance
The Federal Maritime Commission (FMC) approved the Ocean Alliance, allowing COSCO Shipping, CMA CGM, Evergreen Marine, and Orient Overseas Container Line to share vessels, book and share cargo space among each other's ships, and enter into working agreements in international trade lanes.
The alliance should allow the companies to better compete against the 2M Alliance—formed in 2014 by Maersk Line and Mediterranean Shipping Co.—on Europe-to-Asia trade routes. Sharing resources, new alliances and consolidation help carriers cut costs in an environment plagued by overcapacity.
"The Commission worked hard to balance the needs of not only Ocean Alliance applicants, but all other parties involved in the intermodal supply chain, with the ultimate goal of safeguarding competition in international oceanborne common carriage, with the American shipping public foremost in mind," said FMC Chairman Mario Cordero in a public statement.
"The agreement going into force represents a consensus of what will allow Ocean Alliance carriers to achieve efficiencies without harming the marketplace," he adds.
The FMC's ruling gives the Ocean Alliance permission to begin sailing on U.S. trade routes immediately, but the Alliance isn't expected to begin operating until April 2017.
It's All About the Data of Things
As the Internet of Things (IoT) becomes more prevalent, what we know today as Big Data will seem as quaint as a flip-phone. The total volume of data generated by IoT will reach 600 zetabyes ( a zetabyte is one billion terabytes ) per year by 2020, Cisco estimates. Every pallet, truck, and forklift will contribute to this data deluge.
With growth in the number of commercially available IoT solutions, 2017 will see many new deployments, many of which will likely end up overwhelmed by the resulting data, and struggling to extract intelligence from it. Avoiding that expensive outcome requires shifting attention away from the shiny side of IoT—sensors, lights, and actuators—and toward the top where the bits reside.
For supply chain managers, putting the data first and being prepared to fully utilize the inputs is essential. Several key tips to make this process work:
Include analytics solution providers early in the planning.

Verify that the infrastructure is ready to handle the soon-to-be-generated data.

Take the extra step to run simulated data through existing systems.

These steps will help current supply chains stay up to date for future innovations such as edge-computing—an important idea in IoT system design. In this model, some data-processing is done very close to where it is being generated so not everything needs to traverse up to the cloud. Think an on-board vehicle computer processing pallet temperature data, with alerts generated locally. "A key issue for IoT in the coming years is subsidiarity, i.e. performing the data analysis at the appropriate level," according to Cisco.

Another key development in the year ahead: The analytics side of IoT will soon become almost entirely machine-learning (ML) driven. ML works best, revealing unexpected insights, when lots of data is collected but users stay agnostic about outcomes. To prepare for this change, users should ensure they implicitly center initiatives around proving a hypothesis, which would be underutilizing the power of IoT and ML.

So rather than collecting data with an aim to prove, say, that reefer temperature outages happen during commute hours, collect as much data as you can about the reefer, everything in it, and everything associated with it such as traffic, weather, and driver. By doing so, you help your ML-driven analytics engine reveal unexpected correlations.

Finally, develop a process flow that can accept and act on the real-time decisions that IoT makes possible. Prioritize recommendations and actions over reports. After all, reports are just more data waiting to be processed.

—PV Subramanian, Founder & CEO, Visybl
Developing freight plans:

a summary of investment needs
29 States + 6,202 Projects = $258,698,283,920
Rail-Broken out even further, 10 states provided freight rail needs at $5.9 billion for 270 projects.
Distribution-4 states provided distribution project needs at $581,620,200 for 25 projects. An additional 6 states provided 27 projects with no cost estimates, bringing the total project number up to 57 for 10 states.

Inland Waterway-13 states submitted a total of 365 inland waterway surface transportation projects. Seven states submitted 298 projects with projected costs totaling $13 billion.

Highway-3,152 projects totaling $96 billion from 12 states. 39 states submitted projects with no cost estimates attached to them.

Undefined-3 states submitted projects without breaking projects out into modes and costs. The totals are 747 projects, totaling $143.7 billion.

Multimodal-A growing demand.

 

Source: The State of Freight II-Implementing the FAST Act and Beyond, AASHTO, American Association of Port Authorities

Self-Driving Truck Delivers 50,000 Cold Ones

At one point, we've all probably wanted a robot that could bring us a beer. But how about 50,000 beers? After several months of closely monitored testing and evaluation by the Colorado Department of Transportation, Otto—the self-driving wing of Uber—has done just that.

Otto partnered with Anheuser-Busch to haul a trailer full of beer more than 120 miles down Colorado Interstate 25—from the Anheuser-Busch facility in Loveland, Colo., through Denver, to Colorado Springs. This is the first time a self-driving vehicle has shipped commercial cargo.

"The success of this pilot shipment is an example of what is possible when you deploy self-driving technology," says Lior Ron, co-founder of Otto. "It also showcases the importance of collaboration with forward-looking states like Colorado and innovative companies like Anheuser-Busch.

"By embracing this technology, both organizations are actively contributing to the creation of a safer and more efficient transportation network," he adds.

The self-driving mode only works when the vehicle is operating on a highway. The truck changes lanes only if absolutely necessary and maintains a safe distance from other vehicles. In city traffic, where pedestrians, bikes, and other factors complicate road conditions, a human driver takes over.

Rather than replace drivers, the technology is meant to complement them. During long highway stretches, drivers could sleep, catch up on paperwork, read, or perform any number of tasks. When regulations catch up with the technology, it's likely that drivers could even comply with rest rules while the truck is still in motion.

The Most Connected Retailer Wins (But by the Fastest Path)

All the moving pieces in the retail supply chain remind me of a Rube Goldberg machine: too many stops and complications to get to where we want to go. And the speed we need to keep up with wired, always-on customers is daunting.

Tremendous behind-the-scenes growth in retail digitalization will help retailers keep pace. We are finally taking advantage of all things digital in retail's backend—even in product development where "connectivity" traditionally meant emails, spreadsheets, phone calls, and a bit of duct tape.

The retailers that will stay alive and thrive will be the ones who embrace digital collaboration and B2B marketplaces for their product development teams. Fast.

Here are a few predictions for the retail industry in 2017:

Digital marketplaces will be king: Digital marketplaces are new to the B2B space, but adoption of more visual, collaborative and social tools will drastically increase in 2017. Retailers will begin to shop just like consumers in these connected B2B marketplaces, speeding up and streamlining tedious and burdensome backend processes and ultimately, getting better products to market faster.

Intellectual property (IP) security will be a major concern: Use of tools like Pinterest and Instagram to collect proprietary ideas will decline as retailers realize the risks of using public networks to house designs and inspiration—even with password protection in place. Merchants and designers will seek platforms that provide the ease of use and functionality of beloved social networks while ensuring IP protection.

Product development will become a social exercise: Product development will be less about buying physical items and more about buying and sharing ideas. As retailers collaborate and leverage the knowledge and experiences of those around them, they'll be better positioned to inspire and create great products that consumers actually want to buy.

As more retailers recognize the need for backend connectivity, buyers throughout the retail supply chain will move toward adopting a centralized software work hub. This technology will allow for quick implementation of digital marketplaces, closer monitoring of intellectual property security, and will open the door for social collaboration.

—Sue Welch, CEO, Bamboo Rose
[ad_2]