[ad_1]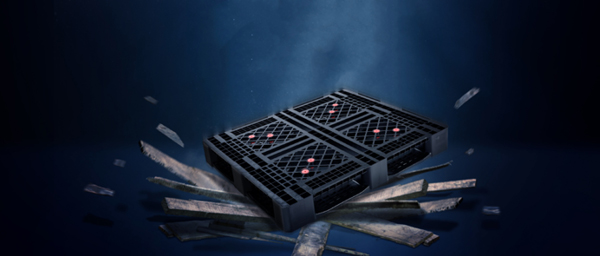 Plastic Pallet Pros not only helps clients achieve sustainability goals, the pallet company provides a more cost effective solution, reducing clients' overall pallet spend.
The Challenge
Plastic Pallet Pros is dedicated to eliminating misconceptions about plastic pallets. Through a unique customer service approach Plastic Pallet Pros is educating companies throughout North America about the power of recycled plastic pallets.
A major U.S. retailer reached out to Plastic Pallet Pros after encountering significant issues with both quality and availability of their wood pallets utilized in their distribution center. As with most companies in the United States today, there were some misconceptions about the cost of plastic pallets. They also had aggressive sustainability objectives with a very short turnaround time.
The Solution
Plastic Pallet Pros was not only able to help them achieve a much more sustainable and green solution, they were able to provide a more cost effective solution, reducing their overall pallet spend, within the very tight time frame given.
There are nestable, rackable, and stackable plastic pallet solutions to suit every need. That's the power of plastic pallets.
The Plastic Pallet Pros complete approach to customer service means we do more than place orders, we work for solutions. Schedule an on-site consultation and get assistance with supply chain issues, cost per trip analysis, and ROI determinations. We don't want you to just use plastic pallets. We want you to understand plastic pallets are a better, greener option. Get your free consultation today by contacting Plastic Pallet Pros so that you too can harness the power of plastic.
Industry confidence in plastic pallets is growing. While recycled plastic pallets used to be overlooked by their wood counterparts due to fear of cost, Plastic Pallet Pros, located in West Central Illinois, is opening up storage and shipping options for companies all across North America.
Customer Service Approach
One of the unique characteristics our clients experience when working with Plastic Pallet Pros is our approach to customer service. When customers call PPP looking for plastic pallets, our Pros provide more than a quote. We want to understand where your product is headed, which storage system you are utilizing, and what shipping methods your pallet will travel so that we are prepared to offer you more than a pallet; we want to offer solutions.
For example, when a domestic beverage company contacted PPP looking for help when facing wood pallet supply chain problems, our Pros worked to understand every nuance. Through collaboration we identified a domestic plastic pallet manufacturer who could replicate the design specs of the former wood pallets.
More importantly, PPP was there every step of the project ensuring that not only did our clients secure plastic pallets to suit their needs but their return on investment was lucrative.
And that is what makes working with Plastic Pallet Pros different. We are dispelling plastic pallet myths and working together with clients to make sure that when they need plastic pallets they receive the most efficient product that works in a system designed for ROIs. Experience the complete customer service you deserve and work with our team of Pros.
---

To learn more:

Bryon Robbins, Chief Operating Officer

Sam Dunham, Director, Operations

www.plasticpalletpros.com

309-734-0602
[ad_2]