[ad_1]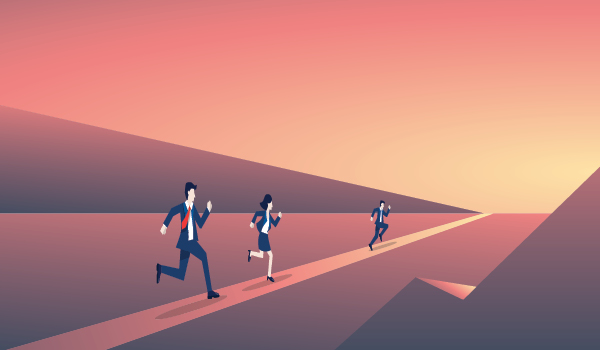 From e-commerce fulfillment strategies to warehouse layout to inventory approaches, here are the supply chain moves that go above and beyond to improve the customer experience.
Like many manufacturers, Comfort Research, a provider of affordable, sustainable furniture under the Big Joe and Big Joe Lux brands, was briefly shut down in 2020. Then production restarted in June 2020. "By July, we couldn't ship fast enough," says Tuan Tran, supply chain director. He and his team boosted raw material orders from Asia, but bottlenecks at the ports and rails still meant some arrived later than expected.
Heading into 2021, Tran accelerated his purchasing schedule, estimating Comfort Research would receive its products in August and September. By July, however, limited U.S. rail capacity had produced another bottleneck, with some containers stuck at checkpoints for up to eight weeks.
Tuan worked with third-party logistics provider ODW Logistics to transload—transfer goods from one transportation mode to another en route to their ultimate destination—and ensure products made it to Comfort Research's facilities in Grand Rapids, Michigan; Lewisburg, Tennessee; and Tremonton, Utah, on time.
"We were willing to pay a premium to ensure we'd have products to ship in the critical fourth quarter," Tran says.
ODW had already established transloading relationships at many ports, due to its work with an auto company. "If we didn't have those relationships, we couldn't have created them so quickly," says John Weber, vice president of transportation with ODW.
Tran and his team also worked with ODW to direct shipments from Asia to multiple ports, such as Seattle, Washington, and Savannah, Georgia, when possible. This minimized the likelihood they'd get ensnared in the delays at the Port of Los Angeles. Shifting to Savannah and other Gulf Coast ports increased ocean costs but cut transloading costs for materials headed to the company's Tennessee and Michigan locations.
These steps paid off. As of late October, Comfort Research had received about 85 of its orders, and expected the rest by mid-November. The company was well positioned to support fourth quarter demand.
Supply Chain Chaos
In late 2020 and early 2021, many supply chain challenges boiled over. "It became sheer and utter chaos," says Ryan Frederickson, vice president of operations with Ruan, a provider of contract and managed transportation solutions.
A mix of factors was to blame, Frederickson says. Labor shortages, skyrocketing consumer demand, and the shift to e-commerce exacerbated congestion at ports and on the roads.
On top of this were several once-in-a-lifetime events, like the February 2021 freezes in Texas that crippled the power grid and closed roads. About one month later, the container ship Ever Given remained stuck in the Suez Canal, blocking traffic in that crucial shipping lane.
A range of strategies help shippers and logistics providers continue to fill customer orders accurately and on time. Many involve purchasing earlier and shifting transportation modes.
Flexibility has become key in managing through supply chain disruptions. Say a company finds out the parts it needs to run its assembly line will arrive late. "We have to adjust and reallocate assets and drivers to another requirement," says Ron Gabbitas, vice president of operations for CEVA Logistics, a third-party logistics provider.
Most important, partnerships, collaboration, and communication, both internally and with business partners, have proven essential to tackling these challenges. "Collectively, we can come up with better ways to solve problems," says Valerie Nissan, director of supply chain with HNI Corporation, the company behind office furniture brands like Hon and Allsteel.
Meeting the Holiday Surge
Balsam Brands is the company behind Balsam Hill, a leading retailer of artificial Christmas trees and holiday décor. Its products are "like perishable goods," says Michael Shaughnessy, senior vice president operations, supply chain and emerging markets with the company, which is co-headquartered in Redwood City, California, and Boise, Idaho.
Most customers, not surprisingly, order for the holidays. Along with meeting demand, Balsam Hill wants to minimize the cost of warehousing unsold goods until the next holiday season.
To that end, Balsam shifted from the typical process of moving a container from a ship to a chassis that's driven to the warehouse and unloaded. Instead, it moves a container to a local facility, unloads it to a tractor/trailer, and then moves it to a warehouse. Although this means handling goods twice—generally less efficient than handling them once—it allows shipments to more quickly escape congested ports.
Balsam also has worked hard to communicate with customers. Its website provides information on product availability and shows products that would make similar replacements to those that are out of stock. "We've been very upfront with customers," Shaughnessy says. "We want to make sure expectations are set and met."
Strategy Proves Its Worth
At The Chemours Company, a global chemistry firm, a supply chain strategy put in place in 2019 to enhance customer service "really paid off" during the pandemic, says Sandeep Dalvie, global supply chain director in the titanium technologies business.
For North American customers, Chemours' dedicated trucking fleets meant that even during the pandemic, the company had an ample supply of trailers, drivers, and other equipment. "On high density routes, we could perform 99% on time," Dalvie says.
On lower-density routes, Chemours uses non-dedicated carriers, which are more subject to current market reliability. However, if a situation becomes critical, Chemours can request help from its dedicated carriers. And non-contract Chemours customers can access an online portal that provides lead times, market changes, and other data, so they can make informed decisions and adjust operations as needed.
Strong partnerships internally are also key. A SWAT team with members from supply chain, finance, technology, and other functions regularly "meets to analyze and figure out a solution for dynamic or unplanned problems," Dalvie says.
Say the pandemic forces a suppler to shut down. The team evaluates its production footprint to determine how it can change production plans and move raw material between plants to mitigate disruption. "This collaborative effort has served us very well during these challenging times," he says.
For example, when access tightened to the temperature-controlled trucks needed to transport a specific raw material in a molten state, the SWAT team worked to shift the material to a flake form, which can be transported in regular trucks. The collaboration and communication helped Chemours "quickly make changes to be successful going forward," Dalvie says.
Balances Resources
Late in 2020 and flowing into 2021, HNI Corporation "hit a wave of demand," Nissan says. At the same time, along with transportation delays, some raw materials, like those used in foam products, were in short supply.
To minimize the need to extend lead times, HNI began "breaking out all stops," Nissan says. One step: it has been working even more closely with Ruan, its logistics partner, to forecast volume, taking an increasingly holistic and network view, Nissan says. So, if a distribution center in Georgia is heavy on drivers, they might send one or two to another facility.
HNI also is getting ready to open a new plant in Mexico that will produce chairs; in part, this plant will tap into the labor market there. As HNI moves forward, it's working with Ruan to develop the inbound logistics network from the plant.
Ruan is also connecting HNI with another Ruan client, Clarios, a creator of advanced battery technologies for vehicles and other products. Clarios has long operated in Mexico. "We can leverage their expertise," Frederickson notes.
And because HNI's peak sales period typically runs spring through fall, while demand for Clarios' batteries generally jumps in the winter, Ruan is working with both companies to align drivers with demand so all resources can be used most effectively, Frederickson says.
The Ruan Freight Exchange (RFX) helps Ruan employees quickly identify where equipment and/or freight are available and where they're needed, so they can shift resources where they'll do the most good.
"It takes a provider like Ruan to have a holistic perspective and not isolate customers," says Robert McCloskey, director, logistics and distribution with Clarios.
Because Ruan manages its private fleet, Clarios has been insulated from many of the recent increases in transportation costs. "The private fleet has been a godsend," McCloskey says, allowing Clarios to avoid cost increases of 40% to 50%.
Early Birds
Early purchases—often, six months or more—of microprocessors, reagents, and other materials helped Anavasi Diagnostics, a diagnostic technology company, cut several months from any delays in the development and production ramp up of printed circuit assemblies and detectors, says Minh Duong, chief engineer and co-founder.
This tactic also saved approximately $800,000 in expediting fees and broker mark-ups. "Our big learning, though, was to problem solve with our suppliers and contract manufacturers early and often," Duong says. In doing so, the company could "nip potential issues in the bud before they became crisis situations," he adds.
While the pandemic has caused challenges, some have been a "boon in disguise," for supply chains, Dalvie says. They allow companies to differentiate themselves not only through pricing and marketing, but through the effectiveness of their supply chains.
Companies that can reliably meet customers' needs are able to capture market share from those that can't. For supply chain professionals, "it's an opportunity to shine," he says.
[ad_2]