[ad_1]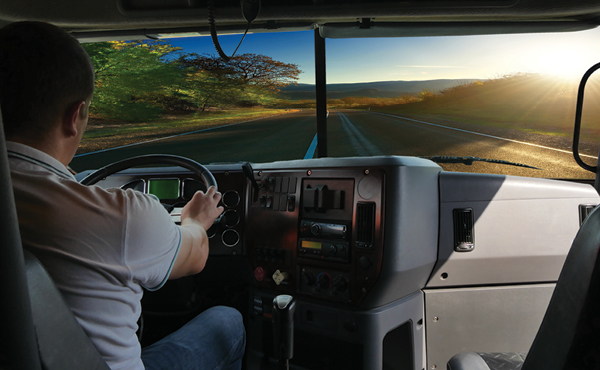 With capacity tight and trucker employment stretched thin, carriers can be selective about who they work with, so it's important for shippers to have a game plan. Here are practical ways to ensure your freight gets where it needs to go.
In August 2021, Cass Information Systems reported that its July 2021 shipments index was 1.177, or 15.6% higher than July 2020. Typically that type of figure would fall in the normal range for the index, which measures intra-continental freight shipments by rail and less-than-truckload in North America. This year,

it represented a five-month low.
Limited trucker and equipment availability played a sizable role in the downturn. "Shipment volumes remain limited to no small extent by the capacity of the freight network," according to the Cass report.
There's no way to sugarcoat it. 2021 delivered up a major capacity crunch, particularly in the trucking sector. Here are some of the issues…and coping strategies.
Trucker employment is stretched thin. A big contributor to the capacity crunch is contraction in the driver pool. From February to April 2020, trucking employment fell from 1.52 million to 1.43 million, according to the Bureau of Labor Statistics (BLS). As of July, that number recovered to 1.49 million, but the industry is still 33,000 workers shy of pre-pandemic levels.
A combination of factors led to the drop, including a lack of commercial driver's license (CDL) training last year.
"Broad estimates find 40% fewer CDLs issued in 2020," says Avery Vise, vice president of trucking at FTR Transportation Intelligence, a freight consultancy in Bloomington, Indiana. "Most driving schools had social distancing requirements in place, so while you could potentially train three drivers at once in the past, now you might be able to train only one."
Another consideration is the FMCSA's Drug and Alcohol Clearinghouse. The centralized database, established in January 2020, keeps a record of all drivers who test positive for drug use. Since its inception, the program has flagged more than 70,000 drivers for drug or alcohol violations. Although a return to duty process exists, most drivers haven't availed themselves of it; only 10,000 drivers have started the process, says Vise.
"Around 60,000 drivers are still barred," he adds. "That's good from a safety standpoint; we don't want those drivers on the road. But it adds to the challenge of keeping seats filled."
The biggest challenge to over-the-road trucking employment comes from a growing competitor industry. Parcel delivery employment and its warehousing counterpart both took sharp upward turns in mid-2020 and stayed elevated into 2021. Courier employment has exceeded 1 million for most of 2021 and warehouse positions topped 1.4 million since October 2020, according to BLS data.
Equipment is in short supply. The driver pool isn't the only constraint carriers face in 2021. Trucking companies have had to grapple with an equipment shortage, exacerbated by a backlog in microchips.
"The chips that go into trucks are unavailable so manufacturers can't make enough trucks to meet demand," says Greg Price, CEO and co-founder of the Austin, Texas based platform Shipwell. "Even the used-truck market is on fire right now."
On top of these challenges, a rapid shift toward e-commerce, combined with ongoing inventory restocking, makes for an extremely tight freight market. Consumer spending in the second quarter of 2021 rose above 2019 levels by 4% to 7% and within that category, e-commerce hovered at least 35% above pre-COVID levels, finds a 2021 McKinsey & Co. report.
"We're in the Mount Rushmore of freight cycles," says Kevin Sterling, vice president of strategy at XPO, a Greenwich, Connecticut-based freight transportation provider.
Game Plan for Shippers
In this environment, carriers can be selective about who they work with, so it's important for shippers to have a game plan. Here are a few suggestions to keep you in the driver's seat.
Take care of truckers. It sounds simple, but making sure a facility is appealing to truckers can go the extra mile with carriers. Clean restroom facilities, breakrooms, WiFi access, and adequate parking can all help an organization stand out to drivers.
It also helps to reduce driver detention whenever possible. Drivers are cognizant of the time they spend sitting still.
"You want to make it easy and accessible for truckers to enter your facility quickly and efficiently," Sterling explains. "Truckers don't want to sit idly at a distribution center. They want to be behind the wheel, moving."
Driver detention is a top concern for truckers, especially post-COVID, finds a 2020 Workhound survey. It cuts into their hours of service, ultimately reducing earnings or causing them to miss out on other loads.
Ultimately, it all adds up to making drivers feel respected. "Surveys looking into what would make truck driver jobs more appealing show that pay is always number one, but a close second is respect," says Sterling. "Truckers want to be respected for the hard job that they do."
Root out organizational inefficiencies. The good news is that shippers can take steps within their organizations to relieve some of the pressure brought about by limited capacity.
"Transportation is the last leg of the supply chain and upstream challenges often find their way into it," says Matt Anderson, director of logistics as a service at BluJay Solutions, a transportation management platform in Holland, Michigan.
To combat these challenges, have systems in place to facilitate communication between teams.
"Is there a mechanism in place internally to have cross-functional conversations with customer service, demand planning, warehousing, to understand upcoming changes?" Anderson says. "Do you anticipate an increase in production that will overload the warehouse?"
You also can take advantage of the capacity that's already there. "From a process standpoint, make sure you fully utilize your current capacity," Anderson says. "Are you filling trailers when you can run interplant movements? Is there a mechanism in place to review order-to-ship milestones and limit bottlenecks?"
It helps to spread out volume and give carriers a sense of upcoming shipping needs whenever possible.
"Sailing schedules and load leveling processes, for example, provide consistency to carrier partners," Anderson says. "It gives them a line of sight to what's ahead so they can better align their capacity to the coming demand."
Work with a diverse set of carriers. "The number one thing shippers have to think about is whether they are securing capacity from an asset-based carrier that provides trucks versus a non-asset-based provider, or broker," says Jason Miller, associate professor of logistics at Michigan State University.
There are upsides to each. There's a cost advantage to working with asset-based carriers, but brokers have more capacity at their disposal, which can be helpful when demand outstrips supply. "Shippers need a mix of both," Miller advises.
Equally important is to employ a mix of carriers based on size and region.
"Shippers that have enough density to hold an annual request for proposal should formulate a carrier strategy made up of strategic, national, regional, and niche carriers," recommends Jack Gerstner, senior vice president of Chicago, Illinois-based Coyote Logistics.
"Smaller shippers can collaborate with carriers who can provide on-demand quoting, tendering, tracking, and settlement via a digital platform," he adds.
Technology is your friend. Logistics has come a long way since the days of fax machines. Today, technology has become a "have to have" instead of a "nice to have." A transportation management system (TMS) or other visibility solution can give shippers a window into inventory movement and a way to find more carriers.
"Many shippers still use a homegrown function or manual spreadsheets," says Brian Zirbes, business product owner at BluJay Solutions. "Their bottom ground will be to have a TMS in place, preferably one that's cloud-based so they can access a network of carriers and suppliers."
Price agrees. "Historically, IT spend has only been about 2% of transportation spend," he says. "Logistics used to have a 'no-change Charles' persona. That no longer exists.
"In order for shippers to be resilient, they have to invest in technology and tools to make that happen," Price adds.
Not only can having the right technology help shippers access a wider network of carriers, it also provides a mountain of data. Speaking of data…
Leverage the data. When it comes to transporting goods, the more information shippers have, the better. This applies to carriers, but can also be useful when reviewing their own performance.
When reviewing carrier partners, metrics such as tender acceptance rates, on-time delivery, fallouts, and bid adherence all help a team decide who to work with. This data should be readily accessible to the whole team.
"Have all your data in one place, where your front-line workers who make decisions can access it," Price recommends. "For example, pricing intelligence can help you understand how much a shipment should cost for full truckload versus breaking it up and sending it through the LTL network."
Benchmarking can turn inward, too. One way that shippers can leverage data is by making sure their own performance level passes muster with carriers.
"Shippers of all sizes should leverage industry thought leadership to understand where their business stands relative to the general marketplace in terms of cost, quality, and service," advises Gerstner.
Once shippers are aware of these benchmarks, they can take action to improve favorability with providers in their networks.
Cultivate relationships. In the end, no amount of analytics can replace relationships between shippers and carriers. Providers are looking for firms that they can partner with in the long term, not a one-time transaction.
"Putting a structured program in place to evaluate carrier performance can be beneficial," says Anderson. "Discuss collaborative solutions with carrier providers and get feedback on the shipper operation from their perspective. Carriers want that two-way collaborative approach."
Anderson suggests implementing a scorecard program and rewarding good behavior to whatever extent possible. "That will go a long way with carriers and allow shippers to take advantage of the capacity at their disposal," he says.
There are also a few tactics that shippers should specifically avoid. A big one is trying to game the market cycle.
"Have your annual procurement auction at the same time each year; do not move it based on market conditions," says Miller.
"Let's say that a provider's new prices go into effect every April. If you delay your auction until June or July in hopes that the market cools, carriers will remember that. It creates a bad sense of inequality."
In today's environment, gaining access to carriers is not as easy now as it once was. Fortunately, there are practical steps that shippers can take to ensure their inventory gets moving.
[ad_2]