[ad_1]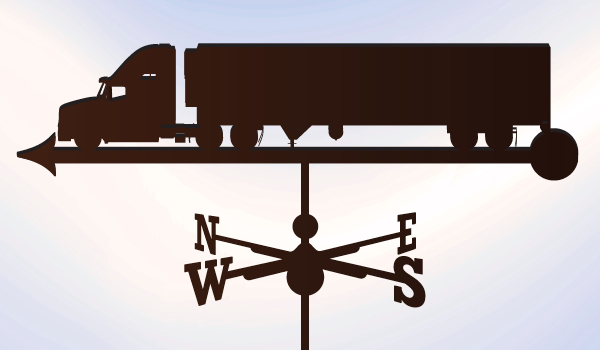 Just because there's more trucking capacity available today than there was a year ago doesn't mean that shippers can overlook the basics. Here's how to maintain capacity in all market conditions.
What a difference a year makes.
When the market was tight a year ago, Inbound Logistics' trucking edition feature article was titled, "Six Ways to Find Capacity." This month, while not exactly the opposite of a year ago, finds the industry with more capacity and as a result, with lower rates, too.
"Truckload freight rates hit record highs last year, and for-hire carriers did very well," says Eileen Hart, vice president of marketing and corporate communications for transportation information company DAT Solutions. "Many invested their profits back into the business, buying record numbers of new trucks and improving driver compensation."
In addition, new carriers attracted by the high rates also entered the market. "As a result, there a lot more trucks are available this year," Hart adds.
And while truckload freight volume has grown compared to 2018, it hasn't been at the same pace as capacity. That extra competition for freight has pushed rates back down.
DAT tracks load-to-truck ratios, which measure load posts divided by truck posts on the DAT network. When the ratio goes up, there's more competition for trucks. When the ratio goes down, there's more competition for loads. In July 2019, the ratio for dry van freight fell 40% compared to July 2018, which underscores how much more capacity is available this year.
Don't get too comfortable though. Experts warn that capacity is bound to get tight once again.
"It's important for shippers to realize that capacity can change very quickly, like it did in the second half of 2017," cautions Curt Stoelting, CEO of Roadrunner Transportation Systems, a transportation service provider based in Illinois.
"Take a strategic, long-range view and understand that while there's a dip in demand today, over time that will change," adds Geoff Muessig, executive vice president of Pittsburgh regional carrier Pitt Ohio. "Partner for the long term, not the short term."
in it for the long haul
Carriers point out that shippers who approach transportation sourcing from a long-haul perspective, so to speak, will do best in all market conditions. They advocate for three constants in the shipper-carrier partnership:
1. Building and maintaining relationships
2. Good communication
3. Taking advantage of technology
"Having solid relationships and a good understanding of the partners you're working with and their ability to execute on the promises made are critical, not just for long-term, high-volume relationships, but also for individual transactions," says Tim Gagnon, vice president of analytics and data science at C.H. Robinson, a third-party logistics (3PL) provider.
He uses a soda manufacturer as an example. Consumption typically increases in warm weather months; freight planning takes that into account. But what happens when a temperature spike earlier or later than usual causes a surge in demand? The shipper needs a capacity procurement model that not only executes against plan, but also prepares for the unexpected. That's where relationships play an important role.
"It's a given in our landscape that when we commit to plans, they're right until they're wrong because of variables, whether it's the economy or the weather," Gagnon says. "They all point back to the best practice of having relationships and understanding each other's business."
Tina Satariano, director of strategic accounts for Florida-based 3PL BlueGrace Logistics, agrees. "Relationships are what will save you in a tight market like last year," she says. "Carriers can see you through in both an up market and in a down one."
"When capacity loosens up, we ask shippers to stay with us because we stayed with them when capacity was tight," Stoelting adds.
Good communication is essential in any partnership, but particularly in transportation sourcing. Carriers need to ask questions; shippers need to share specifics. "We want to understand the shipper's business model so we know what's required for them to be successful and how we can help them do that," says Gagnon.
Satariano recommends establishing baseline requirements that include specifics ranging from the minimum cargo insurance necessary to general loading requirements.
"When you have an honest conversation with your vendor, you can understand that it is well-positioned at one shipping location, but not at another," says Muessig. "The key to getting the best value over time is having these exploratory conversations with your carrier base."
TECH IMPROVES RESULTS
Most agree that technology is essential to finding capacity. Whether it's through a transportation management, digital freight matching, or other type of system, technology can help all parties operate more efficiently and effectively.
Loadsmart, a digital freight broker specializing in full truckload shipping, works to improve results for all parties by linking them with information available within its technology. 
"We spend a lot of time working to understand carrier preferences," says Erik Malin, vice president of operations for Loadsmart. "When you use technology to learn more about your carriers and understand how to support them better, you can decrease transaction costs and create a better result."
He cites an example of two shippers going in opposite directions in the same region. One might be shipping from Hialeah, Florida, to Baltimore; the other from Upper Marlboro, Maryland, to Atlanta. The Florida shipper might use that lane with predictable frequency and work with a carrier that isn't accepting the load according to contract requirements because it isn't finding enough backhauls to Florida.
Technology can help that carrier accept more of the Florida shipper's freight by connecting it with the Upper Marlboro shipper's load that isn't going all the way to Florida, but will bring a full truck close enough to make it worth considering.
"While the carrier doesn't currently have the backhaul to mitigate that cost, we can see that we have another opportunity that could make it work," Malin says. "Both shippers and the carrier can benefit from that."
It's not just about technology, though. Both Malin and Greg Carter, chief technology officer of GlobalTranz, a 3PL and transportation management system provider, note that technology is only as good as the people behind it.
"We're combining our tribal knowledge with shipping freight history, and digitizing that with machine learning and automated intelligence to automatically match the load while taking its characteristics into account," Carter says.
For example, the GlobalTranz system knows that rolled steel transported in inclement weather will need tarps and chains. It also knows that the truck has to arrive early enough to allow for a long load time. "We don't just find capacity; we find the best capacity," he says.
Technology can help shippers find capacity in the spot market, as well. Roadrunner Freight recently introduced a new tool for that, but Stoelting advocates for a strategic plan that strikes a balance between contracted and spot market freight.
"A good 3PL will help set a strategy for total transportation spending that takes into account how much to lock into on a contractual basis and how much to play on the spot market," he says. "You don't want to be completely locked up on contract or play the spot market too much."
Take It Easy
While the industry increasingly relies on technology, Dan Clark, president and founder of Kuebix, a TMS provider that offers digital freight matching (see sidebar), notes that the industry sometimes makes it more complicated than it needs to be.
"It still comes down to getting access to capacity at the best price and making sure the truck shows up and delivers freight hassle-free," he says.
Right now, getting that access is easier than it was one year ago.
[ad_2]