[ad_1]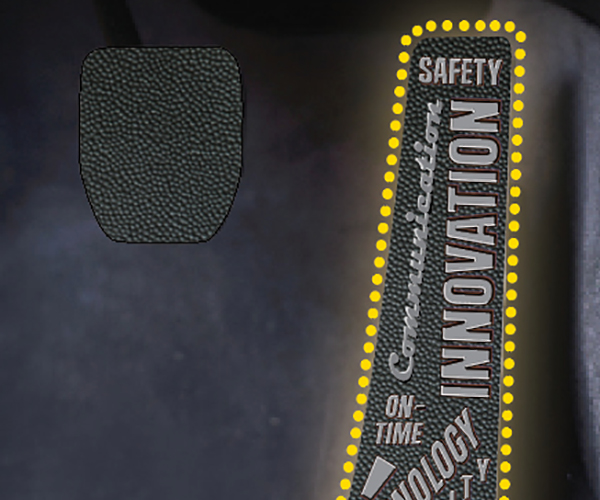 When it's time to deliver, the best trucking companies put the pedal to the metal.
Shippers want dependable, on-time performance from their truckers. "That's table stakes," says Jeff Jackson, senior vice president of operations at Penske Logistics in Reading, Pennsylvania.
Shippers also expect much more from their trucking partners. "We look for several important qualities, including transparency, collaboration, and innovation," says Jose Gonzalez, procurement director, North America, at Novelis, a large aluminum roller and recycler based in Atlanta.
"Our customers want clear communication," says Michael Black, owner and president of Goliath Trucking, a regional flatbed hauler in Corning, Arkansas.
"Sustainability is without a doubt becoming more of a priority with many of our customers," says Bob Knowles, president of asset-based transportation at NFI in Camden, New Jersey, which focuses on dedicated contract carriage and drayage.
"They want information, service, quality, a fair price, and responsiveness," says John Luciani, chief operating officer, less-than-truckload (LTL) solutions at A. Duie Pyle, a regional carrier in West Chester, Pennsylvania.
Shippers also want carriers to be able to shift gears quickly, providing more or fewer trucks and focusing on different lanes as needed. That's especially true now, during the COVID-19 pandemic. "We've had to flex with customers when they've had issues in their supply chains based on lockdowns," says Kevin Nixon, president of the flatbed and specialized division at Roehl Transport in Marshfield, Wisconsin.
Trucking companies use a broad range of strategies to rev up—and even exceed—shippers' expectations in these areas and more.
Let's talk
At Goliath Trucking, good communication starts when the company acquires a new customer. "We go through a battery of questions with them," says Black. Covering topics such as hours for loading or unloading, this first conversation defines the terms of the relationship.
Day-to-day communication occurs via email or phone, based on the shipper's preference. But for certain conversations, voice is the clear choice. "We have a strong belief that bad news is always delivered over the phone," says Black. "You've got to give shippers as much information as you can, which means you've got to hear the tone of voice."
It's also important to communicate promptly, especially when something goes wrong. "One of our philosophies is that bad news now is better than bad news later," says Carter Kaeser, vice president of sales at Agmark Transportation, the drayage arm of Agmark Logistics.
At Agmark, one key to clear, prompt communication is to divide responsibilities between logistics coordinators, who talk with shippers, and dispatchers, who talk with drivers. "That way, you don't have someone trying to deal with a customer while they're getting 30 phone calls from a driver on the side of the road with a flat tire," Kaeser says.
Here's where we are
For routine information such as status updates, many shippers prefer self-service web portals like the one Agmark offers. "They can track and trace their shipments; it's directly tied into the Class I railroads, steamship lines, and onboard computers in our trucks," Kaeser says.
And, of course, a trucking company might transmit status information through a link with a shipper's internal management system.
"We've seen customers partner with third-party visibility companies such as FourKites, 10-4, and project44," says Mike Hayden Jr., vice president, transportation at NFI. Carriers should be able to feed load status data to those systems.
Visibility is more important today than ever, as many companies struggle with COVID-19-induced supply chain disruptions. Shippers need to know where their products are and, if a shipment is late, when it will arrive.
A driver when you need one
Excellent service also depends on a stable pool of well-qualified drivers. That makes driver retention an important strategy for meeting shippers' expectations.
Goliath Trucking puts even more energy into communicating with its owner-operator drivers than with customers. "If you manage your talent, the customers will come," says Black. "Customers want good communication, on-time delivery, and sound, safe operations, which all goes back to talent and the truck driving pool."
Penske recently invested in a centralized driver-hiring center. "This has decreased our cycle time and increased our retention rates," says Jackson. The center helps Penske onboard drivers quickly, giving it more capacity in case of a surge in demand. "We do a better job for the customer because we have a higher-quality driver," he adds.
Roehl Transport solicits driver feedback about customers' locations and shares that information with customers. When capacity is tight, customers that want to become "shippers of choice" take truckers' critiques to heart. "One customer spent more than $1 million improving a facility because of driver and carrier feedback," says Nixon. "They knew they had to improve so they could continue to get that capacity."
Reliably on time
Efforts to provide reliable service start with a definition. "On-time service means something different to almost every shipper we do business with," says Hayden at NFI. To one shipper, it's delivering a load by a must-arrive-by date; to another, it's pulling up to the dock within a specific 15-minute window.
"One key is understanding up front exactly what on-time is going to be, and institutionalizing that definition for that customer," he says. Then the carrier knows which data to track when measuring success on that value.
As trucking companies strive to keep freight moving on schedule, information technology provides a boost. For instance, most of the freight that A. Duie Pyle delivers in its territory, the Northeastern United States, arrives the day after it's shipped. When a driver uses a hand-held scanner to capture data on a bill of lading, that data is available immediately for planning purposes.
"In more than 97% of the cases, that invoice has been created in our enterprise resource planning system before the driver gets back to the dock," Luciani says.
A. Duie Pyle uses that information to plan a fast, efficient move. "We know what dock door to put that driver in, and what door to put that trailer in to unload," Luciani says. "Then we can start pushing updates to the customer almost immediately."
For a drayage carrier such as Agmark, reliability also depends on tracking information from the railroads and steamship lines. For instance, many of the Class I railroads offer mobile apps that Agmark's drivers use to coordinate their tank pickups.
"Drivers can see if the tank they're dispatched on has arrived, if it has been worked, if it's available, and what spot it's sitting in," Kaeser says. If the tank isn't ready as scheduled, a dispatcher can switch the driver to another assignment to keep all freight moving through the network.
Sweet fleet
When trucking companies keep their fleets up to date, those investments pay off in several ways. First, late-model equipment is more reliable. Newer trucks, especially with features such as backup cameras and lane departure warning, promote safety. And newer equipment can help trucking companies and shippers cut carbon emissions.
"We spend roughly $100 million annually on replenishing our fleet," says Knowles. "Our fleet age is roughly 28 months."
NFI operates trucks with some of the lowest emissions on the road, Knowles says. The company has also invested in electric vehicles. "We've partnered with two manufacturers and deployed roughly 20 to 30 electric trucks in California, as well as some electric yard tractors," he notes.
Agile response
To provide flexible service, especially during the pandemic, Roehl depends on its reliable drivers, a fleet that has been growing in recent years, and its broad footprint across the United States.
"In some cases, where we've had regional shutdowns or individual business shutdowns, we've been able to keep our drivers running through that broad portfolio," says Nixon. "Then when those businesses come back, we're able to flow that capacity back to them."
For instance, Roehl was just launching dedicated service for a new account when several of the customer's workers tested positive for COVID-19, forcing its plant to close for two weeks. "We were able to leverage other customers, and in some cases go through broker agreements, to keep those drivers running in that region," Nixon says.
That accommodation kept the drivers on Roehl's payroll and ready to serve the new customer when the factory reopened.
In another case, which didn't involve COVID-19, Roehl suggested replacing the flatbed trailer plus tarp that the customer had requested with a Conestoga trailer, which comes with an integrated folding tarp. "Our ability to change the configuration sped their process, allowing them to serve more customers," Nixon says.
By the numbers
Whether through quarterly business reviews, weekly phone calls, or discussions at other frequencies, the best trucking companies share data with their customers to demonstrate how well they are meeting expectations. They also use that data to pinpoint areas for improvement.
Trucking companies' scorecards nearly always include on-time performance. For an LTL carrier such as A. Duie Pyle, days in transit is another important metric.
"We also look at the percentage of shipments delivered before noon," says Luciani. The goal is 60%. "Then we measure exception-free service."
Using barcode scanners to track every piece of freight the company handles, A. Duie Pyle can provide this data down to the handling unit, be that a pallet or an individual carton.
Penske has a basic package of metrics it shares with customers, but it customizes that scorecard, plus delivery frequency, to meet customers' needs. Metrics include the cost to serve, on-time delivery, cube utilization, and the level of visibility the company provides.
"We want to be sure customers are getting updates to whatever the specified cadence is—such as where the loads are," Jackson says. Some customers want data on every event as soon as it happens, some want it within 15 minutes, and others are happy with a weekly report.
Scorecards confirm in a concrete way whether trucking companies provide excellent service. For internal purposes, trucking carriers have one additional way to measure how well they're meeting customers' needs.
"Top-line revenue indicates what our customer base looks like and how healthy it is," says Black. "You know you've got good customer relationships if revenues are strong."
[ad_2]