[ad_1]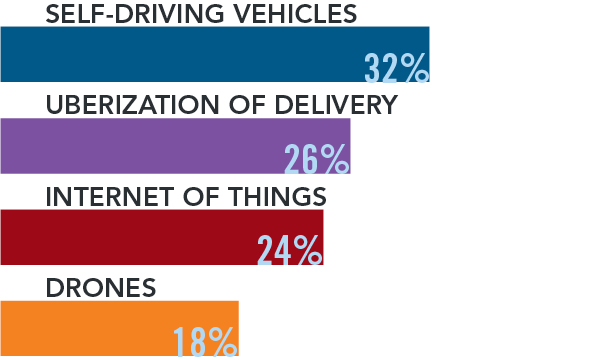 ---
Supply chain advancement is a methodology that extracts hidden profit by connecting the supply chain to other core processes of a business: strategy, product life-cycle management, and sales and marketing. Companies that advance their supply chains to this next level of decision-making will be better positioned to adapt to changing customer needs.
Robert Martichenko

CEO, LeanCor Supply Chain Group
As the IoT tidal wave rolls over us, it will extend supply chain management systems to the home. Household appliances, heating and cooling systems, and vehicles will shower us with data—used to track locations, just-in-time replenishment, and dispatch repairmen and replacements.
Mike Dieter

Chief Technology Officer, Transplace
Robotics and driverless vehicles in distribution centers and delivery will be the most disruptive innovation. The investment is significant now; however, it quickly will become more affordable and commonplace.
Adam Petrillo

Managing Director, Savills Studley
It's a bird, it's a plane—no it's a supply chain drone! I can think of many applications in supply chains for drones—inventory tracking, yard/fleet management, and yes, even delivery.
Kerwin Everson

Vice President, Supply Chain Solutions

RMG Networks
Software-as-a-Service because it is accelerating the pace of innovation. As supply chains migrate from disconnected systems to integrated cloud-based technologies that are continuously upgraded and swapped out, they remove the barriers to change.
Bill Michalski

Chief Solutions Officer

ArrowStream
Undoubtedly, 3D printing will have the greatest impact. Put simply, it eradicates the need for anything to ever be stored or moved!
Tania Seary

Founding Chairman, Procurious
Within the physical logistics area, wearable technology will be one to watch. Virtual and augmented reality over voice picking or finger scanners will cease to be sci-fi and become integral to real-time product movement, inventory management, and warehouse efficiency. In the wider supply chain sphere, blockchain will transform financial transactions and replace letters of credit, custom duties, and other cross-border transactions.
Nick Foy

Director of Operations, ModusLink
Technology that is causing shorter lead times and deadlines. Most clients used to have a forecast that involved some safety stock or extra days. Now our multi-billion-dollar clients know exactly how much inventory they need, and on which day—all of this is enabled by cutting-edge software systems and real-time shipment tracking.
Ravin Gandhi

Co-founder, GMM Nonstick Coatings
In the same way finance, healthcare, and the internet is being transformed, machine learning and artificial intelligence will disrupt the supply chain by ushering in predictive logistics that will move all parties from reactive, cost-cutting operations to intelligent, data-driven decisions.
Adam Compain

CEO, ClearMetal
APIs—they allow supply chain systems to communicate data in real time with partners. This allows for increased profits and improved supply chain operations in ways that simply aren't possible with transportation networks running on EDI or manual communication processes.
Tommy Barnes

President

project44
Many would say that 3D printing will bring major impact to the supply chain. Over the years there has been talk about both the positive and negative implication, making 3D printing one of the most talked about disruptive innovations.
Dana Walker

Supervisor, Supply Chain Sourcing

Nexterus
Those that remove nodes entirely from the traditional supply chain and therefore reduce the need for transportation and inventories at all stages of the value chain. For example, e-commerce shipping directly to consumers, sharing economy based logistics, and 3D printing.
Chandler Hall

VP, Customer Accounts

BravoSolution
Data analytics, new time-to-market manufacturing technology, and final mile drone deliveries. Together, these will dramatically impact future supply chain processes and practices.
Larry Hall

Principal and Founder

Logistics Planning Services (LPS)
The growth of e-commerce is causing a substantial spike in the volume of returns and putting enormous pressure on already thin retail margins. Technology-based solutions that bring efficiency to the handling of excess merchandise could mean the difference between survival and extinction.
Howard Rosenberg

CEO and Co-founder

B-Stock Solutions
Retail companies are working to deploy network and operations solutions to solve omni-channel distribution challenges and take advantage of e-commerce growth opportunities. E-commerce growth and changing consumer expectations for faster deliveries and high product availability at the lowest price are creating the opportunity for innovation to deal with this supply chain disruption. One way retailers are working through these challenges is by using cross-docks. Cross-docking solutions are not a new concept but, one that is being looked at more and more to provide speed, reliability, flexibility, and cost reduction for retailers and their customers.
Tom Kretschmer

Vice President and General Manager, Retail and Consumer Brands

Ryder System, Inc.
3D printing is enabling retailers to streamline their inventories to produce low-demand products as needed. Consider this impact on transportation providers and freight forwarders, warehouses and consumers—3D printing has many possibilities, from product design, prototyping, and resource efficiency.
Reinhard Steup

Senior Manager

HAVI Supply Chain Management
---
Have a great answer to a good question?
Be sure to participate next month.

We want to know:
When choosing a carrier/supplier, what's more important: cost or

customer service?
We'll publish some answers.
Tell us at editorial@inboundlogistics.com or tweet us @ILMagazine #ILgoodquestion
[ad_2]