[ad_1]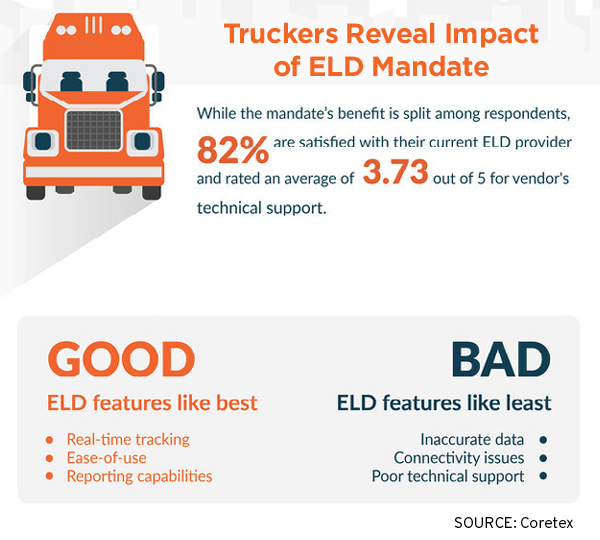 Slightly fewer than half of fleet operators responding to a Coretex Electronic Logging Device (ELD) satisfaction survey say the mandate is good for the transportation industry. Coretex surveyed 303 U.S. trucking companies of various sizes.
More than two-thirds (69 percent) of responding companies say ELDs do not improve driver satisfaction, and 33 percent indicate it is more difficult to retain drivers due to strict Hours of Service compliance.
These concerns coincide with an American Trucking Associations statement revealing there are 50,000 fewer drivers than available jobs, and an EIA report that diesel fuel costs are at the highest level in more than three years. When asked about problems with their existing ELD solution, top responses are: inaccurate data, connectivity issues, and poor technical support.
While the benefit of the mandate is split among respondents, 82 percent are satisfied with their ELD provider and rate an average of 3.73 out of 5 for their existing technical support. The ELD features they like best are real-time tracking, ease of use, and reporting capabilities.
Slightly more than half (51 percent) indicate the deployment of ELDs will improve their Compliance, Safety, Accountability score, which the Federal Motor Carrier Safety Administration bases on performance data of drivers, including safety-based roadside inspections and reported crashes.
"The survey illustrates that companies, especially those with small fleets, view the mandate as a burden," says Craig Marris, executive vice president of mixed fleets at Coretex. "Yet, now that connected technology exists inside every cab, there is a huge opportunity to utilize this newly captured data to improve efficiencies and productivity for the entire supply chain. It is time for ELD providers to educate the industry on how to turn compliance into a business advantage."
[ad_2]