[ad_1]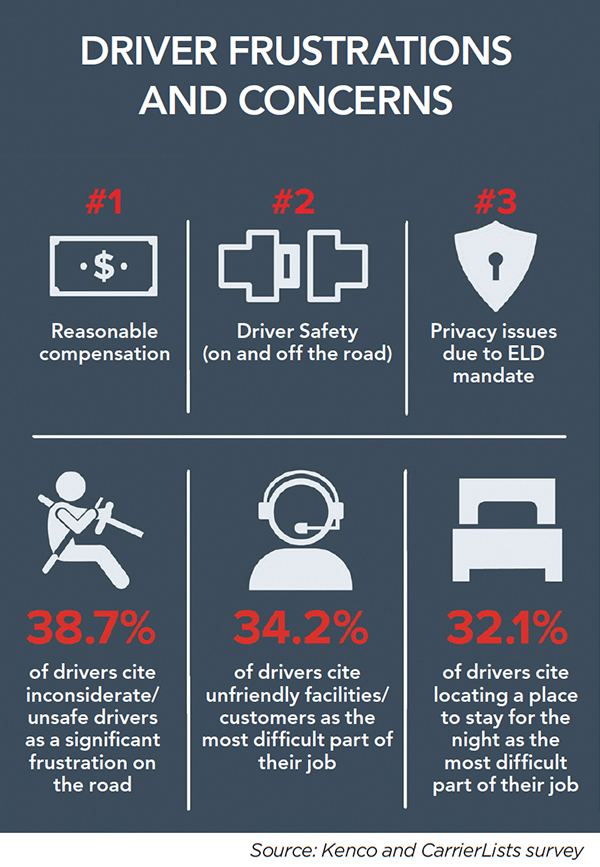 With the American Trucking Associations projecting a shortfall of 174,00 truck drivers by 2026, it is important for organizations to understand and address driver concerns in order to retain a strong workforce and attract new talent. Third-party logistics provider Kenco and CarrierLists conducted a recent driver survey that reveals their frustrations, concerns, and priorities, thus identifying a benchmark for the state of the profession.
The results reveal 71 percent of drivers are frustrated over compensation, with 42.1 percent noting that competitive pay is the most important aspect of their job. Respondents also disclose concerns about safety on and off the road, with 38.7 percent citing inconsiderate/unsafe drivers as a significant frustration. Poor quality highways are a concern for almost 40 percent of respondents.
The ELD mandate has also considerably affected the workforce, with 71 percent of drivers experiencing an impact. Long-haul tractor-trailer drivers have felt the ramifications the most, with 85 percent reporting an impact. The mandate has led to fewer hours on the road for 71.8 percent of drivers. Privacy issues related to the mandate remain a job frustration for 55.9 percent of drivers.
To improve, organizations must nurture their relationships with drivers, as half of respondents note that a good relationship with managers and dispatchers is the most important aspect of their job. For 34.2 percent of drivers, unfriendly facilities/customers are the most difficult part of their job. Warehouse operators can also show more understanding toward drivers when it comes to mistakes and tardiness. According to 61 percent of drivers, warehouse operators can be better partners by being efficient with loading and unloading. Drivers are often seeking minor improvements in amenities, such as free Wi-Fi and a breakroom with snacks and beverages.
As the industry faces a shortage of workers, it is essential for organizations to identify areas that are impacting drivers and make improvements to address concerns and frustrations. Whether it be compensation, safety, shipper relations or offering amenities, listening to drivers creates an opportunity for organizations to improve their experience on and off the road.
—Todd Johnson, Senior Vice President of Transportation, Kenco
[ad_2]