[ad_1]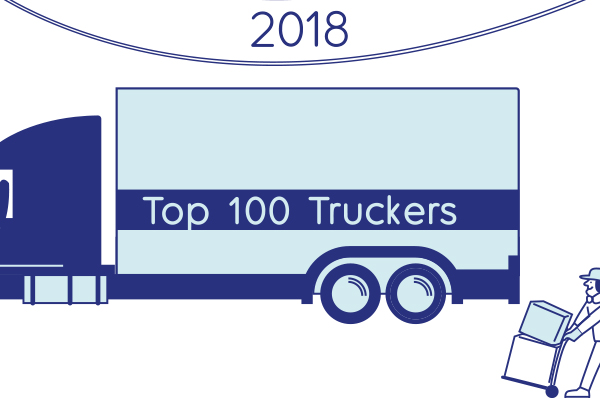 Inbound Logistics' annual Top 100 Truckers directory provides an in-depth index of carriers that match shippers' diverse and demanding needs.
IL editors selected this year's list from a pool of 300-plus trucking companies, evaluating surveys, conducting online research, and talking with shippers and truckers alike. This guide serves as a benchmark for the types of services transportation buyers value when looking for new partners or evaluating current ones.
The 2018 Top 100 Truckers list offers a snapshot of the trucking segment—from large truckload and LTL carriers with global inroads to niche-specific regional haulers that get their white gloves dirty delivering to the final mile.
The Top 100 Truckers directory provides a comprehensive guide to help you find partners that will drive your company in the right direction.
A. Duie Pyle
610-696-5800 | aduiepyle.com
Union or Non-Union: Non-Union

Private or Public: Privately Held

Primary Types of Service: LTL,TL, Expedited, Logistics Services, Dedicated Contract Carriage, Flatbed, Final Mile

Industries/Commodities Served: Agriculture, Automotive, Chemicals, Construction & Building Materials, Food & Beverage, Freight All Kind, Furniture, Retail, High Value

Total truck fleet size (tractors and vans): 1,085

Trailer fleet size: 1,990

Number of drivers (including owner-operators): 1,393

Operating Area: North America

Global services beyond North America? No

Certifications: HazMat, SmartWay
A&R Logistics
800-542-8058 | ardoingitright.com
Union or Non-Union: Non-Union

Private or Public: Privately Held

Primary Types of Service: LTL,TL, Expedited, Dedicated Contract Carriage, Intermodal, Bulk

Industries/Commodities Served: Agriculture, Automotive, Chemicals, Food & Beverage, Retail

Total truck fleet size (tractors and vans): 750

Trailer fleet size: 1,100

Number of drivers (including owner-operators): 750

Operating Area: North America

Global Services Beyond North America? Yes

Certifications: ACC Responsible Care, ISO, SmartWay
AAA Cooper Transportation
334-836-8782 | aaacooper.com
Union or Non-Union: Non-Union

Private or Public: Privately Held

Primary Types of Service: LTL, Logistics Services, Dedicated Contract Carriage, Bulk, Refrigerated, Final Mile

Industries/Commodities Served: Agriculture, Automotive, Chemicals, Construction & Building Materials, Food & Beverage, Freight All Kind, Furniture, Retail, High Value, Oil & Gas
Total truck fleet size (tractors and vans): 2,650

Trailer fleet size: 6,100

Number of drivers (including owner-operators): 3,588

Operating Area: U.S. only

If U.S. only, coverage area: U.S. Regional/Multi-Regional

Certifications: HazMat, ISO, SmartWay
Acme Truck Line
800-825-6246 | acmetruck.com
Private or Public: Employee Owned

Primary Types of Service: Expedited, Heavy Haul, Overdimensional, Logistics

Industries/Commodities Served: Oil, Construction, Manufacturing, Aerospace

Total truck fleet size (tractors and vans): 2,000

Operating Area: U.S. only

If U.S. only, coverage area:

U.S. Regional/Multi-Regional
Alabama Motor Express
334-814-5056 | amxtrucking.com
Union or Non-Union: Non-Union

Private or Public: Privately Held

Primary Types of Service: TL, Logistics Services

Industries/Commodities Served:

Agriculture, Automotive, Construction & Building Materials, Food & Beverage, Freight All Kind, Furniture, Retail

Total truck fleet size (tractors and vans): 220

Trailer fleet size: 500

Number of drivers (including owner-operators): 210

Operating Area: U.S. only

If U.S. only, coverage area: U.S. Nationwide

Certifications: HazMat, SmartWay
ArcBest
479-785-6000 | arcb.com
Union or Non-Union: Both

Private or Public: Publicly Traded

Primary Types of Service:

LTL, TL, Expedited, Logistics Services, Flatbed, Intermodal, Household Goods, Refrigerated, White Glove, Final Mile

Industries/Commodities Served: Agriculture, Automotive, Chemicals, Construction & Building Materials, Food & Beverage, Freight All Kind, Furniture, Retail, High Value, Oil & Gas

Total truck fleet size (tractors and vans): 4,436

Trailer fleet size: 22,275

Number of drivers (including owner-operators): 7,000

Operating Area: North America

Global Services Beyond North America? Yes

Certifications: C-TPAT, Free And Secure Trade (FAST), HazMat, Partners In Protection (PIP), SmartWay
ATS
800-MEET-ATS | atsinc.com
Private or Public: Privately Held

Primary Types of Service: Flatbed, Specialized, Heavy Haul, Project Logistics

Industries/Commodities Served: Freight All Kind

Total truck fleet size (tractors and vans): 2,372

Trailer fleet size: 6,300

Operating Area: North America

Global Services Beyond North America? Yes
Averitt Express
800-283-7488 | averittexpress.com
Union or Non-Union: Non-Union

Private or Public: Privately Held

Primary Types of Service:

LTL, TL, Expedited, Logistics Services, Dedicated Contract Carriage, Flatbed, Intermodal, Refrigerated, White Glove, Final Mile

Industries/Commodities Served:

Automotive, Chemicals, Construction & Building Materials, Food & Beverage, Freight All Kind, Furniture, Retail, High Value

Total truck fleet size (tractors and vans): 4,797

Trailer fleet size: 16,040

Number of drivers (including owner-operators): 5,257

Operating Area: North America

Global Services Beyond North America? Yes

Certifications: C-TPAT, Free And Secure Trade (FAST), HazMat, ISO, Partners In Protection (PIP), SmartWay
Barr-Nunn
888-268-6610 | barr-nunn.com
Union or Non-Union: Non-Union

Private or Public: Pubicly Traded

Primary Types of Service: TL, Expedited, Logistics Services, Dedicated Contract Carriage

Industries/Commodities Served: Automotive, Food & Beverage, Freight All Kind, Retail

Total truck fleet size (tractors and vans): 565

Trailer fleet size: 1,850

Number of drivers (including owner-operators): 575

Operating Area: North America

Global Services Beyond North America? Yes

Certifications: SmartWay
Bennett International Group
770-957-1866 | bennettig.com
Union or Non-Union: Non-Union

Private or Public: Privately Held

Primary Types of Service:

LTL, TL, Logistics Services, Flatbed

Industries/Commodities Served:

Construction & Building Materials, Freight All Kind, High Value, Oil & Gas, Industrial Machinery, Steel, Aerospace, Manufacturing

Total truck fleet size (tractors and vans): 1,832

Trailer fleet size: 1,702

Number of drivers (including owner-operators): 2,881

Operating Area: North America

Global Services Beyond North America? Yes

Certifications: C-TPAT, HazMat, ISO, SmartWay, Women's Business Enterprise National Council
Bison Transport
800-462-4766 | bisontransport.com
Union or Non-Union: Non-Union

Private or Public: Privately Held

Primary Types of Service: LTL, TL, Expedited, Logistics Services, Dedicated Contract Carriage, Flatbed, Intermodal, Household Goods, Refrigerated

Industries/Commodities Served: Agriculture, Automotive, Chemicals, Construction & Building Materials, Food & Beverage, Freight All Kind, Furniture, Retail, High Value

Total truck fleet size (tractors and vans): 1,657

Trailer fleet size: 4,738

Number of drivers (including owner-operators): 2,181

Operating Area: North America

Global Services Beyond North America? No

Certifications: C-TPAT, Free And Secure Trade (FAST), HazMat, Partners In Protection (PIP), SmartWay
C. R. England
888-725-3737 | crengland.com
Union or Non-Union: Non-Union

Private or Public: Privately Held

Primary Types of Service: LTL, TL, Package, Expedited, Dedicated Contract Carriage, Intermodal, Household Goods, Refrigerated, White Glove, Final Mile

Industries/Commodities Served: Agriculture, Automotive, Food & Beverage, Freight All Kind, Furniture, Retail, High Value

Total truck fleet size (tractors and vans): 4,168

Trailer fleet size: 6,116

Number of drivers (including owner-operators): 6,740

Operating Area: North America

Global Services Beyond North America? No

Certifications: HazMat, SmartWay
Cardinal Logistics
704-789-2000 | www.cardlog.com
Union or Non-Union: Non-Union

Private or Public: Privately Held

Primary Types of Service: LTL, TL, Logistics Services, Dedicated Contract Carriage, Flatbed, Intermodal, Household Goods, Bulk, Motor Vehicle Carrier, Refrigerated, Tanker, White Glove, Final Mile

Industries/Commodities Served: Agriculture, Automotive, Chemicals, Construction & Building Materials, Food & Beverage, Freight All Kind, Furniture, Retail, High Value, Oil & Gas

Total truck fleet size (tractors and vans): 4,000

Trailer fleet size: 12,700

Number of drivers (including owner-operators): 3,500

Operating Area: U.S. only

If U.S. only, coverage area: U.S. Nationwide

Certifications: SmartWay
Cargo Transporters
828-459-3408 | cgor.com
Union or Non-Union: Non-Union

Private or Public: Privately Held

Primary Types of Service: TL, Dedicated Contract Carriage

Industries/Commodities Served: Construction & Building Materials, Food & Beverage, Freight All Kind, Furniture, Retail

Total truck fleet size (tractors and vans): 2,375

Trailer fleet size: 1,850

Number of drivers (including owner-operators): 550

Operating Area: U.S. only

If U.S. only, coverage area: U.S. Nationwide

Certifications: SmartWay
Carter Express
765-778-6960 | carter-express.com
Union or Non-Union: Non-Union

Private or Public: Privately Held

Primary Types of Service: LTL, TL, Package, Expedited, Logistics Services, Dedicated Contract Carriage, Refrigerated, Final Mile

Industries/Commodities Served: Auto, Food & Beverage, Retail, High Value

Total truck fleet size (tractors and vans): 775

Trailer fleet size: 1,700

Number of drivers (including owner-operators): 904

Operating Area: North America

Global Services Beyond North America? Yes

Certifications: C-TPAT, Free And Secure Trade (FAST), HazMat, Partners In Protection (PIP), SmartWay
Celadon Group
317-972-7000 | celadontrucking.com
Union or Non-Union: Non-Union

Private or Public: Publicly Traded

Primary Types of Service:

TL, Expedited, Logistics Services, Dedicated Contract Carriage, Intermodal, Refrigerated

Industries/Commodities Served: Automotive, Chemicals, Food & Beverage, Retail, High Value

Total truck fleet size (tractors and vans): 3,500

Trailer fleet size: 11,000

Number of drivers (including owner-operators): 3,800

Operating Area: North America

Global Services Beyond North America? No

Certifications: C-TPAT, ACC Responsible Care, Free And Secure Trade (FAST), HazMat, ISO, SmartWay
Central Freight Lines
800-782-5036 | centralfreight.com
Union or Non-Union: Non-Union

Private or Public: Privately Held

Primary Types of Service: LTL, Dedicated Contract Carriage

Industries/Commodities Served: Agriculture, Automotive, Chemicals, Construction & Building Materials, Freight All Kind, Furniture, Retail, Oil & Gas, 3PL

Total truck fleet size (tractors and vans): 1,786

Trailer fleet size: 8,012

Operating Area: U.S. only

If U.S. only, coverage area: U.S. Regional/Multi-Regional

Certifications: HazMat, SmartWay
Central Transport
586-939-7000 | centraltransportint.com
Union or Non-Union: Non-Union

Private or Public: Privately Held

Primary Types of Service: LTL, TL, Expedited, Temperature Control, Logistics Services

Industries/Commodities Served: Manufacturing, Retail

Total truck fleet size (tractors and vans): 3,180

Trailer fleet size: 6,543

Number of drivers (including owner-operators):

Operating Area: North America

Global Services Beyond North America? Yes

Certifications: FAST, HazMat SmartWay
Challenger Group
519-653-6226 | challenger.com
Private or Public: Privately Held

Primary Types of Service: LTL, TL, Overdimensional, Temp-Control, Bulk, Logistics Services

Industries/Commodities Served: Freight All Kind

Total truck fleet size (tractors and vans): 1,325

Trailer fleet size: 3,300

Operating Area: North America

Global Services Beyond North America? Yes

Certifications: ACI, C-TPAT, PIP, FAST, SmartWay
Colonial Cartage
678-322-3120 | colonialcartage.com
Union or Non-Union: Non-Union

Private or Public: Privately Held

Primary Types of Service: LTL, TL, Package, Expedited, Logistics Services, Dedicated Contract Carriage, Bulk, Motor Vehicle Carrier, Refrigerated, Final Mile

Industries/Commodities Served: Agriculture, Automotive, Chemicals, Construction & Building Materials, Food & Beverage, Freight All Kind, Furniture, Retail, High Value

Total truck fleet size (tractors and vans): 60

Trailer fleet size: 225

Number of drivers (including owner-operators): 60

Operating Area: U.S. only

If U.S. only, coverage area: U.S. Regional/Multi-Regional

Certifications: Partners In Protection (PIP), SmartWay
Continental Expedited Services
615-933-0000 | shipces.com
Union or Non-Union: Non-Union

Private or Public: Privately Held

Primary Types of Service: Expedited, Logistics Services, White Glove

Industries/Commodities Served:

Aerospace, Automotive, Chemicals, Freight All Kind, Retail, High Value

Total truck fleet size (tractors and vans): 75

Trailer fleet size: 135

Number of drivers (including owner-operators): 100

Operating Area: North America

Global Services Beyond North America? No

Certifications: C-TPAT, Free And Secure Trade (FAST), HazMat, Partners In Protection (PIP), SmartWay, NEEC (Mexico)
Contract Freighters
800-641-4747 | cfidrive.com
Union or Non-Union: Non-Union

Private or Public: Publicly Traded

Primary Types of Service: TL, Logistics Services, Motor Vehicle Carrier

Industries/Commodities Served: Automotive, Chemicals, Construction & Building Materials, Food & Beverage, Freight All Kind, Furniture, Retail, High Value

Total truck fleet size (tractors and vans): 2,000

Trailer fleet size: 7,000

Number of drivers (including owner-operators): 1,800

Operating Area: North America

Global Services Beyond North America? Yes

Certifications: C-TPAT, Free And Secure Trade (FAST), HazMat, SmartWay
Covenant Transport
888-762-5753 | covenanttransport.com
Union or Non-Union: Non-Union

Private or Public: Publicly Traded

Primary Types of Service: LTL, TL, Expedited, Dedicated Contract Carriage, Flatbed, Intermodal, Household Goods, Bulk, Refrigerated, White Glove, Final Mile

Industries/Commodities Served: Agriculture, Automotive, Chemicals, Construction & Building Materials, Food & Beverage, Freight All Kind, Furniture, Retail, High Value

Total truck fleet size (tractors and vans): 2,850

Trailer fleet size: 6,600

Number of drivers (including owner-operators): 3,900

Operating Area: North America

Global Services Beyond North America? No

Certifications: C-TPAT, Free And Secure Trade (FAST), HazMat, SmartWay
Cowan Systems
800-882-6926 | cowansystems.com
Union or Non-Union: Non-Union

Private or Public: Privately Held

Primary Types of Service: LTL, TL, Dedicated Contract Carriage, Intermodal

Industries/Commodities Served: Freight All Kind

Total truck fleet size (tractors and vans): 2,000

Operating Area: U.S. only
Crete Carrier Corporation
800-998-4095 | cretecarrier.com
Union or Non-Union: Non-Union

Private or Public: Privately Held

Primary Types of Service: TL, Dedicated Contract Carriage, Flatbed, Refrigerated

Industries/Commodities Served: Agriculture, Food & Beverage, Freight All Kind, Retail

Total truck fleet size (tractors and vans): 5,200

Trailer fleet size: 13,000

Number of drivers (including owner-operators): 5,400

Operating Area: U.S. only

If U.S. only, coverage area: U.S. Nationwide

Certifications: SmartWay
CRST Specialized Transportation
800-234-2788 | crst.com
Union or Non-Union: Non-Union

Private or Public: Privately Held

Primary Types of Service: LTL, TL, Logistics Services, Dedicated Contract Carriage, White Glove, Final Mile

Industries/Commodities Served: Furniture, Retail, High Value

Total truck fleet size (tractors and vans): 850

Trailer fleet size: 1,100

Number of drivers (including owner-operators): 850

Operating Area: North America

Global Services Beyond North America? Yes

Certifications: C-TPAT, Free And Secure Trade (FAST), Partners In Protection (PIP), SmartWay
Day & Ross Freight
800-561-0013 | dayross.com
Union or Non-Union: Non-Union

Private or Public: Privately Held

Primary Types of Service: TL, LTL, Temp-Control, Flatbed, Specialized

Industries/Commodities Served: Construction & Building Materials, Oil & Gas, Telecommunications, Mining

Trailer fleet size: 3,800

Operating Area: North America

Global Services Beyond North America? Yes

Certifications: C-TPAT, FAST, SmartWay, PIP, ACI, ACE
Dart Transit Company
800-366-3278 | dart.net
Union or Non-Union: Non-Union

Private or Public: Privately Held

Primary Types of Service: TL, Expedited, Logistics Services, Dedicated Contract Carriage, Intermodal

Industries/Commodities Served: Construction & Building Materials, Food & Beverage, Freight All Kind

Total truck fleet size (tractors and vans): 2,250

Trailer fleet size: 7,090

Number of drivers (including owner-operators): 2,027

Operating Area: North America

Global Services Beyond North America? No

Certifications: HazMat, SmartWay
Dayton Freight Lines
937-264-4060 | daytonfreight.com
Union or Non-Union: Non-Union

Private or Public: Privately Held

Primary Types of Service: LTL

Industries/Commodities Served: Freight All Kind

Total truck fleet size (tractors and vans): 1,693

Trailer fleet size: 3,803

Number of drivers (including owner-operators): 2,289

Operating Area: U.S. only

If U.S. only, coverage area: U.S. Regional/Multi-Regional

Certifications: HazMat, SmartWay
Epes Transport System
800-869-3737 | epestransport.com
Union or Non-Union: Non-Union

Private or Public: Privately Held

Primary Types of Service: TL, Dedicated Contract Carriage

Industries/Commodities Served: Construction & Building Materials, Food & Beverage, Freight All Kind, Retail, High Value

Total truck fleet size (tractors and vans): 1,300

Trailer fleet size: 8,000

Number of drivers (including owner-operators): 1,400

Operating Area: U.S. only

If U.S. only, coverage area: U.S. Regional/Multi-Regional

Certifications: ISO, SmartWay
Evans Network of Companies
800-666-7885 | evansdelivery.com
Union or Non-Union: Non-Union

Private or Public: Privately Held

Primary Types of Service: LTL, TL, Intermodal

Industries/Commodities Served: Freight All Kind

Total truck fleet size (tractors and vans): 3,500

Trailer fleet size: 550

Number of drivers (including owner-operators): 3,500

Operating Area: North America

Global Services Beyond North America? No

Certifications: C-TPAT, HazMat, SmartWay
FedEx Custom Critical
800-762-8737 | customcritical.fedex.com
Union or Non-Union: Non-Union

Private or Public: Publicly Traded

Primary Types of Service: TL, Expedited, Logistics Services, Dedicated Contract Carriage, Flatbed, Intermodal, Household Goods, Refrigerated, White Glove

Industries/Commodities Served: Automotive, Chemicals, Construction & Building Materials, Food & Beverage, Freight All Kind, High Value

Total truck fleet size (tractors and vans): 1,100

Trailer fleet size: 320

Number of drivers (including owner-operators): 2,000

Operating Area: North America

Global Services Beyond North America? Yes

Certifications: C-TPAT, Free And Secure Trade (FAST), HazMat, SmartWay
FedEx Ground
800-463-3339 | fedex.com/GroundShipping
Union or Non-Union: Non-Union

Private or Public: Publicly Traded

Primary Types of Service: LTL, Expedited

Industries/Commodities Served: Freight All Kind

Total truck fleet size (tractors and vans): 60,000

Operating Area: U.S. only

If U.S. only, coverage area: U.S. Nationwide

Certifications: C-TPAT, Free And Secure Trade (FAST), HazMat, SmartWay
Forward Air
800-726-6654 | forwardair.com
Union or Non-Union: Non-Union

Private or Public: Publicly Traded

Primary Types of Service: LTL, TL, Expedited, Dedicated Contract Carriage, Intermodal, Logistics

Industries/Commodities Served: Freight All Kind

Operating Area: U.S. only

If U.S. only, coverage area: U.S. Nationwide

Certifications: SmartWay
Frozen Food Express
800-569-9200 | ffeinc.com
Union or Non-Union: Non-Union

Private or Public: Privately Held

Primary Types of Service: LTL, Refrigerated

Industries/Commodities Served: Food & Beverage

Total truck fleet size (tractors and vans): 920

Trailer fleet size: 1,350

Number of drivers (including owner-operators): 919

Operating Area: North America

Certifications: C-TPAT, SmartWay
Heartland Express
888-919-1812 | heartlandexpress.com
Union or Non-Union: Non-Union

Private or Public: Publicly Traded

Primary Types of Service: TL, Dedicated Contract Carriage, Refrigerated

Industries/Commodities Served: Automotive, Construction & Building Materials, Food & Beverage, Freight All Kind, Furniture, Retail

Total truck fleet size (tractors and vans): 4,000

Trailer fleet size: 12,000

Number of drivers (including owner-operators): 4,000

Operating Area: U.S. only

If U.S. only, coverage area: U.S. Nationwide

Certifications: C-TPAT, HazMat, Partners In Protection (PIP), SmartWay
Holland
866-465-5263 | hollandregional.com
Union or Non-Union: Union

Private or Public: Publicly Traded

Primary Types of Service: LTL, TL, Expedited, Bulk, White Glove

Industries/Commodities Served: Agriculture, Automotive, Construction & Building Materials, Freight All Kind, Furniture, Retail, High Value

Total truck fleet size (tractors and vans): 4,190

Trailer fleet size: 6,886

Number of drivers (including owner-operators): 6,500

Operating Area: North America

Global Services Beyond North America? No

Certifications: C-TPAT, ACC Responsible Care, Free And Secure Trade (FAST), HazMat, ISO, Partners In Protection (PIP), SmartWay
Horizon Freight Lines
812-526-3380 | horizonfreightlines.com
Union or Non-Union: Non-Union

Private or Public: Privately Held

Primary Types of Service: TL, Expedited, Dedicated Contract Carriage

Industries/Commodities Served: Automotive

Total truck fleet size (tractors and vans): 112

Trailer fleet size: 356

Number of drivers (including owner-operators): 172

Operating Area: North America

Global Services Beyond North America? Yes

Certifications: C-TPAT
Hub Group
800-964-2515 | hubgroup.com
Union or Non-Union: Non-Union

Private or Public: Publicly Traded

Primary Types of Service: LTL, TL, Expedited, Logistics Services, Dedicated Contract Carriage, Flatbed, Intermodal, Household Goods, Refrigerated, Final Mile

Industries/Commodities Served: Agriculture, Automotive, Chemicals, Construction & Building Materials, Food & Beverage, Freight All Kind, Furniture, Retail, High Value, Private Equity

Total truck fleet size (tractors and vans): 4,200

Trailer fleet size: 42,500

Number of drivers (including owner-operators): 4,235

Operating Area: North America

Global Services Beyond North America? Yes

Certifications: C-TPAT, Free And Secure Trade (FAST), HazMat, Partners In Protection (PIP), SmartWay
J.B. Hunt Transport
479-820-0000 | jbhunt.com
Union or Non-Union: Non-Union

Private or Public: Publicly Traded

Primary Types of Service: LTL, TL, Expedited, Logistics Services, Dedicated Contract Carriage, Flatbed, Intermodal, Household Goods, Bulk, Motor Vehicle Carrier, Refrigerated, White Glove, Final Mile

Industries/Commodities Served: Agriculture, Automotive, Chemicals, Construction & Building Materials, Food & Beverage, Freight All Kind, Furniture, Retail, High Value, Oil & Gas

Total truck fleet size (tractors and vans): 14,661

Trailer fleet size: 123,000

Number of drivers (including owner-operators): 16,000+

Operating Area: North America

Global Services Beyond North America? Yes

Certifications: HazMat, ISO, SmartWay
KLLM Transport Services
800-925-1000 | kllm.com
Union or Non-Union: Non-Union

Private or Public: Privately Held

Primary Types of Service: TL, Logistics Services, Dedicated Contract Carriage, Intermodal, Refrigerated

Industries/Commodities Served: Chemicals, Food & Beverage

Total truck fleet size (tractors and vans): 2,300

Trailer fleet size: 3,300

Number of drivers (including owner-operators): 2,400

Operating Area: U.S. only

If U.S. only, coverage area: U.S. Nationwide

Certifications: HazMat, SmartWay
Kenan Advantage Group
800-969-5419 | thekag.com
Union or Non-Union: Non-Union

Private or Public: Privately Held

Primary Types of Service: Logistics Services, Dedicated Contract Carriage, Flatbed, Intermodal, Bulk, Refrigerated, Tanker, Final Mile

Industries/Commodities Served: Agriculture, Chemicals, Food & Beverage, Oil & Gas

Total truck fleet size (tractors and vans): 7,000

Trailer fleet size: 11,000

Number of drivers (including owner-operators): 7,200

Operating Area: North America

Global Services Beyond North America? No

Certifications: ACC Responsible Care, HazMat, SmartWay
Knight Transportation
602-606-6326 | knighttrans.com
Union or Non-Union: Non-Union

Private or Public: Publicly Traded

Primary Types of Service: LTL, TL, Package, Expedited, Logistics Services, Dedicated Contract Carriage, Flatbed, Intermodal, Household Goods, Bulk, Refrigerated, White Glove, Final Mile

Industries/Commodities Served: Agriculture, Automotive, Chemicals, Construction & Building Materials, Food & Beverage, Freight All Kind, Furniture, Retail, High Value

Total truck fleet size (tractors and vans): 2,700

Trailer fleet size: 8,000

Number of drivers (including owner-operators): 3,000

Operating Area: North America

Global Services Beyond North America? No

Certifications: C-TPAT, ACC Responsible Care, Free And Secure Trade (FAST), HazMat, ISO, Partners In Protection (PIP), SmartWay
Landstar System
877-696-4507 | landstar.com
Union or Non-Union: Non-Union

Private or Public: Publicly Traded

Primary Types of Service: LTL, TL, Expedited, Logistics Services, Flatbed, Intermodal, Bulk, Refrigerated

Industries/Commodities Served: Agriculture, Automotive, Chemicals, Construction & Building Materials, Food & Beverage, Freight All Kind, Furniture, Retail, High Value, Oil & Gas

Total truck fleet size (tractors and vans): 9,696

Trailer fleet size: 15,534

Operating Area: North America

Global Services Beyond North America? Yes

Certifications: C-TPAT, ACC Responsible Care, Free And Secure Trade (FAST), HazMat, ISO, Partners In Protection (PIP), SmartWay
Lynden
888-596-3361 | lynden.com
Union or Non-Union: Both

Private or Public: Privately Held

Primary Types of Service: LTL, TL, Expedited, Logistics Services, Flatbed, Intermodal, Household Goods, Bulk, Refrigerated, Tanker, White Glove, Final Mile

Industries/Commodities Served: Agriculture, Automotive, Chemicals, Construction & Building Materials, Food & Beverage, Seafood, Freight All Kind, Furniture, Retail, High Value, Oil & Gas

Total truck fleet size (tractors and vans): 768

Trailer fleet size: 2,889

Number of drivers (including owner-operators): 967

Operating Area: North America

Global Services Beyond North America? Yes

Certifications: C-TPAT, HazMat, SmartWay
LME
800-888-4950 | lme4me.com
Union or Non-Union: Non-Union

Private or Public: Privately Held

Primary Types of Service: LTL

Industries/Commodities Served: Agriculture, Automotive, Chemicals, Construction & Building Materials, Food & Beverage, Freight All Kind, Retail

Total truck fleet size (tractors and vans): 375

Trailer fleet size: 1,043

Number of drivers (including owner-operators): 400

Operating Area: U.S. only

If U.S. only, coverage area:

U.S. Regional/Multi-Regional

Certifications: HazMat, SmartWay
Marten Transport
855-336-1734 | marten.com
Union or Non-Union: Non-Union

Private or Public: Publicly Traded

Primary Types of Service: TL, Logistics Services, Dedicated Contract Carriage, Intermodal, Household Goods, Refrigerated

Industries/Commodities Served: Food & Beverage, Retail

Total truck fleet size (tractors and vans): 2,900

Trailer fleet size: 5,100

Number of drivers (including owner-operators): 2,800

Operating Area: North America

Certifications: C-TPAT, HazMat, SmartWay
Maverick USA
800-289-6600 | maverickusa.com
Union or Non-Union: Non-Union

Private or Public: Publicly Traded

Primary Types of Service: Flatbed, Dedicated, Temp-Control

Industries/Commodities Served: Glass

Total truck fleet size (tractors and vans): 1,700

Operating Area: North America

Global Services Beyond North America? No

Certifications: SmartWay
Melton Truck Lines
918-270-9654 | meltontruck.com
Union or Non-Union: Non-Union

Private or Public: Privately Held

Primary Types of Service: TL, Dedicated Contract Carriage, Flatbed, Motor Vehicle Carrier

Industries/Commodities Served: Agriculture, Automotive, Construction & Building Materials

Total truck fleet size (tractors and vans): 1,284

Trailer fleet size: 2,225

Number of drivers (including owner-operators): 1,309

Operating Area: North America

Global Services Beyond North America? No

Certifications: C-TPAT, HazMat, SmartWay
Mercer Transportation
800-626-5375 | mercer-trans.com
Union or Non-Union: Non-Union

Private or Public: Privately Held

Primary Types of Service: TL, Expedited, Logistics Services, Dedicated Contract Carriage, Flatbed

Industries/Commodities Served: Agriculture, Automotive, Construction & Building Materials, Food & Beverage, Freight All Kind, Furniture, Retail, Oil & Gas, Military, Containers, Metals, Materials Handling

Trailer fleet size: 2,500 (flatbeds, step decks, dry vans, RGNs, reefers)

Number of drivers (including owner-operators): 2,300

Operating Area: North America

Global Services Beyond North America? No

Certifications: C-TPAT, Free And Secure Trade (FAST), HazMat, Partners In Protection (PIP), SmartWay
Miller Transporters
601-709-5901 | millert.com
Union or Non-Union: Both

Private or Public: Privately Held

Primary Types of Service: Logistics Services, Bulk, Tanker

Industries/Commodities Served: Agriculture, Automotive, Chemicals, Construction & Building Materials, Oil & Gas

Total truck fleet size (tractors and vans): 440

Trailer fleet size: 1,100

Number of drivers (including owner-operators): 430

Operating Area: North America

Global Services Beyond North America? No

Certifications: ACC Responsible Care, HazMat, SmartWay
Moran Transportation
800-716-6787 | morantransportation.com
Union or Non-Union: Non-Union

Private or Public: Privately Held

Primary Types of Service: LTL, Expedited, Dedicated Contract Carriage, Refrigerated

Industries/Commodities Served: Chemicals, Freight All Kind

Total truck fleet size (tractors and vans): 352

Trailer fleet size: 304

Number of drivers (including owner-operators): 344

Operating Area: U.S. only

If U.S. only, coverage area: U.S. Regional/Multi-Regional

Certifications: HazMat
National Retail Systems
201-330-1900 | nationalretailsystems.com
Union or Non-Union: Union

Private or Public: Privately Held

Primary Types of Service: LTL, TL, Logistics Services, Dedicated Contract Carriage, Flatbed, Bulk, White Glove

Industries/Commodities Served: Automotive, Chemicals, Construction & Building Materials, Freight All Kind, Furniture, Retail

Total truck fleet size (tractors and vans): 1,200

Trailer fleet size: 6,500

Number of drivers (including owner-operators): 900

Operating Area: North America

Global Services Beyond North America? No

Certifications: C-TPAT, HazMat, SmartWay
Union or Non-Union: Non-Union

Private or Public: Privately Held

Primary Types of Service: Logistics Services, Dedicated Contract Carriage, Intermodal, Household Goods, Refrigerated

Industries/Commodities Served: Food & Beverage, Furniture, Retail

Total truck fleet size (tractors and vans): 830

Trailer fleet size: 2,325

Number of drivers (including owner-operators): 811

Operating Area: U.S. only

If U.S. only, coverage area: U.S. Nationwide

Certifications: SmartWay
New England Motor Freight
908-965-0100 | nemf.com
Union or Non-Union: Union

Private or Public: Privately Held

Primary Types of Service: LTL, Expedited, Logistics Services, Dedicated Contract Carriage, Flatbed, Household Goods

Industries/Commodities Served: Agriculture, Automotive, Chemicals, Construction & Building Materials, Food & Beverage, Freight All Kind, Furniture, Retail, High Value

Total truck fleet size (tractors and vans): 6,000

Trailer fleet size: 2,000

Number of drivers (including owner-operators): 1,732

Operating Area: U.S. only

If U.S. only, coverage area: U.S. Regional/Multi-Regional

Certifications: C-TPAT, HazMat, SmartWay
New Penn Motor Express
800-285-5000 | newpenn.com
Union or Non-Union: Union

Private or Public: Publicly Traded

Primary Types of Service: LTL, Expedited

Industries/Commodities Served: Agriculture, Automotive, Chemicals, Construction & Building Materials, Food & Beverage, Freight All Kind, Furniture, Retail, High Value, Oil & Gas

Total truck fleet size (tractors and vans): 715

Trailer fleet size: 1,535

Number of drivers (including owner-operators): 1,137

Operating Area: North America

Global Services Beyond North America? No

Certifications: C-TPAT, Free And Secure Trade (FAST), HazMat, Partners In Protection (PIP), SmartWay
NFI
877-785-3112 | nfiindustries.com
Union or Non-Union: Non-Union

Private or Public: Privately Held

Primary Types of Service: LTL, TL, Logistics Services, Dedicated Contract Carriage, Flatbed, Intermodal, Household Goods, Bulk, Refrigerated, Tanker, Final Mile

Industries/Commodities Served: Automotive, Construction & Building Materials, Food & Beverage, Furniture, Retail, High Value, Oil & Gas

Total truck fleet size (tractors and vans): 4,000

Trailer fleet size: 9,000

Number of drivers (including owner-operators): 4,210

Operating Area: North America

Global Services Beyond North America? Yes

Certifications: C-TPAT, Free And Secure Trade (FAST), HazMat, ISO, Partners In Protection (PIP), SmartWay
Nussbaum Transportation
800-622-9741 | nussbaum.com
Union or Non-Union: Non-Union

Private or Public: Privately Held

Primary Types of Service: TL, Dedicated Contract Carriage, Refrigerated

Industries/Commodities Served: Agriculture, Automotive, Chemicals, Construction & Building Materials, Food & Beverage, Freight All Kind, Furniture, Retail, High Value

Total truck fleet size (tractors and vans): 375

Trailer fleet size: 950

Number of drivers (including owner-operators): 380

Operating Area: U.S. only

If U.S. only, coverage area: U.S. Nationwide

Certifications: HazMat, SmartWay
Oak Harbor Freight Lines
800-858-8815 | oakh.com
Union or Non-Union: Both

Private or Public: Privately Held

Primary Types of Service: LTL

Industries/Commodities Served: Chemicals, Food & Beverage, Freight All Kind

Total truck fleet size (tractors and vans): 700

Trailer fleet size: 2,800

Number of drivers (including owner-operators): 900

Operating Area: U.S. only

If U.S. only, coverage area: U.S. Nationwide

Certifications: HazMat, SmartWay
ODW Logistics
614-549-5000 | odwlogistics.com
Union or Non-Union: Non-Union

Private or Public: Privately Held

Primary Types of Service: TL, Dedicated Contract Carriage, Flatbed, Refrigerated

Industries/Commodities Served: Chemicals, Construction & Building Materials, Food & Beverage, Freight All Kind, Furniture, Retail, High Value

Total truck fleet size (tractors and vans): 272

Trailer fleet size: 160

Number of drivers (including owner-operators): 180

Operating Area: U.S. only

If U.S. only, coverage area: U.S. Regional/Multi-Regional

Certifications: HazMat
Old Dominion Freight Line
336-889-5000 | odfl.com
Union or Non-Union: Non-Union

Private or Public: Publicly Traded

Primary Types of Service: LTL, TL, Expedited, Logistics Services, Intermodal

Industries/Commodities Served: Agriculture, Automotive, Chemicals, Construction & Building Materials, Food & Beverage, Freight All Kind, Furniture, Retail, High Value, Oil & Gas

Total truck fleet size (tractors and vans): 9,277

Trailer fleet size: 35,446

Number of drivers (including owner-operators): 10,500

Operating Area: North America

Global Services Beyond North America? Yes

Certifications: C-TPAT, Free And Secure Trade (FAST), HazMat, SmartWay
PAM Transport
800-879-7261 | pamtransport.com
Union or Non-Union: Non-Union

Private or Public: Publicly Traded

Primary Types of Service: Dedicated, Dry Van, Expedited, Logistics Services

Industries/Commodities Served: Automotive, Manufacturing, Retail, General Commodities

Total truck fleet size (tractors and vans): 1,700

Trailer fleet size: 4,000

Operating Area: North America

Global Services Beyond North America? Yes

Certifications: SmartWay
Penske Logistics
800-529-6531 | penskelogistics.com
Union or Non-Union: Both

Private or Public: Privately Held

Primary Types of Service:

LTL, TL, Expedited, Logistics Services, Dedicated Contract Carriage, Intermodal, Household Goods, Bulk, Motor Vehicle Carrier, Refrigerated, White Glove, Final Mile

Industries/Commodities Served: Agriculture, Automotive, Chemicals, Construction & Building Materials, Food & Beverage, Freight All Kind, Furniture, Retail, High Value

Total truck fleet size (tractors and vans): 3,530

Trailer fleet size: 9,500

Number of drivers (including owner-operators): 4,919

Operating Area: North America

Global Services Beyond North America? Yes

Certifications: C-TPAT, Free And Secure Trade (FAST), ISO, Partners In Protection (PIP), SmartWay
Performance Team
424-358-6940 | performanceteam.net
Union or Non-Union: Non-Union

Private or Public: Privately Held

Primary Types of Service: LTL, TL, Package, Expedited, Logistics Services, Dedicated Contract Carriage, Final Mile

Industries/Commodities Served: Automotive, Furniture, Retail, High Value

Total truck fleet size (tractors and vans): 750

Trailer fleet size: 3,500

Number of drivers (including owner-operators): 810

Operating Area: U.S. only

If U.S. only, coverage area: U.S. Nationwide

Certifications: SmartWay, C-TPAT, CARB Compliant
Pitt Ohio
412-232-3015 | pittohio.com
Union or Non-Union: Non-Union

Private or Public: Privately Held

Primary Types of Service: LTL, TL, Package, Expedited, Logistics Services, Dedicated Contract Carriage, Motor Vehicle Carrier, White Glove, Final Mile

Industries/Commodities Served: Agriculture, Automotive, Chemicals, Construction & Building Materials, Food & Beverage, Freight All Kind, Furniture, Retail, High Value

Total truck fleet size (tractors and vans): 2,650

Trailer fleet size: 5,576

Number of drivers (including owner-operators): 3,709

Operating Area: U.S. only

If U.S. only, coverage area: U.S. Regional/Multi-Regional

Certifications: ACC Responsible Care, HazMat, SmartWay
Polaris Transport Carriers
905-671-3100 | polaristransport.com
Union or Non-Union: Non-Union

Private or Public: Privately Held

Primary Types of Service: LTL, Logistics Services

Industries/Commodities Served: Automotive, Chemicals, Construction & Building Materials, Food & Beverage, Freight All Kind, Furniture, Retail

Total truck fleet size (tractors and vans): 185

Trailer fleet size: 250

Number of drivers (including owner-operators): 185

Operating Area: North America

Global Services Beyond North America? Yes

Certifications: C-TPAT, Free And Secure Trade (FAST), HazMat, Partners In Protection (PIP), SmartWay
Pride Transport
801-972-8890 | pridetransport.com
Union or Non-Union: Non-Union

Private or Public: Privately Held

Primary Types of Service: LTL, Logistics Services, Dedicated Contract Carriage, Refrigerated, White Glove

Industries/Commodities Served: Food & Beverage, Freight All Kind, High Value

Total truck fleet size (tractors and vans): 520

Trailer fleet size: 850

Number of drivers (including owner-operators): 540

Operating Area: U.S. only

If U.S. only, coverage area: U.S. Nationwide

Certifications: Free And Secure Trade (FAST), ISO, SmartWay
Purolator
888 SHIP-123 | purolator.com
Union or Non-Union: Non-Union

Private or Public: Privately Held

Primary Types of Service: LTL, Expedited

Industries/Commodities Served: Freight All Kind Vehicles: 54 hybrid-electric vehicles, 2,884 courier vehicles, 181 medium trucks, 1,329 highway trailers, 465 tractors

Operating Area: North America
Prime
800-321-4552 | primeinc.com
Union or Non-Union: Non-Union

Private or Public: Privately Held

Primary Types of Service: LTL, TL, Expedited, Logistics Services, Dedicated Contract Carriage, Flatbed, Intermodal, Household Goods, Bulk, Refrigerated, Tanker

Industries/Commodities Served: Construction & Building Materials, Food & Beverage, High Value

Total truck fleet size (tractors and vans): 5,707

Trailer fleet size: 12,589

Number of drivers (including owner-operators): 7,134

Operating Area: North America

Global Services Beyond North America? No

Certifications: C-TPAT, ACC Responsible Care, HazMat, SmartWay
Quality Distribution
800-282-2031 | qualitydistribution.com
Union or Non-Union: Non-Union

Private or Public: Privately Held

Primary Types of Service: Bulk, Logistics Services, Intermodal

Industries/Commodities Served: Chemicals, Oil & Gas, Bulk Liquid, Food Grade Liquid

Total truck fleet size (tractors and vans): 2,800

Trailer fleet size: 5,300

Number of drivers (including owner-operators): 3,000

Operating Area: North America
R+L Carriers
800-543-5589 | rlcarriers.com
Union or Non-Union: Non-Union

Private or Public: Privately Held

Primary Types of Service: LTL, TL, Expedited, Logistics Services, Dedicated Contract Carriage, Intermodal, Bulk, Motor Vehicle Carrier, Refrigerated, White Glove, Final Mile

Industries/Commodities Served: Agriculture, Automotive, Chemicals, Construction & Building Materials, Food & Beverage, Freight All Kind, Furniture, Retail, High Value, Oil & Gas

Total truck fleet size (tractors and vans): 6,000

Trailer fleet size: 14,000

Number of drivers (including owner-operators): 5,000

Operating Area: North America

Global Services Beyond North America? Yes

Certifications: C-TPAT, HazMat
Red Classic
704-227-1682 | redclassic.com
Union or Non-Union: Non-Union

Private or Public: Publicly Traded

Primary Types of Service: TL, Logistics Services, Dedicated Contract Carriage, Intermodal

Industries/Commodities Served: Automotive, Chemicals, Construction & Building Materials, Food & Beverage, Freight All Kind, Furniture, Retail, High Value

Total truck fleet size (tractors and vans): 650

Trailer fleet size: 2,600

Number of drivers (including owner-operators): 771

Operating Area: U.S. only

If U.S. only, coverage area: U.S. Regional/Multi-Regional

Certifications: SmartWay
Reddaway Trucking
888-420-8986 | reddawayregional.com
Union or Non-Union: Union

Private or Public: Publicly Traded

Primary Types of Service: LTL, Expedited

Industries/Commodities Served: Agriculture, Automotive, Chemicals, Construction & Building Materials, Food & Beverage, Freight All Kind, Furniture, Retail, High Value, Oil & Gas

Total truck fleet size (tractors and vans): 1,530

Trailer fleet size: 4,290

Number of drivers (including owner-operators): 1,600

Operating Area: North America

Global Services Beyond North America? No

Certifications: C-TPAT, Free And Secure Trade (FAST), HazMat, Partners In Protection (PIP), SmartWay
Roadrunner Freight
414-615-1500 | rrts.com
Union or Non-Union: Non-Union

Private or Public: Publicly Traded

Primary Types of Service: LTL, TL, Expedited, Logistics Services, Flatbed, Intermodal, Refrigerated, White Glove, Final Mile

Industries/Commodities Served: Agriculture, Automotive, Chemicals, Construction & Building Materials, Food & Beverage, Freight All Kind, Furniture, Retail, High Value, Oil & Gas

Total truck fleet size (tractors and vans): 4,319

Trailer fleet size: 6,494

Number of drivers (including owner-operators): 4,439

Operating Area: North America

Global Services Beyond North America? Yes

Certifications: C-TPAT, Free And Secure Trade (FAST), Partners In Protection (PIP), SmartWay
Roehl Transport
800-826-8367 | roehl.jobs
Union or Non-Union: Non-Union

Private or Public: Privately Held

Primary Types of Service: TL

Industries/Commodities Served: Automotive, Construction & Building Materials, Food & Beverage, Freight All Kind, Furniture, Retail

Total truck fleet size (tractors and vans): 1,969

Trailer fleet size: 4,953

Number of drivers (including owner-operators): 2,015

Operating Area: North America

Global Services Beyond North America? No

Certifications: C-TPAT, HazMat, SmartWay
Ruan
866-782-6669 | ruan.com
Union or Non-Union: Both

Private or Public: Privately Held

Primary Types of Service: LTL, TL, Package, Expedited, Logistics Services, Dedicated Contract Carriage, Flatbed, Intermodal, Bulk, Motor Vehicle Carrier, Refrigerated, Tanker, White Glove, Final Mile

Industries/Commodities Served: Agriculture, Automotive, Chemicals, Construction & Building Materials, Food & Beverage, Furniture, Retail, High Value, Oil & Gas

Total truck fleet size (tractors and vans): 3,600

Trailer fleet size: 8,710

Number of drivers (including owner-operators): 4,200

Operating Area: North America

Global Services Beyond North America? No

Certifications: HazMat, SmartWay
Ryder
305-500-3726 | ryder.com
Union or Non-Union: Both

Private or Public: Publicly Traded

Primary Types of Service: LTL, TL, Package, Expedited, Logistics Services, Dedicated Contract Carriage, Flatbed, Intermodal, Household Goods, Bulk, Motor Vehicle Carrier, Refrigerated, Tanker, White Glove, Final Mile

Industries/Commodities Served: Agriculture, Automotive, Construction & Building Materials, Food & Beverage, Furniture, Retail, High Value, Oil & Gas

Total truck fleet size (tractors and vans): 73,300

Trailer fleet size: 42,800

Number of drivers (including owner-operators): 7,700

Operating Area: North America

Global Services Beyond North America? Yes

Certifications: C-TPAT, Free And Secure Trade (FAST), ISO, SmartWay
Saddle Creek Logistics Services
888-878-1177 | sclogistics.com
Union or Non-Union: Non-Union

Private or Public: Privately Held

Primary Types of Service: LTL, TL, Package, Expedited, Logistics Services, Dedicated Contract Carriage, Intermodal, Household Goods

Industries/Commodities Served: Automotive, Construction & Building Materials, Food & Beverage, Retail, High Value

Total truck fleet size (tractors and vans): 568

Trailer fleet size: 2,219

Number of drivers (including owner-operators): 581

Operating Area: North America

Global Services Beyond North America? No

Certifications: C-TPAT, SmartWay
Saia
800-765-7242 | saia.com
Union or Non-Union: Non-Union

Private or Public: Publicly Traded

Primary Types of Service: LTL

Industries/Commodities Served: Agriculture, Automotive, Chemicals, Construction & Building Materials, Freight All Kind, Furniture, Retail, High Value, Oil & Gas

Total truck fleet size (tractors and vans): 4,000

Trailer fleet size: 13,000

Number of drivers (including owner-operators): 4,800

Operating Area: U.S. only

If U.S. only, coverage area: U.S. Regional/Multi-Regional

Certifications: HazMat, SmartWay
Schilli (MDS, CCI, TTI, BTC, KBI)
636-717-2653 | schillicorp.com
Union or Non-Union: Both

Private or Public: Privately Held

Primary Types of Service: Dedicated Contract Carriage, Flatbed, Bulk, Tanker

Industries/Commodities Served: Chemicals, Construction & Building Materials, Oil & Gas

Total truck fleet size (tractors and vans): 315

Trailer fleet size: 560

Number of drivers (including owner-operators): 290

Operating Area: North America

Global Services Beyond North America? No

Certifications: ACC Responsible Care, HazMat, SmartWay
Schneider
920-592-4200 | schneider.com
Union or Non-Union: Both

Private or Public: Publicly Traded

Primary Types of Service: LTL, TL, Expedited, Logistics Services, Dedicated Contract Carriage, Flatbed, Intermodal, Household Goods, Bulk, Refrigerated, Tanker, White Glove, Final Mile

Industries/Commodities Served: Agriculture, Automotive, Chemicals, Construction & Building Materials, Food & Beverage, Freight All Kind, Furniture, Retail, High Value

Trailer fleet size: 38,000

Operating Area: North America

Global Services Beyond North America? Yes

Certifications: C-TPAT, ACC Responsible Care, Free And Secure Trade (FAST), HazMat, ISO, SmartWay
Southeastern Freight Lines
803-794-7300 | sefl.com
Union or Non-Union: Non-Union

Private or Public: Privately Held

Primary Types of Service: LTL

Industries/Commodities Served: Agriculture, Automotive, Chemicals, Construction & Building Materials, Food & Beverage, Freight All Kind, Furniture, Retail, High Value

Total truck fleet size (tractors and vans): 3,047

Trailer fleet size: 9,221

Number of drivers (including owner-operators): 4,242

Operating Area: U.S. only

If U.S. only, coverage area: U.S. Regional/Multi-Regional

Certifications: ACC Responsible Care, HazMat, SmartWay
Standard Forwarding
309-751-0251 | standardforwarding.com
Union or Non-Union: Union

Private or Public: Publicly Traded

Primary Types of Service: LTL

Industries/Commodities Served: Agriculture, Automotive, Chemicals, Construction & Building Materials, Freight All Kind

Total truck fleet size (tractors and vans): 377

Trailer fleet size: 668

Number of drivers (including owner-operators): 452

Operating Area: U.S. Only

If U.S. only, coverage area: U.S. Regional/Multi-Regional

Certifications: C-TPAT, Free and Secure Trade (FAST), HazMat, SmartWay
Stevens Transport
800-806-4917 | stevenstransport.com
Union or Non-Union: Non-Union

Private or Public: Privately Held

Primary Types of Service: TL, Dedicated, Temp-Control, Intermodal, Expedited

Industries/Commodities Served: Food & Beverage

Operating Area: North America

Global Services Beyond North America? Yes

Certifications: SmartWay
Superior Bulk Logistics
973-726-0246 | superiorbulklogistics.com
Union or Non-Union: Non-Union

Private or Public: Privately Held

Primary Types of Service: Bulk, Transload

Industries/Commodities Served: Liquid and Dry Bulk Products, Food Grade, Pharma, Chemical Products

Operating Area: North America

Certifications: ACC Responsible Care
Swift
800-800-2200 | swifttrans.com
Union or Non-Union: Non-Union

Private or Public: Publicly Traded

Primary Types of Service: LTL, Expedited, Logistics Services, Dedicated Contract Carriage, Flatbed, Intermodal, Refrigerated

Industries/Commodities Served: Agriculture, Automotive, Chemicals, Construction & Building Materials, Food & Beverage, Freight All Kind, Furniture, Retail, High Value

Total truck fleet size (tractors and vans): 18,000

Trailer fleet size: 60,000

Number of drivers (including owner-operators): 21,000

Operating Area: North America

Global Services Beyond North America? No

Certifications: C-TPAT, Free And Secure Trade (FAST), HazMat, Partners In Protection (PIP), CSA
Syfan Logistics
855-287-8485 | syfanlogistics.com
Union or Non-Union: Non-Union

Private or Public: Privately Held

Primary Types of Service: LTL, TL, Expedited, Logistics Services, Dedicated Contract Carriage, Flatbed, Intermodal, Household Goods, Bulk, Refrigerated, Tanker

Industries/Commodities Served: Automotive, Construction & Building Materials, Food & Beverage, Freight All Kind, Retail, High Value

Total truck fleet size (tractors and vans): 162

Trailer fleet size: 324

Number of drivers (including owner-operators): 162

Operating Area: North America

Global Services Beyond North America? No

Certifications: C-TPAT, SmartWay, CSA
System Freight
609-395-8600 | systemfreight.net
Union or Non-Union: Both

Private or Public: Privately Held

Primary Types of Service: TL, Dedicated Contract Carriage

Industries/Commodities Served: Freight All Kind

Total truck fleet size (tractors and vans): 375

Trailer fleet size: 2,600

Number of drivers (including owner-operators): 400

Operating Area: U.S. only

Certifications: SmartWay
TMC Transportation
800-247-2460 | tmctrans.com
Union or Non-Union: Non-Union

Private or Public: Employee-Owned

Primary Types of Service: Linehaul, Dedicated, Specialized Flatbed

Industries/Commodities Served: Freight All Kind

Operating Area: U.S. only

If U.S. only, coverage area:

U.S. Regional/Multi-Regional
Trimac Transportation
866-774-739 | trimac.com
Union or Non-Union: Both

Private or Public: Privately Held

Primary Types of Service: Bulk, Tanker

Industries/Commodities Served: Chemicals, Oil & Gas, Dry Bulk

Total truck fleet size (tractors and vans): 2,175

Trailer fleet size: 4,828

Number of drivers (including owner-operators): 2,596

Operating Area: North America

Global Services Beyond North America? No

Certifications: C-TPAT, ACC Responsible Care, Free And Secure Trade (FAST), HazMat, ISO, Partners In Protection (PIP), SmartWay
UniGroup Logistics
855-605-8080 | unigrouplogistics.com
Union or Non-Union: Non-Union

Private or Public: Privately Held

Primary Types of Service: LTL, TL, Expedited, Logistics Services, Dedicated Contract Carriage, Flatbed, Intermodal, Household Goods, Motor Vehicle Carrier, White Glove, Final Mile

Industries/Commodities Served: Automotive, Construction & Building Materials, Freight All Kind, Furniture, Retail, High Value, TradeShow, Medical Equipment, Telecom

Total truck fleet size (tractors and vans): 4,000

Trailer fleet size: 6,000

Number of drivers (including owner-operators): 3,500

Operating Area: North America

Global Services Beyond North America? Yes

Certifications: C-TPAT, ISO, SmartWay
Universal Logistics Holdings
586-920-0100 | universallogistics.com
Union or Non-Union: Both

Private or Public: Publicly Traded

Primary Types of Service: TL, Expedited, Logistics Services, Dedicated Contract Carriage, Flatbed, Intermodal, Household Goods, Bulk, Refrigerated

Industries/Commodities Served: Agriculture, Automotive, Construction & Building Materials, Food & Beverage, Furniture, Retail, Oil & Gas

Total truck fleet size (tractors and vans): 3,784

Trailer fleet size: 6,571

Number of drivers (including owner-operators): 3,804

Operating Area: North America

Global Services Beyond North America? Yes

Certifications: C-TPAT, Free And Secure Trade (FAST), HazMat, ISO, Partners In Protection (PIP), SmartWay
UPS Freight
800-333-7400 | ltl.upsfreight.com
Union or Non-Union: Both

Private or Public: Publicly Traded

Primary Types of Service: LTL, TL, Expedited, Dedicated Contract Carriage, Flatbed, Intermodal, Household Goods, Bulk, Motor Vehicle Carrier, Refrigerated, White Glove, Final Mile

Industries/Commodities Served: Agriculture, Automotive, Chemicals, Construction & Building Materials, Food & Beverage, Freight All Kind, Furniture, Retail, High Value, Oil & Gas

Trailer fleet size: 21,600

Number of drivers (including owner-operators): 8,800

Operating Area: North America

Global Services Beyond North America? Yes

Certifications: C-TPAT, Free And Secure Trade (FAST), HazMat, SmartWay
US Xpress
866-646-5886 | usxpress.com
Union or Non-Union: Non-Union

Private or Public: Privately Held

Primary Types of Service: TL, Expedited, Logistics Services, Dedicated Contract Carriage

Industries/Commodities Served: Automotive, Chemicals, Construction & Building Materials, Food & Beverage, Freight All Kind, Furniture, Retail, High Value, Integrated Air Freight & Parcel

Total truck fleet size (tractors and vans): 5,250

Trailer fleet size: 13,500

Number of drivers (including owner-operators): 5,500

Operating Area: North America

Global Services Beyond North America? No

Certifications: C-TPAT, Free And Secure Trade (FAST), HazMat, Partners In Protection (PIP), SmartWay
USA Truck
479-471-2500 | usa-truck.com
Union or Non-Union: Non-Union

Private or Public: Publicly Traded

Primary Types of Service: LTL, TL, Expedited, Logistics Services, Dedicated Contract Carriage, Flatbed, Intermodal

Industries/Commodities Served: Agriculture, Auto, Chemicals, Construction & Building Materials, Food & Beverage, Freight All Kind, Furniture, Retail, High Value

Total truck fleet size (tractors and vans): 1,678

Trailer fleet size: 5,500

Number of drivers (including owner-operators): 1,687

Operating Area: North America

Global Services Beyond North America? No

Certifications: C-TPAT, Free And Secure Trade (FAST), HazMat, Partners In Protection (PIP), SmartWay
Ward Transport
800-458-3625 | wardtlc.com
Union or Non-Union: Non-Union

Private or Public: Privately Held

Primary Types of Service: LTL, Expedited, Logistics Services, Dedicated Contract Carriage, Flatbed, Intermodal, Final Mile

Industries/Commodities Served: Agriculture, Automotive, Chemicals, Construction & Building Materials, Food & Beverage, Freight All Kind, Furniture, Retail, High Value

Total truck fleet size (tractors and vans): 579

Trailer fleet size: 1,030

Number of drivers (including owner-operators): 744

Operating Area: North America

Global Services Beyond North America? No

Certifications: HazMat, Partners In Protection (PIP), SmartWay
Werner Enterprises
402-895-6640 | werner.com
Union or Non-Union: Non-Union

Private or Public: Publicly Traded

Primary Types of Service:

TL, Expedited, Logistics Services, Dedicated Contract Carriage, Flatbed, Intermodal, Bulk, Refrigerated, White Glove, Final Mile

Industries/Commodities Served: Agriculture, Automotive, Construction & Building Materials, Food & Beverage, Freight All Kind, Furniture, Retail, High Value, Oil & Gas

Total truck fleet size (tractors and vans): 7,743

Trailer fleet size: 24,490

Number of drivers (including owner-operators): 9,673

Operating Area: North America

Global Services Beyond North America? Yes

Certifications: C-TPAT, Free And Secure Trade (FAST), HazMat, Partners In Protection (PIP), SmartWay
Western Express
615-259-9920 | westernexp.com
Union or Non-Union: Non-Union

Private or Public: Privately Held

Primary Types of Service: TL, Logistics Services, Dedicated Contract Carriage, Flatbed

Industries/Commodities Served: Construction & Building Materials, Food & Beverage, Freight All Kind, Retail

Total truck fleet size (tractors and vans): 2,588

Trailer fleet size: 6,210

Number of drivers (including owner-operators): 2,612

Operating Area: U.S. only

If U.S. only, coverage area: U.S. Nationwide

Certifications: C-TPAT, SmartWay
XPO
844-742-5976 | xpo.com
Union or Non-Union: Non-Union

Private or Public: Publicly Traded

Primary Types of Service: LTL, Expedited, Logistics Services, Dedicated Contract Carriage, Intermodal, Household Goods, Bulk, Refrigerated, White Glove, Final Mile

Industries/Commodities Served: Agriculture, Auto, Chemicals, Construction & Building Materials, Food & Bev, Freight All Kind, Furniture, Retail, High Value, Oil & Gas

Total truck fleet size (tractors and vans): 8,500

Trailer fleet size: 25,000

Number of drivers (including owner-operators): 24,330

Operating Area: North America

Global Services Beyond North America? Yes

Certifications: C-TPAT, ISO, Partners In Protection (PIP), SmartWay, ICCA Responsible Care, Lean, Six Sigma
YRC Freight
913-696-6100 | yrc.com
Union or Non-Union: Union

Private or Public: Publicly Traded

Primary Types of Service: LTL, Expedited

Industries/Commodities Served: Agriculture, Automotive, Chemicals, Construction & Building Materials, Food & Beverage, Freight All Kind, Furniture, Retail, High Value, Oil & Gas

Total truck fleet size (tractors and vans): 8,000

Trailer fleet size: 32,000

Number of drivers (including owner-operators): 9,500

Operating Area: U.S. only

If U.S. only, coverage area: U.S. Nationwide

Certifications: C-TPAT, Free And Secure Trade (FAST), HazMat, ISO, Partners In Protection (PIP), SmartWay
[ad_2]