[ad_1]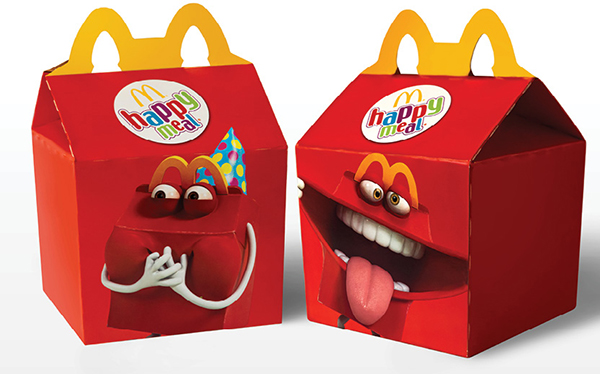 Do You Want Sustainability with That?
McDonald's is making its supply chain more sustainable by manufacturing its Happy Meal toys with significantly less plastic by the end of 2025. The fast food chain will make some toys, such as board game pieces, with plant-derived or recycled material. Super heroes and movie characters will be 3-D cutouts rather than plastic figurines. In the past, lower-plastic options included Pokemon cards and books.
The chain is also looking into switching from plastic wrapping to plant-based and certified fiber packaging. The newer options will be cost-neutral for franchisees because the effort was designed with the existing price in mind, the company says.
McDonald's has already been learning from feedback in France, the U.K., and Ireland, where the toys have rolled out. The goal is to make sure they are safe and sturdy enough for children. It's also looking to recycle the old plastic toys in its restaurants. Its U.K. and Japan locations have reused the plastic for playgrounds and restaurant trays.
More than 100 countries worldwide sell Happy Meals at McDonald's locations. The toys have become a marketing strategy for movies, TV shows, and more through partnerships with Disney, Warner Brothers, and Hasbro.
---
McDonald's sells more than one billion toys per year through its Happy Meals.
—CNBC Report
Toying with Reshoring
A U.S.-based toy industry may be possible as manufacturers face continued facility closures, freight issues, and rising costs. Some toymakers are ready to explore reshoring and nearshoring, says a report from Toybook.com. Highlights from the report include:
Challenges: While nearly 70% of American consumers would prefer to buy and pay more for products labeled "Made in the USA," the toy industry faces several roadblocks. Opening a new U.S. factory requires upfront capital investment, machines sourced from overseas, and environmental considerations. A new facility must be operated by a workforce that's hard to come by during a labor shortage.
Possibilities: In 2021, Walmart committed to purchasing $350 billion in products made, grown, or assembled in the United States as well as uniting businesses with economic development groups to create regenerative supply chains. Simplay3 collaborated with Walmart to develop its Monster City Extreme Wheels Track in just 17 weeks, because the design, engineering, and manufacturing all took place in Ohio.
Classics coming home: Hasbro sold its facility in Massachusetts to the Cartamundi Group back in 2015, but the companies formed a partnership in which Cartamundi manufactures select Hasbro products, such as Monopoly, Clue, and Play-Doh in the United States.
Know the nuances: Toymakers cannot put "Made in the USA" on their labels unless all final assembly and processing occurs in the United States, and virtually all components are made and sourced in the United States, according to the Federal Trade Commission. Qualifiers include wording such as "Made in the USA of U.S. and China components," or similar labels that are truthful and not misleading.
Upcoming plans: New Jersey-based LaRose Industries, maker of Cra-Z-Art and RoseArt products, opened a 315,000-square-foot manufacturing facility in Florida. Cra-Z-Art now maintains more than 1 million square feet of space dedicated to producing toys, art supplies, craft kits, and school supplies in the United States. Toymaker Starplast USA plans to invest nearly $18 million to open a second U.S. manufacturing facility in Virginia.
---
"We decided that not only were we going to produce our products in the united states, but that we would also support U.S. suppliers of component parts."
—Brian McDonald, vice president of sales and marketing, Simplay3
Lego Builds Momentum
No matter how pricey they get, Legos remain one of the most loved toys in the United States (see infographic), according to recent research by toy company Premium Joy.
Four expensive Lego sets, the cheapest of which costs $200, are the most popular toys in 34 states. Lego Home Alone is the most popular toy overall, even though it costs $250. The second most popular toy, Lego Titanic, costs $630 and is one of the most expensive sets Lego currently offers.
Consumers sometimes get attached to a particular toy because it evokes nostalgia. "Kidult" toys have surged in popularity as young adults look to childhood toys for comfort during the pandemic. In the past year, about 25% of all toy sales have gone to young adults aged 19 to 29, reports Toy World.
Lego has tailored its supply chain strategy to meet the demands of adult consumers bored with being confined at home. To make products more readily available, Lego has expanded its retail footprint away from major shopping centers and into the suburbs closer to its consumers, the company says.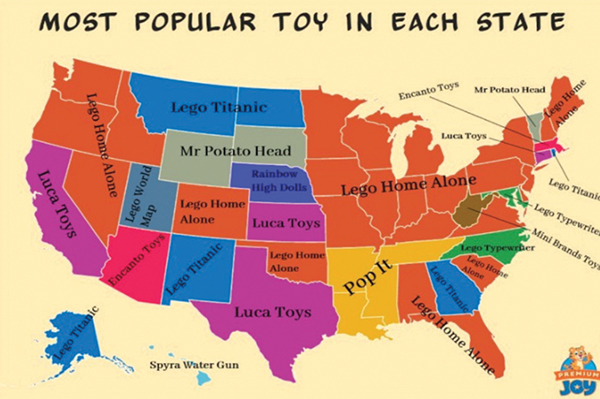 Source: Premium Joy
Top Toy Trends in 2022
Toy supply chains will focus on sustainability, escapism, and sensory products, with a strong focus on creative play, sah2s the Toy Association. Here are the top trends expected to drive consumer spending on toys in 2022, the report says:
1. Content Creation

From food play toys to artistic and building toys, items that encourage kids to use their imaginations and customize their own experiences, like content creators, are on the rise. It's also a trend that encourages intergenerational play between kids and parents, as well as one that taps into science, technology, engineering, arts, and math skills.
2. Escapism

Most (76%) parents believe play provides a positive escape from the reality of the pandemic. More toys will focus on escapism to decompress from day-to-day life. This includes a mix of travel-ready toys and games and international-themed puzzles and games that take kids on adventures. This trend transports players into the digital world, such as NFTs, virtual reality, and toys tied to video games.
3. Sensory Toys

Spurred by viral videos on platforms like TikTok, autonomous sensory meridian response (ASMR) has become synonymous with creating soothing moments out of mundane activities. More toys, such as light-up objects that let kids express their changing moods, fidget play, and toys that provide calming social-emotional comfort, will engage the senses in this manner.
4. Social and Environmental Good

Most (78%) parents say a toy's sustainability is important to them. In 2022, many toys will not only incorporate more sustainable materials, but also emphasize a commitment to teaching kids how to be better global citizens. From the protection of endangered species to social justice issues, products that walk the walk resonate with consumers. As this trend grows, toys become tools for engaging kids in critical issues.
Toy Players Stay in the game
Despite supply chain issues and higher consumer prices across the toy industry, toymakers Mattel and Hasbro experienced solid growth during the pandemic, says a NASDAQ report. Parents have been spending more on toys and board games to keep children occupied due to limited vacations, boosting sales during the crucial 2021 holiday period. Highlights include:
Mattel saw 10% year-on-year sales growth during the holiday quarter, and growth is projected to continue in the near term, with strong Q4 earnings in February.

Mattel gained global market share within the dolls category in 2021, with Barbie ranking as the No. 1 toy brand globally.

Mattel expects strong growth from Hot Wheels, Barbie, Thomas & Friends, and action figures, driven by movie tie-ins with Jurassic World Dominion and Lightyear.

Mattel's recent agreement with Disney to make dolls for Disney Princess and Frozen will be a big sales driver in 2023.

Hasbro's net revenue rose to $1.7 billion in Q4, from $1.43 billion one year earlier.

Hasbro surpassed estimates for quarterly revenue in February 2022, boosted by demand for its board games, such as Monopoly, and collectible cards from consumers seeking at-home entertainment.
[ad_2]