[ad_1]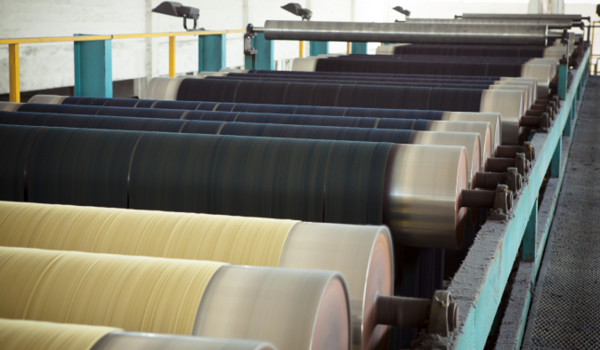 Dyeing for Sustainable Denim
Researchers from the University of Georgia developed an eco-friendly, non-toxic dyeing technology for denim that could make the textile supply chain significantly more sustainable, as indigo dyeing is a significant source of pollution in the fashion industry.
Most indigo is produced synthetically and must be reduced with chemicals. The denim industry uses more than 45,000 tons of synthetic indigo per year, along with more than 84,000 tons of chemical reducing agents, researchers say. It takes up to 30 gallons of water to dye just one pair of jeans. The water, riddled with chemicals, is then released into the environment.
The new technology uses natural indigo, eliminating toxic chemicals. It requires only one coat of indigo to secure 90% of the color, significantly reducing the amount of water needed in the process. Conventional methods require up to eight coats and secure only 70% to 80% of the color, the research says.
This streamlined process saves workers time by eliminating the need for multiple dips and oxidation time between each dip. The new technology mixes indigo particles with wood pulp and deposits them on the textile's surface, gluing the color in place. And it doesn't sacrifice comfort, researchers say, maintaining similar levels of thickness and flexibility in the fabric.
Trying on Digital Garments
Can fashion eliminate carbon from the supply chain by becoming entirely digital? As fashion brands get in on digital clothing, cryptocurrencies, and non-fungible tokens (NFTs)—unique data stored on blockchains that can be traded and sold—it's possible.
Digitizing fashion: Retailer DressX sells hundreds of digital items. When a consumer purchases an outfit, DressX superimposes it on an uploaded photo of the person. This process is greener than typical manufacturing, packaging, and transport; DressX says its digital garment production emits 97% less carbon than physical garments.
Dirty data: Despite those environmental benefits, data has a carbon footprint of its own. While fashion NFTs reduce the physical impact supply chains have on the planet, they, too, contribute to climate change. Cryptocurrency mining uses up valuable resources that are already in short supply due to supply chain issues around the globe.
Greener currencies: Some crypto platforms are migrating to sustainable "proof-of-stake" systems, and fashion brands prioritize this when choosing partners to work on their digital items, says a Glossy.co report. The Ethereum blockchain, where most NFTs live, is moving to such a system, which could be a big step toward sustainable digital fashion.
Retailers Run With Green Initiatives
From reducing waste water to eliminating plastic, fashion retailers sew up sustainability initiatives that could improve global supply chains' environmental impact. Here are some of the latest initiatives:
Global fast-fashion chain Primark aims to reduce its environmental impact while maintaining its low prices by strengthening the durability of its clothes by 2025, making them recyclable by 2027, and making all products from recycled or more sustainably sourced materials by 2030.

Sustainable clothing brand Everlane launched Next Collective, a grant program that provides entrepreneurs with $20,000 and access to leaders in sustainability. Its first goal is to tackle fashion's reliance on plastic. Everlane has removed 90% of all virgin plastics from its supply chain, and is working to remove the final 10%, such as zipper pulls and stretch material. These obstacles are industry-wide, the retailer says, and the program creates an opportunity to collaborate on solutions.

Womens clothing brand Baukjen launched its own Sustainability Index, sharing environmental and social impact scores for each of its products. This gives consumers a higher level of transparency into its supply chain, such as how material choices and manufacturing contribute to the environmental impact of each garment.
Sustainable Sourcing Gets a Platform
Startup company Sourceful, a data-driven platform that helps businesses source eco-friendly packaging, merchandise, and components, recently raised $12.2 million in funding to scale and build out its sourcing technology.
Sourceful works with brands spanning fashion, food, beverage, healthcare, and e-commerce across the U.K., Europe, and the United States. It uses data to help them source and manage eco-friendly products, making supply chain sustainability more achievable for businesses of all sizes. It currently has more than 40 suppliers in the U.K. and China.
Sourceful has also created a universal standard for brands and suppliers to measure the impact of their sourcing choices. The assessment looks at greenhouse gas emissions data spanning a product's entire life cycle, from manufacturing to shipping and end of life, and identifies areas of improvement.
In 2022, Sourceful will launch new services to help businesses find, customize, and design packaging to help minimize their carbon footprint and make products more cost-effective, the company says.
Threading Tight-Knit Partnerships
Fashion brands are accelerating their sustainability initiatives through deeper relationships and by partnering with suppliers across tiers, says a McKinsey report, as production and raw materials present big opportunities to reduce emissions.
About 73% of fashion brands say they will reduce transactional supplier relationships in favor of long-term commitments and strategic alignment (see chart). As brands move from broad sustainability plans to concrete actions, those deep partnerships will be essential for successful execution, McKinsey says.
For digitized, agile product development, brands will also need closer relationships between their design and merchandising functions and suppliers. This will speed adoption of new technologies that drive sustainability and on-demand manufacturing, the report says.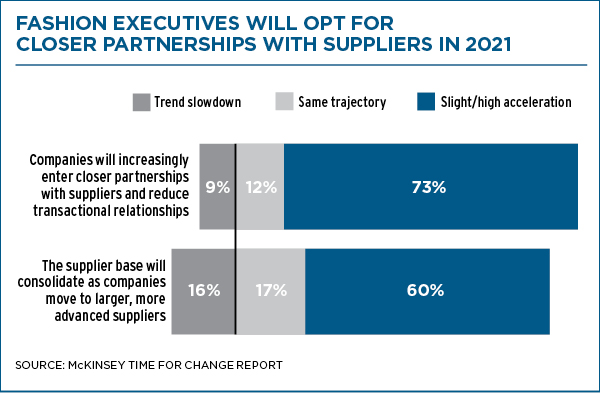 12 Most Transparent Clothing Brands
OVS ranks as the most transparent fashion brand on the 2021 Fashion Transparency Index at 78%, a 44% jump from 2020.
However, progress in the industry remains slow on key issues such as overproduction and carbon emissions, with brands achieving an average score of just 23%. Without improved transparency, a sustainable industry won't be possible, the report says.
The index ranks 250 of the largest fashion brands based on their social and environmental policies, governance, supply chain traceability, and due diligence, as well as issues such as pandemic response and circularity. Here are the 12 most transparent brands and their scores:
1. Italian clothing company OVS—78%
2. Global fast-fashion company H&M—68%
3. U.S. outdoor company The North Face—66%
4. U.S. footwear company Timberland—66%
5. European fast-fashion brand C&A—65%
6. U.S. skateboarding apparel brand Vans—65%
7. North American wholesaler Gildan—63%
8. Global apparel company Esprit—60%
9. Global fashion brand United Colors of Benetton—60%
10. U.S. clothing brand Calvin Klein—59%
11. U.S. clothing brand Tommy Hilfiger—59%
12. U.S. business wear brand Van Heusen—59%
[ad_2]