[ad_1]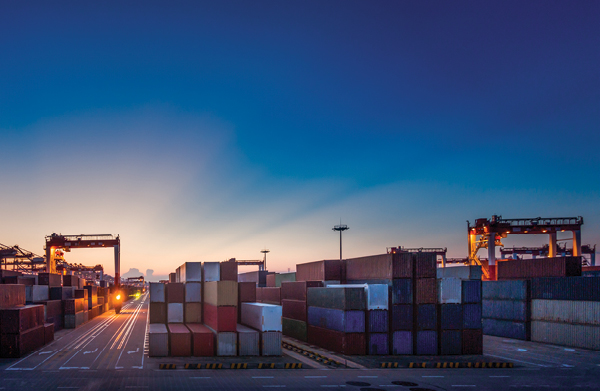 Shippers that turn to intermodal can ease capacity challenges and save money on long-haul shipments unburdened by pressing deadlines.
Intermodal shipping can be an afterthought for some shippers, an option that they do not even consider when weighing their supply chain needs and challenges. In fact, sometimes shippers are completely in the dark about intermodal's unique benefits.
However, incorporating intermodal yields many success stories and rarely inspires regret.
"We never have customers say they would rather send a truck across the country," says Barbara Slawter, president, Odyssey Intermodal Bulk Chemical, part of Connecticut-based Odyssey Logistics & Technology Corporation. "We have had plenty of shippers over the years who never heard of intermodal before but now they look at pricing and consider intermodal for moves over 1,000 miles to see if it is a fit."
Supply chain disruptions centering on the intermodal market have grabbed headlines during the pandemic. Demand surges for imported goods led to high-profile delays at key high-traffic ports. Farther down the intermodal-based supply chain, congestion challenges arose from constraints on equipment, on space at rail terminals and intermodal warehouses, and on labor.
Still, experts say that intermodal continues to be an effective solution for shippers with long lead times and long hauls. Intermodal volumes saw robust growth for four straight quarters, before a 2.9% year-over-year decline in the third quarter of 2021, according to the Intermodal Association of North America (see chart).
"Organizations that can be flexible and agile will find opportunities within the existing infrastructure," Slawter says.
capacity is the name of the game
Intermodal is a vital tool to meeting the challenges of the moment.
"In the current state of supply chain disruption, utilizing available capacity is the name of the game," notes Steven Leonard, chief sales and customer engagement officer for ArcBest, an Arkansas-based freight and logistics solutions provider. "Intermodal is a great way to get freight where it needs to be—it's typically more cost effective, requires less cargo handling and produces fewer greenhouse gas emissions than over-the-road transportation."
No matter the economic landscape, intermodal allows for the consolidation of large volumes, leading to lower shipment costs. The pandemic and constrained trucking capacity have helped accentuate the benefits of intermodal for shippers.
In particular, limited truck capacity has driven up spot market truck rates, says Jeff Trombly, Ph.D., clinical assistant professor of supply chain management at the University of Tennessee, increasing intermodal shipping's cost benefits over long trips. If the cost savings are there, just about any company can benefit from exploring intermodal, he adds.
The more freight volume a shipper sends to an intermodal provider, the better its price will be.
"When you think of where truckload rates are right now, intermodal is probably going to be a better option from a competitive price standpoint," says Drew Herpich, chief commercial officer for Transportation Insight Holding Company, a logistics solutions provider based in North Carolina.
intermodal volume comparisons Third quarter 2021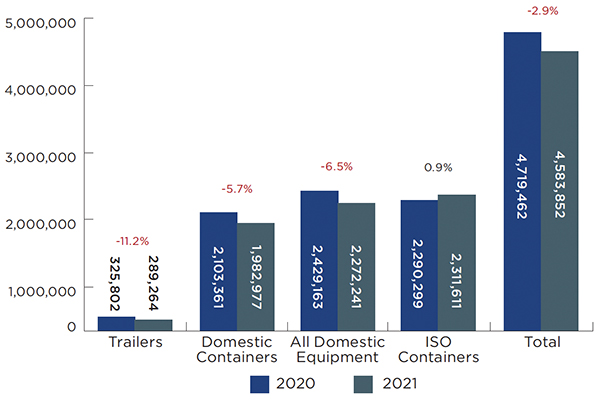 Source: Intermodal Association of North America's Intermodal Quarterly report
leveraging driver resources
Cost savings typically have been a key driver for shippers shifting to intermodal. But in today's environment, capacity represents the greatest advantage to putting long haul freight onto an intermodal service.
"Not only do intermodal shippers add capacity for clients, but they also enable them to get more efficient use of existing driver resources by freeing them up from the long haul, which can take up to one week until they can return to help with another shipment," Slawter says.
The emergence of the capacity crunch makes it more important than ever for intermodal to be in the forefront.
"The driver capacity challenges need to be met head on," Slawter says. "Intermodal does double duty by providing a more attractive work environment for drivers who primarily want to be home every night and freeing up existing capacity.
"Intermodal accomplishes this by putting the long haul portion of the move on the rail, enabling the driver pool to handle only the shorter moves on each end," she adds. "Our industry simply cannot afford to send drivers across the country where they are gone for weeks at a time. This diminishes driver capacity for all, perpetuates a poor quality of life for drivers, and needlessly harms our environment when a more sustainable solution is readily available."
advancing sustainability
Intermodal helps companies advance their sustainability initiatives because it is more energy efficient and results in lower emissions than trucking. A common myth Slawter encounters is that shippers have to sacrifice service to convert to intermodal. She points to the case of an Odyssey customer unable to secure tank trucks from the Gulf of Mexico to the Pacific Northwest.
"We offered them intermodal to shorten the lead time by setting up our Portland storage facility as a staging area," Slawter says. "We enabled them to store loaded ISO tanks economically and offered the customer a local source of supplies. In doing so, they were able to offer a service enhancement to their customer while still realizing freight cost savings—even after accounting for storage costs."
For this reason, she says, "intermodal can offer a service enhancement to companies, especially in today's environment where it might take weeks to find a long-haul driver.
"Intermodal is a timely, reliable service that is a nearly transparent substitute for long-haul trucking," Slawter says. "Shippers gain a local point of supply by holding tank containers in a local depot and delivering them to the customer on short notice—which isn't possible with tank truck transportation."
Intermodal shipping means longer trip times, particularly because of delays caused by the process of placing containers or trailers on rail cars on the front end of the trip and removing them on the back end, Trombly says. He notes intermodal also requires special handling equipment at rail terminals, limiting access to rail intermodal services.
"It is difficult to compete with trucking in terms of flexibility and speed," Trombly says.
Shippers who use intermodal can gain some advantage from a cost perspective, but they likely will need to sacrifice the speed of delivery as a consequence.
Due to the capacity issues that have led to congestion issues at the ports, rail terminals, and intermodal warehouses, Herpich says the intermodal market currently is "commodity-based."
"Because of the market we're in now and because inventory levels are very low, there's a need to get to the end customer quickly," Herpich says. "A lot of shipments that used to go on rail don't now because of the time perspective."
the time challenge
Additional transit time does create clear challenges for some shippers.
"Intermodal is a disadvantage for shippers that worry about a few extra days of transit time," Slawter says. "This mostly applies when lead times are too short due to product not being readily available or short notice from the end user."
Despite the longer transit time, employing intermodal can help shippers reserve truck resources for more pressing shipments, playing a role in a diverse supply chain to help meet the need for speed.
"Rail shipping isn't ideal for expedited shipments, but is still a great way to increase capacity options and free up truckload capacity for time-sensitive freight," Leonard says. "In today's supply chain environment, having those options is a valuable asset."
in it for the long haul
Intermodal also is not immune to driver capacity challenges and is currently encountering a driver shortage on either end of the rail trip. But "some may argue that organizations utilizing rail for the long-haul portion of the move are less impacted," Slawter says.
"Take tank trucks as an example: Companies that choose rail are often well supported by the rail network and can offer an intermodal alternative for nearly all long-haul origin and destination pairs across North America," Slawter says. "But as rail becomes increasingly popular during these times of uncertainty, there also can be a lack of rail reservations available in some lanes."
In addition to taking longer, intermodal can be more unpredictable with the timing of a shipment, sometimes making planning more challenging.
"Shippers always want to control the movement of their freight," Herpich says. "For the most part, it is hard to control the rail moves—when they actually get offloaded, and when a train actually gets from California to Chicago, for instance. But in a truck, shippers know exactly where their product is. And they have more control over its timing."
Looking ahead, experts point to an array of ongoing, impactful developments tied to intermodal. More communities are developing intermodal terminal facilities in the form of inland ports. For instance, the Carolina Connector, a CSX-owned 330-acre intermodal terminal, opened in November 2021 near Rocky Mount, North Carolina. And the planned 104-acre Northeast Georgia Inland Port will provide a direct link to the Port of Savannah via Norfolk Southern.
Meanwhile, South Carolina Ports announced a $28-million expansion in 2021 of its Inland Port Greer, which extends the Port of Charleston's reach 212 miles inland via rail.
These inland ports "are envisioned to be engines of economic growth by linking manufacturing and distribution facilities directly with a range of transportation options," Trombly says.
The increasingly complex supply chain and its "many moving pieces" is prompting shippers to consider their approach to intermodal with fresh eyes, leading to adjustments and innovation, says Tim Sailor, founder and CEO of California-based Navigo Consulting, which specializes in contract benchmarking, distribution analysis, and carrier negotiations.
"More and more companies are focusing on their intermodal strategies in new ways that work around capacity constraints in any one mode," Sailor says. "Many companies are also considering relocating distribution facilities as part of their intermodal strategy."
Efforts that have sprung up during the pandemic could lead to long-term changes in the intermodal market. For instance, the Port of Los Angeles and the Port of Long Beach adopted pilots for 24/7 operations to reduce the pileups of intermodal containers at their facilities.
Opting for intermodal
Shippers who have not used intermodal in the past should be open-minded and flexible.
"It's easy for shippers to use the same solution over and over, but each move can have a new solution," Herpich says. "The solution that worked a year or two ago might not be the best solution today."
Those participating in the intermodal market today must be prepared to manage a variety of challenges. Warehouse capacity shortages and limited chassis availability are among the issues complicating the intermodal market at times during the pandemic. With that in mind, those engaging in intermodal should be "a good partner in the supply chain," says Todd Tranausky, vice president for rail and intermodal at FTR, which provides transportation forecasting
"Don't hold on to chassis, containers and trailers any longer than you need them," he says. "Because ultimately it affects everybody in the supply chain—not just your supply chain and your ability to get equipment but everybody's equipment in the system. The more you hold on to, the more you perpetuate and lengthen the disruption that we're seeing."
The intermodal market is highly competitive, and shippers should consider working with carriers and brokers to guide them through the range of options available. An intermodal provider can help shippers shift modes smoothly, navigate disruptions, and plan for the future.
"Choose your intermodal provider the same way you choose any logistics provider; having a trusted partner is important," Leonard says.
Slawter advises not to "sit and watch on the sidelines of intermodal." Getting off the sidelines starts with identifying a shipper's long-haul shipping lanes. Business intelligence and other technological tools now allow shippers to play out hypothetical scenarios for changing lanes and modes, allowing them "to make decisions that align with their cost, quality, and sustainability goals," Slawter says.
"A shipper's customers or internal users might not be asking for intermodal service/rates but in many cases they don't know their options," she adds. "They simply want a service-oriented solution for getting product from point A to B. It is up to the logistics experts to bring this to the forefront and consider different modes of transport."
[ad_2]